Effective yet ignored
Low-cost solutions to Dhaka's traffic congestion like U-loops, underpasses get least attention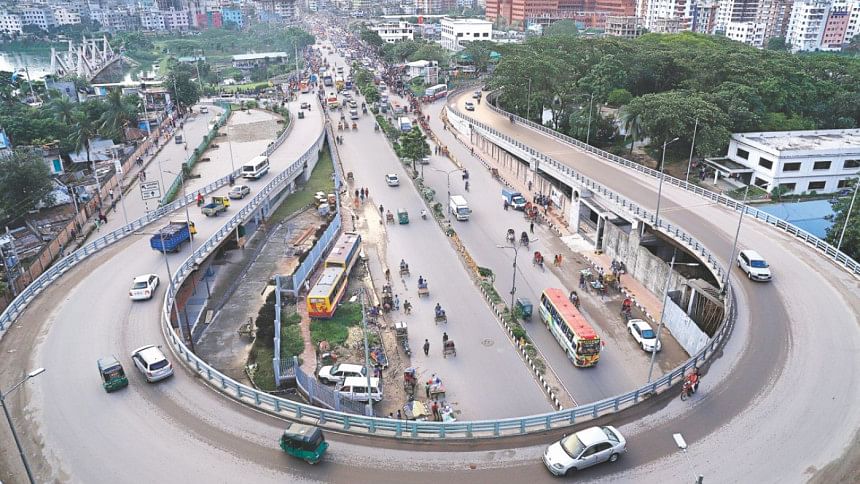 "We find one kind of apathy among all governments to go for the 

low-cost and easily doable initiatives." 


Prof Shamsul Hoque, a transport consultant 
Traffic from Banasree, Badda, Rampura, and Hatirjheel used to converge on Pragati Sarani near Rampura TV station and it was a messy affair. Commuters previously feared the intersection but now a cheap U-loop has made a huge difference.
Traffic from Banasree area get on the loop to go towards either Badda, Tejgaon, Karwan Bazar, or Moghbazar with no hassle. The loop, built just for Tk 45 crore under the Hatirjheel development project, has been in service for two years.
Tasbir Iftekhar, a Dhaka University final year student, who has been living in the area for around four years, said, "Before the U-loop was constructed, there was horrible congestion at the Banasree and Rampura intersection. I had to wait nearly 45 minutes on rickshaw just to cross the Banasree area.
"I had to go through such hassle every day, while going to university. The U-loop has saved me 45 minutes and now I can reach my university on time," he said,
Although the U-loop drastically improved traffic movement there, the government has shown little interest in installing such loops elsewhere.
Some similar low cost and effective initiatives were taken years ago but have been shelved since neither the authorities nor the contractors showed interest in funding or implementing the projects, officials and experts said.
U-loops on Mirpur Road and Airport Road, and four underpasses on the Kazi Nazrul Islam Avenue, were the shelved projects.
The government did build an overpass at the level crossing on Banani Staff Road and Kuril interchange on Airport Road, both of which hugely benefited commuters.
"… U-loops can greatly ease traffic congestion but, unfortunately, we find one kind of apathy among all governments to go for the low-cost and easily doable initiatives," said Prof Shamsul Hoque, transportation consultant and road safety expert.
He said large projects like flyovers and expansion of roads could not eradicate congestion, be it in the capital or on a highway.
"The glaring example of a low cost but hugely effective initiative is the Kuril intersection," Prof Hoque, who is involved in over a dozen large and small transport network plans in the country, told The Daily Star last night.
BANGABANDHU CORRIDOR
In 2010, the government moved to ease congestion on Mirpur Road and Buet experts, after carrying out a study in 2011, suggested building elevated U-turns and underpasses.
They said a drive to Gabtoli from Azimpur would take only 11 minutes instead of the 78 minutes it took then.
All relevant departments of the government and Buet approved the project titled Bangabandhu Corridor in March 2012.
"The move was perhaps one of the finest ideas. Instead of going for a costly flyover or elevated expressway, experts put forward a simple design for uninterrupted traffic flow on the corridor with an estimated budget of Tk 775 crore," said Prof Moazzem Hossain of Buet's civil engineering department, who was involved in the project.
The project was included in the Public-Private Partnership (PPP) Cell, and the Prime Minister's Office in March of last year asked the Dhaka South City Corporation (DSCC) to implement it.
However, no one came forward to fund the project and experts recommended the government funds it.
The government then shelved the project due to lack of funds.
Another reason behind halting the project was the consideration of building an expensive elevated expressway proposed by ruling Awami League lawmaker Aslamul Haq on the same stretch of road.
Aslam's company submitted a proposal for building a four-lane elevated expressway from Amin Bazar to Azimpur, at an estimated cost of Tk 4,000 crore, well over five times the cost of the Bangabandhu Corridor.
The DSCC moved to appoint a consultant to conduct a feasibility study and prepare a design.
Aslam then said he would go for a joint venture with a Chinese company to implement the project but he could not arrange the funds.
THE PLAN
Now vehicles are stopped at the set of lights and have to wait for minutes before making right and U-turns, ultimately causing congestion on the Mirpur Road and the streets connected to it.
Under the plan, two elevated U-turns (loops) were to be built at the heavily congested Gabtoli Bus Terminal to help buses enter and exit the terminal without getting in the way of other vehicles.
Another loop was planned at Mazar Road intersection for traffic heading towards Mirpur-1, -2 and -10 from the south. Traffic from Mazar Road and Mirpur-1, -2 and -10 would get an elevated U-turn at Technical intersection for a smooth run towards Gabtoli.
One other U-loop was supposed to be constructed over the Kalyanpur canal for easy exit of vehicles coming from Shyamoli Link Road and New Market and heading for Agargaon or Rokeya Sarani. Vehicles en route Gabtoli from Rokeya Sarani and Agargaon were to use a loop near Shishu Mela.
Those driving from Mohammadpur, Lalmatia, and Dhanmondi areas would use another loop to enter Suhrawardi Hospital or to head for Bijoy Sarani and Farmgate using an underpass at the Gono Bhaban intersection.
Vehicles on Crescent Road and Bijoy Sarani could use the underpass to go to Mohammadpur or Gabtoli-Shyamoli areas, while traffic from Manik Mia Avenue would have a loop at Dhanmondi 27-Mirpur Road intersection to go towards Dhanmondi 27 and Lalmatia.
Two underpasses at Nilkhet intersection would ensure a smooth exit of vehicles to and from Azimpur and Science Laboratory ends.
"The project is more cost-effective. Unfortunately, Bangabandhu Corridor did not see the light of day," said Prof Moazzem Hossain, who now heads Buet's Accident Research Institute. He was involved in the planning and designing of Bangabandhu Corridor.
Dhaka North City Corporation too planned for several U-loops from Sat Rasta to Abdullahpur in 2015 but not a single one could be built.
However, there is hope.
Upon consultation with experts, road transport and bridges ministry decided to build two U-loops to bring an end to the recurring gridlocks at Kanchpur Bridge.
"Such small initiatives could be executed in six months," said Prof Hoque. "Good to see the ministry is finally going to implement the idea."
Traffic coming from the capital, Chittagong and Sylhet often face congestion while crossing this particular intersection.
OVERPASSES, UNDERPASSES
Another low-cost and viable initiative was constructing underpasses for vehicles to ease congestion at intersections between Shahbagh and Sonargaon Hotel on Kazi Nazrul Islam Avenue.
Only Tk 170 crore was needed to make the four-lane underpasses that would have enabled uninterrupted vehicular movement.
Buet's experts conducted the feasibility study and the design was also finalised but the move was abandoned due to the Metro Rail project. However, experts say such move can be taken for other city streets.
Construction of such low-cost and sustainable projects has been discussed for a decade now. Experts have also been pressing the authorities to go for these projects.
Prof Moazzem said they have solutions for each city intersection which could be implemented with little hassle but would yield a result like that of the Rampur TV station U-loop.