Dream trip to US turns nightmare
Chain of traffickers takes 27 Bangladeshis through 13 countries in 3 continents only to be deported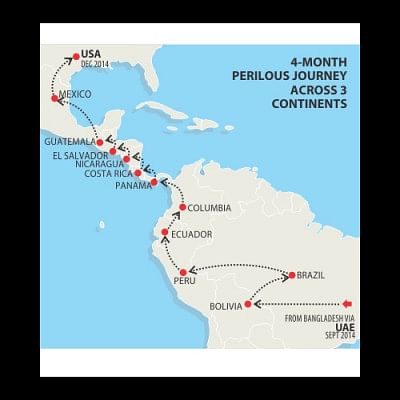 They had no idea about how they would get to the United States of America. They were kept in the dark about their uncertain and perilous journey. They were just asked to follow instructions, no questions asked.
To assist the Bangladeshis with the American dream, the human traffickers had placed their agents in all 13 countries they went through.
"The brokers were in every country. We were asked to contact them and follow their instructions. We were warned of possible dangers and ordered to be very careful about our communication with others," Dalim Ahmed, one of the 27 deported Bangladeshis from the US told The Daily Star.
The Bangladeshis reached Hazrat Shahjalal International Airport early April 5 after serving jail in different terms in the US for illegal entry.
Of them, 11 were from Noakhali, eight from Sylhet, three from Dhaka, two from Munshiganj, one each from Barisal, Madaripur and Comilla. 
This correspondent talked to five victims and all of them shared almost identical stories of their journey. The cheated and the exploited jobseekers had to pay between Tk 10 and 40 lakh each to the manpower brokers.
Dalim, the 28-year-old from Sylhet, narrated how a syndicate of human traffickers had been exploiting people in the name of sending them to the USA. The traffickers were from Bangladesh and some other countries, he said.
"Not only men but there were some women agents too. They used to instruct us where we needed to go and what we had to do and how to avoid law enforcers."
Dalim was in a US prison for 16 months from December 2014, when he along with six other Bangladeshis were detained by the US immigration police for illegal entry into the country from Mexico.
"My elder brother made a Tk-28-lakh deal with a broker for sending me to America. All I knew was that I was being sent to get a job," said the disheartened man after his American dream shattered.
Dalim left Bangladesh in September of 2014 and went through the 13 countries of Asia and the Americas.
From Dhaka he was flown to the United Arab Emirates. He did not stay in the UAE, rather had gone to Bolivia on another flight. "When I reached Bolivia, the immigration police checked my papers but didn't say anything," Dalim said.
He was taken to a flat where he had found 10 to 12 other Bangladeshis. They had been staying there for three days.
"Two or three Bangladeshi brokers used to visit us frequently. They never allowed us to go outside," the youth said.
From Bolivia, the brokers sent them to Brazil on a bus and it took them two days to reach the Latin American country.
In Brazil, they were taken to another flat and kept there for about a week. "We were confined to the flats there too. We were not allowed to talk to our families in Bangladesh," Dalim said.
Then the trafficking victims were sent to Peru on a bus from Brazil. Their next destination was Ecuador.
"We had to change buses three to four times to reach Columbia from Ecuador. We didn't stay in any place. We were kept on the streets without any toilet facilities or proper food," he narrated.
In Columbia, they were confined to another flat for two weeks. "The brokers -- Bangladeshis and Columbians -- informed us that we had to wait as they were collecting immigration passes for us to enter Panama," Dalim said.
After they had entered Panama with "immigration passes", the Panama police allowed them to stay in refugee camps for about a month.
"Around 30 Bangladeshis were there," he said.
In November of 2014, the Bangladeshis were divided into three groups before they were put into taxis and sent on a 10-hour journey to Costa Rica.
They did not face immigration harassment as they were provided with documents of being asylum seekers of the USA.
After three or four days of their stay in Costa Rica, they went to Nicaragua on a bus.
Their next destination was El Salvador, but their journey there was perilous.
"We were put into a small boat. Two fishermen of El Salvador were the boatmen. It was a horrifying sea journey. In the middle of the night, there was a storm at sea. We thought we were going to die. We were saved by the grace of Allah," Dalim said.
They entered Guatemala through coffee plantation in the dark of the night.
"The brokers then took away all our money and some other valuables before sending us to Mexico," he said.
The smugglers divided them into two groups before sending them to Mexico.
"The immigration police detained us and took us to a detention centre where we had to stay for 14 days," he recalled.
After getting released, the traffickers bought them air tickets and took them to an airport near the US border.
Dalim along with six others entered Texas in early December, 2014, and was captured by the US immigration police. They were taken to a detention centre immediately.
"The American immigration police asked us why we had entered the country and why from Mexico. We tried to explain that we needed political asylum in America," he said.
 The USA police interviewed them several times and contacted the Bangladesh embassy in Washington DC. "But the Bangladesh embassy officials said we were not political asylum seekers," he claimed.
An US court held hearings to settle the issue and finally rejected their appeal and ordered them to be deported last year.
Md Shahjahan, 40, another victim from Noakhali, claimed that he had to pay Tk 40 lakh to the smugglers.
"I have a wife, two children and parents at home. As I couldn't earn enough to manage my family with the small business in Noakhali, I had been looking for a job abroad. But it was not my initial plan to go to America, rather I wanted to go to Saudi Arabia or the UAE," he told The Daily Star.
When he failed to get a visa with a decent job and handsome salary in Saudi Arabia and the UAE, he met some local brokers who allured him into taking a chance.
"Some local brokers were behind me. They had been trying to convince me to go to America saying that I would be able to earn Tk 2 to 3 lakh a month there. I had agreed thinking of a better future for my family despite the risks," the lone breadwinner of the family said.