Don't worry
Foreign secretary tells int'l community, says Bangladesh has a plan to avert disasters in Rohingya camps this monsoon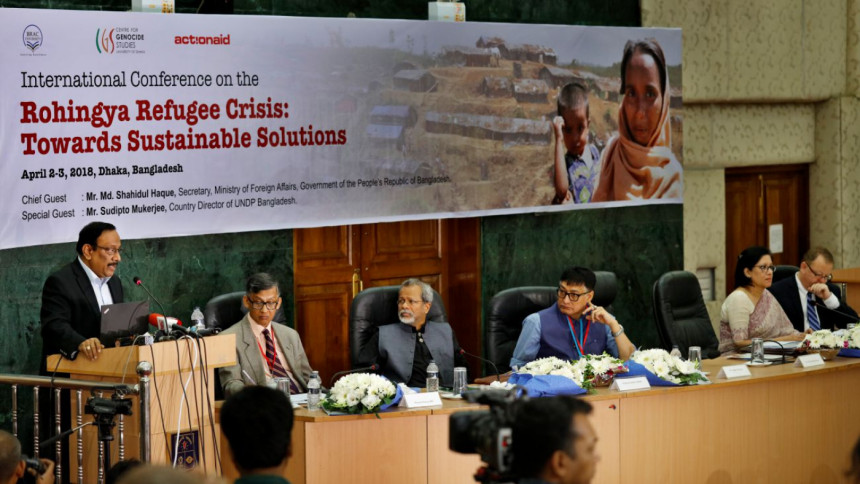 The government has chalked out a detailed plan to avert natural disasters in Cox's Bazar Rohingya camps in the upcoming monsoon, Foreign Secretary Shahidul Haque said yesterday, requesting the international community not to worry.  
"With the arrival of monsoon, natural disasters like flood, landslide and cyclone occur. Bangladesh government is aware of it. This is not something new to us. We have elaborated a plan on how to help those people. Extra land has already been allocated," he said.
The foreign secretary also said the international assistance for Rohingyas is on decline, which is another challenge for Bangladesh.
He came up with the comments while speaking as chief guest at an international conference titled "Rohingya Refugee Crisis: Towards Sustainable Solutions", organised by the Centre for Genocide Studies of Dhaka University, Brac University and ActionAid, held at Nabab Nawab Ali Chowdhury Senate Bhaban of DU.
The UN says about 150,000 refugees in Bangladesh's southeast -- where nearly one million Rohingyas in total live in shanties on hillsides -- are extremely vulnerable to disease and disaster this rainy season.
Monsoon rains wreak havoc every year in Cox's Bazar and the adjacent Chittagong Hill Tracts, a tropical forest zone home to wild elephants.
Last season heavy rain triggered landslides in the tract region, killing 170 people. Experts blamed deforestation for worsening the impact of the mud avalanches, writes AFP.
"The Rohingya people are clearing forestland equal to four football fields every day for collecting fuel wood," said Refugee Relief and Repatriation Commissioner (RRRC) Mohammad Abul Kalam on March 31.
Because of the indiscriminate tree felling, the hills have become barren, increasing the risk of landslide, he said while addressing a seminar.
Addressing yesterday's conference, the foreign ministry said one of Myanmar ministers will visit Cox's Bazar to see the Rohingya people for the first time since the influx began in August last year. "A Myanmar minister will visit Bangladesh this month. He has also agreed to go to Cox's Bazar."
Haque mentioned that around 5,000 Rohingyas are staying on no-man's land on Myanmar side. "During our last negotiations, we suggested that since these people are yet to cross the border line and are still in Myanmar territory, the Myanmar government can encourage them to go back. They agreed," he mentioned.
"The crisis did not originate from any conflict between Bangladesh and Myanmar. This is something between Myanmar and its own people," he further said, adding that the bilateral window is still open to solve the crisis.
"This is a multidimensional and multilayer problem. We are trying to resolve the issue bilaterally and also kept open the multilateral windows in New York and Geneva. In New York there is the UN Security Council and in Geneva there is Human Rights Council. We are also continuously pursuing the issue at ASEAN and OIC."
Regarding efforts to resolve the ongoing humanitarian crisis, the foreign secretary said there will be a meeting in Dhaka at foreign minister-level on May 5 and 6.
"We have already decided that there will be a visit of the foreign ministers to Cox's Bazar on May 4. This is our effort to reach a peaceful solution."
Regarding the plan to relocate refugees to Bhasan Char in Hatiya of Noakhali, the foreign secretary said, "The government has many options and Bhasan Char is one.  When Bhasan Char will be livable, only then it will come under relocation scheme.
Profess Imtiaz Ahmed of DU international relations department, who is also director of Centre for Genocide Studies, presented his keynote address titled "The Unfolding of the Crisis: Five Challenges".
He stressed the need for enacting new law in Myanmar to create confidence among the Rohingyas ensuring their return to their own country.
Manzoor Hasan, executive director of the Centre for Peace and Justice, Brac University; Sudipto Mukerjee, country director of UNDP Bangladesh, addressed the conference. Farah Kabir, country director of ActionAid Bangladesh, spoke as the chair of the inauguration ceremony. 
At the second session styled "Humanitarian Response and Economic Costs", Dr Fahmida Khatun, executive director of Centre for Policy Dialogue, presented a keynote paper saying around 6,000-acre land was deforested because of the Rohingya camps, and according to CPD estimate, this is equivalent to Tk 741.3 crore.
Five research papers were presented at the third and final session of the day.
Chan Xin Ying, a Singapore-based research analyst on Malaysia Programme, said unofficial estimate shows some 2,00,000 Rohingyas live in Malaysia. Their plight is almost similar to those living in Bangladesh.
Those who are born in Malaysia love to identify themselves as Malaysians but only can get birth certificates if their parents were UNHCR cardholders.
They cannot get citizenship, said Chan, who works for think-tank S Rajaratnam School of International Studies under Nanyang Technological University.
Natasha Arnpriester of the Open Society Initiative for Justice of the US said birth registration is important to protect the Rohingya children and allow them to have legal access.
Rohingyas have all along been portrayed as "illegal" and kept outside law's protection, she added.
Rights activist Sara Hossain said dignity of adolescent Rohingya girls and young women is a big concern since they are deprived of legal protection and prohibited to get married outside their community.
Former ambassador Nasim Firdaus and UN Women Programme Specialist Dilruba Haider co-chaired the final session.