Myanmar's social welfare minister due today
To visit Rohingya camps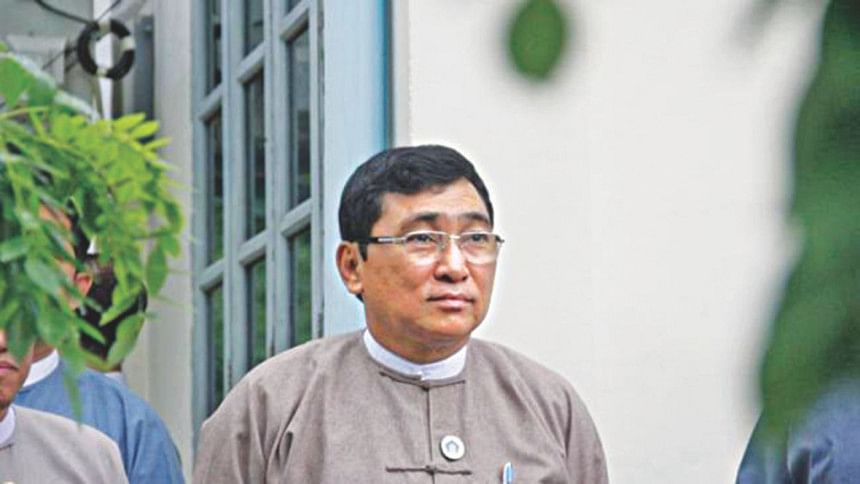 An influential cabinet minister of Myanmar, who is overseeing the repatriation of Rohingyas, will visit the refugee camps in Cox's Bazar this morning.
Over 7,00,000 forcibly displaced Myanmar nationals have been sheltered there amid military crackdown in Rakhine State since August 25 last year.
Officials at the foreign ministry and the Myanmar embassy in Dhaka said Myanmar's Social Welfare, Relief and Resettlement Minister Win Myat Aye is due to arrive in Dhaka early today to discuss high government officials about the current state of the repatriation process.
They said he is scheduled to go to Cox's Bazar to see for himself the plight of his country's nationals who are staying in makeshift camps in Kutupalong. He is expected to talk to officials there and return to Dhaka for meeting with high government officials.
According to a report of the Myanmar Times yesterday, Myat Aye in Cox's Bazar will meet the refugee families who have been approved by the Myanmar government for repatriation. 
Quoting the Myanmar's minister, the newspaper said he had asked the Bangladeshi authorities to set up a meeting with the families whose names are on Myanmar's list of the first batch of refugees for repatriation.
The Myanmar government has so far cleared 711 people out of a list of 8,032 given by the Bangladesh government on February 19 for repatriation.
"I will also visit the camps. I will assure of Myanmar's readiness for repatriation," Myat Aye was quoted as saying in the report. "The rainy season is approaching. We want this process to move fast. While (in Cox's Bazar), I will meet with families residing in the camps and pass on a message that our side is ready for repatriation."
Dhaka hopes that the trip of the Myanmar's minister would help speed up the repatriation process, but Myat Aye in a recent media interview had made it clear that the repatriation would be delayed as they needed more time to verify the list of the refugees provided by Bangladesh.
The Bangladesh government with the help from UNHCR has already prepared the second list of 10,000 refugees and is planning to hand it over to the Myanmar authorities in the upcoming meeting of the Joint Working Group to be held in Myanmar.
Rights groups have raised concerns about the safety of Rohingyas being sent back to Myanmar, where authorities have razed many Rohingya villages in the western state of Rakhine.
The Myanmar's minister will also meet Foreign Minister AH Mahmood Ali and Home Minister Asaduzzaman Khan Kamal.
After facing an international outcry and charges of ethnic cleansing, Myanmar signed a repatriation agreement with Bangladesh in November last year and promised to begin the repatriation within two months.
SAUDI ENVOY TO VISIT REFUGEE CAMPS
Abdullah bin Abdulaziz Al-Rabiah, general supervisor of Riyadh-based King Salman Center for Relief and Humanitarian Aid Centre, will pay a two-day visit to Cox's Bazar from today.
According to the Saudi embassy in Dhaka, Rabiah is scheduled to arrive in Cox's Bazar this morning and visit the Rohingya camps at Balukhali and take part in distribution of food aids among the Rohingyas.