Doing business getting tough
Cost spirals on hartal-blockade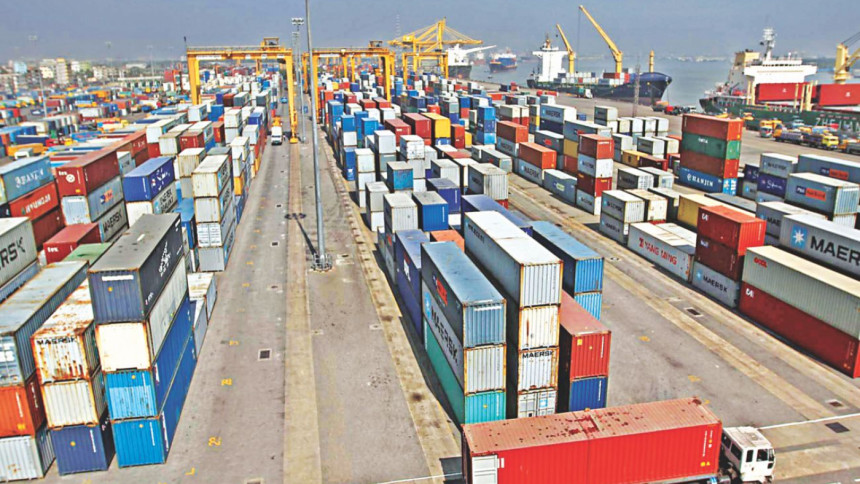 The ongoing blockade and a series of shutdowns are pushing up costs of doing business in Bangladesh, say businesspeople.
A combination of rising transportation cost, supply chain disruption and delay in work -- be it project implementation or day-to-day activities -- has been eating up Bangladesh's competitive advantage as "low-cost maker and exporter", they said.
Cost escalation is not the only fear now. Many private firms face bigger problems such as cancellation of export orders and trips by foreign investors.
"Two top investors from China and Singapore were scheduled to visit Bangladesh to discuss their investment plans with us. They deferred the trips several times due to the non-stop blockade and shutdowns," said Mostafa Kamal, chairman and managing director of Meghna Group of Industries.
The conglomerate recently inked a deal with PM Group of Thailand to set up a polypropylene factory in Bangladesh. The Thai company wants to invest $150 million. It intends to borrow a portion of the money as foreign loans from banks.
But lenders now demand higher country risk charge from PM Group for the loan, as the money would be invested in Bangladesh that is going through a political turmoil, Kamal said.
"It is a shame for us."
The Daily Star talked to a number of business groups -- both big and small -- to know the extent of the impact of hartals and the non-stop countrywide blockade that the BNP-led alliance launched on January 5 to press for an early national election.
Entrepreneurs said the costs of doing business have gone up by 20 to 30 percent, and even more in some cases.
Orion Group, one of the leading industrial conglomerates in the country, faces delay and cost escalation in implementing two new projects.
"Our project to set up LPG plant is delayed by three months," said Salman Karim, managing director of Orion Group that has operations in pharmaceuticals, energy and power, cosmetics, textiles and garment sectors.
The group's project for manufacturing refrigerators, a joint venture with a Singaporean company, is also getting delayed.
"Since we reached an agreement that we will go into production by the end of this year, we have to do it despite a rise in costs," said Karim.
Standard Group, a big garment manufacturer and exporter, had to ship apparel items by air to meet the deadline. "Otherwise, the buyer would have cancelled the order," said Mosharraf Hussain, managing director of the Group.
"Now buyers do not come to Bangladesh. They ask us to meet them in other countries," he said.
Steel giant BSRM is also facing problems in expanding its capacities amid political unrest, said Aameir Alihussain, managing director of the company.
Leading bicycle exporter Meghna Group had to take two foreign buyers to its factory by a helicopter, which cost it Tk 1 lakh each trip last month.
Rising costs of doing business and disruption in supply chain have been affecting exporters and domestic market players, say analysts.
"There has been a rise in air shipments, which are four to five times costlier than shipments by cargo vessels, in the last two months. This has led to cost escalation," said Prof Mustafizur Rahman, executive director of the Centre for Policy Dialogue.
Exporters, who got orders several months ago, have to supply products at higher costs, he said.
"High costs of doing business are putting additional pressure on exporters and their profit margin is going down," said Monzur Hossain, senior research fellow at Bangladesh Institute of Development Studies.
If the political deadlock persists for a longer period, the losses will be irrecoverable and entrepreneurs will lose their competitive advantage, said a number of businesspeople.
According to data of the Board of Investment (BoI), 18 foreign investment proposals involving $81 million were registered with the BoI in the last two months.
"The figure is a bit low, but it is not because of politics," said BoI Executive Member Nabhash Chandra Mandal.
Usually, flow of foreign investments remains low in the post-election year, he said.
Asked whether any meetings with foreign investors were cancelled due to the ongoing blockade and shutdowns, Nabhash said he held a series of such meetings since January.
"No scheduled meeting was deferred or cancelled," he claimed.
In its Cost of Doing Business Report 2015, the World Bank put Bangladesh in the 173rd position among 189 economies, down from 170th position last year.