City stung by chikungunya
Several hundred cases recorded since mid-April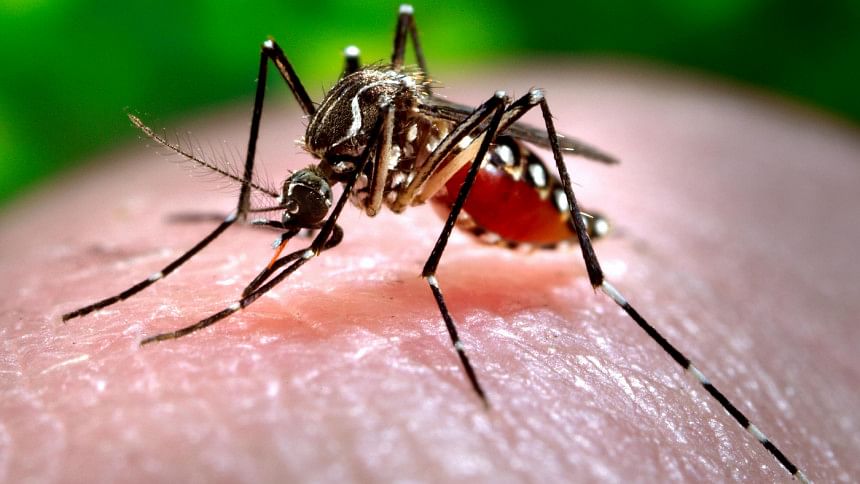 As many as 566 people in the capital have been diagnosed with the mosquito-borne chikungunya disease, according to findings by the Institute of Epidemiology, Disease Control and Research which conducted laboratory tests on patients from mid-April till the first week of July. 
People diagnosed positive at IEDCR laboratory are usually referred by different hospitals and practitioners after the patients are found showing symptoms of chikungunya, Director of the institute, Prof Meerjady Sabrina Flora, told this paper over phone. She, however, added that the number of chikungunya patients in April was less.
According to an IEDCR newsletter, the number of chikungunya patients was 519 in May-June with a peak of 95 people recorded positive in the fourth week of May alone.
On an average, about 30 to 35 people contact IEDCR per day to know about the disease, she said.
Chikungunya is largely nonlethal but it may turn fatal if a person diagnosed with the disease is simultaneously found to have immunodeficiency, or carries another disease or infection, according to health experts.
Doctors advise people to not panic and recommend keeping their surroundings clean so that mosquitoes cannot find places to breed.
"There is no mortality record from the disease," said Prof Sabrina, adding people did not die because of contracting chikungunya alone.  
She further said that recently the IEDCR conducted a survey on 4,000 dwellers in the capital to determine chikungunya cases.
The institute is analysing the cases, she added.
Earlier a survey conducted between April 1 and May 17 this year by the institute found a positive 86 out of 139 chikungunya cases in the capital.
Most of the patients with symptoms were from Kalabagan, Kathalbagan and Hatirpool areas where an outbreak of the virus occurred last December.
People who were recorded succumbing to the disease in India last year were found, in further analysis, to have been carrying other diseases or infections alongside chikungunya, Sabrina told a press briefing at IEDCR in May.
The Directorate General of Health Services has started awareness building programmes across the country and in the capital to control the disease.
Symptoms of chikungunya are fever, muscle pain, headache, nausea, fatigue, rash and these are often accompanied by a very debilitating joint pain which can last for days. Aedes aegypti mosquito is the carrier of both chikungunya and dengue viruses.
According to World Health Organisation (WHO), there is no specific antiviral drug treatment or vaccine for chikungunya.
Treatment is directed primarily at relieving the symptoms, including the joint pain using antipyretics, optimal analgesics and fluids.
Health experts said if a person suddenly gets a fever, mild or otherwise, feels pain and swelling in joints, and has rashes, then it can be suspected that they have chikungunya.
If the pain is in the muscles and is accompanied with a high fever, it can also indicate that the patient may have dengue, they said.
Laboratory tests are needed for confirmation.
Meanwhile, the Dhaka South City Corporation yesterday conducted special "larviciding and fogging" activities and held awareness building campaigns among school children, says a DSCC press release.