Snapshots of election day: As we saw it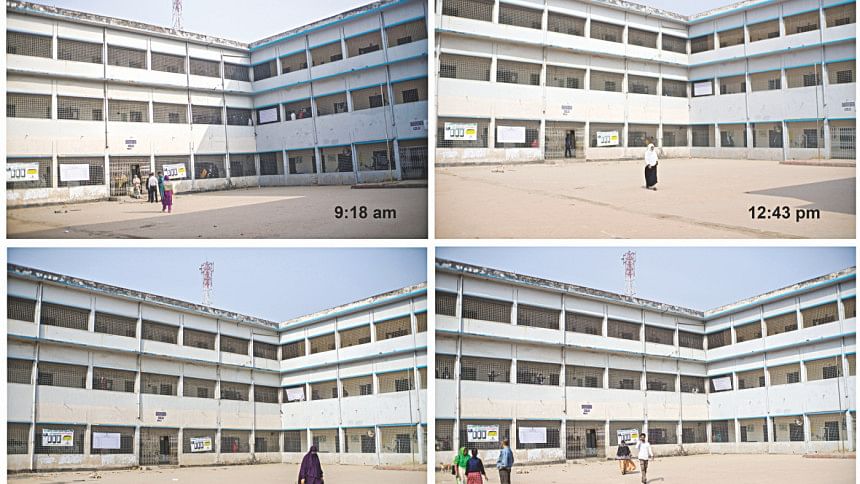 Yesterday's Dhaka city polls may appear to many a re-run of the national election held on December 30, 2018, because of some aspects.
Stepping out of their homes in the morning, voters saw only campaign posters and supporters of the ruling party candidates.
At the voting centres, finding trace of polling agents of BNP candidates was a real challenge. As if an invisible force swept away opposition leaders and activists from the field of voting.
Voters' queues remained static at times at some centres. At some others, individuals were seen "helping" voters use the electronic voting machines (EVMs).
These were the features of the election day The Daily Star found visiting 207 out of 2,468 polling centres in Dhaka city.
FESTIVITY OUTSIDE, CENTRES ALMOST EMPTY
The Daily Star visited 207 polling centres in Dhaka south and north city corporation areas, but found help desks set up by BNP men at only three places -- Mohammadpur, Khilgaon and New Market.
Voters were provided with their serial numbers at those desks.
At the desk in Mohammadpur, BNP men were barred from distributing slips among voters.
"We are not being allowed to hand the slips to our supporters as they [AL men] have threatened to drive us from here if we do so," Al Amin, a BNP activist, told The Daily Star there. "They've already broken our desk on Nurjahan Road."
For the AL men, the scenario was totally different.
There was a good number of party supporters, mostly youths, in front of each polling station. They were wearing badges with photos of "boat", the party's electoral symbol.
With banners of AL candidates, rickshaws and some motorised vehicles were seen transporting people.
Supporters and followers of the mayor and councillor candidates were also seen eating snacks, and even playing cricket outside polling centres at places.
The situation inside the centres, however, was not so lively. Long queues of voters -- a common sight on election day -- was hardly seen.
Inside some centres, AL men made fake queues of voters, to pretend to have a higher number of voters.
At the Dhaka University Laboratory School polling centre, supporters of Fazle Noor Taposh, AL mayor candidate for Dhaka South City Corporation (DSCC), formed one such queue, one of these correspondents saw first-hand.
At Adarsha High School centre in Mirpur-10, supporters of Atiqul Islam, the party's mayor candidate for the Dhaka North City Corporation (DNCC), also made a fake queue after locking the centre's main gate. This was seen by another correspondent who was present there.
At Cherry Grammar School centre in Kafrul's Ibrahimpur, many voters expressed their frustration as they had to wait long to go in.  
Talking to The Daily Star, they said although the centre was mostly empty, voters were not being allowed in. "One or two voters could go inside in every 10 minutes," one of them said.
Voters at many other centres alleged they could not cast their votes.
A man in his late 60s said he was obstructed by ruling party men from voting for a candidate of his choice. This centre was on Green Road.
BNP AGENTS' THIN PRESENCE
The Daily Star correspondents found agents from the BNP at only 20 of the 207 centres. The number of the agents was also very low.
There were a few agents of Islami Andolan Bangladesh.
But agents of the AL candidates were everywhere.
There were some complaints that agents from the ruling party forced agents from the BNP and other parties out of many centres.
One of these correspondents saw 10 polling agents of Tabith Awal, BNP's mayor candidate for the DNCC, around 8:10am at a centre at MDC Model Institute at Mirpur's Pallabi.
When a reporter of this newspaper went there again around 2:00pm, there were only two of the agents left.
"We were two female and eight male polling agents. But the males were driven out around 8:30am," said Liton Hawlader, one of the male polling agents.
Around 2:30pm, The Daily Star found a polling agent of Tabith at Motherland International School centre at Shewrapara in Mirpur.
The agent, named Mofidul, said, "Four of our men were supposed to come to this centre. But three did not show up for reasons unknown to me."
Contacted after the vote count, Mofidul said he was at the centre until the end and the candidate who hired him won at the centre.
Visiting 24 centres in Rampura, Badda and Gulshan areas, these correspondents found no agents of BNP candidates at 13 centres.
Asked about the absence of the agents, Touhidul Haq, presiding officer of a centre at Rampura's Ideal School and College, said, "I don't know why they've left."
Wishing not to be named, some of the assistant presiding officers there said polling agents of BNP candidates were driven out.
'UNWANTED' AID
In the absence of polling agents from the BNP, those from the AL went inside many secret voting rooms, in the name of helping voters with EVMs. 
The polling agents "helped" voters in several ways. Some agents snuck inside the curtain and told voters which polling symbol to vote for. Pretending to teach how to vote using the machine, some even pressed the buttons themselves.
Some were even standing inside the secret rooms to welcome voters.
LOW TURNOUT OF YOUNG VOTERS
The turnout of young voters appeared to be low yesterday.
Of the roughly 54 lakh voters, 48 percent were aged between 19 and 36 years. A further classification showed that nearly one-fourth of total voters were aged between 19 and 23 years, according to Election Commission officials.
"Turnout of young voters was too low to mention," said one of The Daily Star correspondents who visited seven centres in Uttara area under the DNCC.
Our correspondents, who visited nine centres in Dhanmondi, Mirpur, Mohammadpur Lalbagh, Nawabganj, and Azimpur areas, also reported a low turnout of young voters.
There were, however, a huge presence of youths outside polling centres. Almost all of them were supporting ruling party candidates.
FOOD DISTRIBUTED BY AL MEN
While visiting Kalachadpur Government School and College, which housed six centres, around 2:00pm, The Daily Star correspondents saw some people, wearing AL badges, distributing water and food among polling agents and polling officials.
Polling officials were not supposed to take them.
Some voters expressed surprise at such distribution of food.
"This doesn't send a good message to people. It proves all the centres are dominated by Awami League men who are going in and out the booths at will." 
Polling officials refused to make comment on the matter.