Dengue Outbreak: Detection kits in short supply
Two more die in Dhaka; 1,477 new cases reported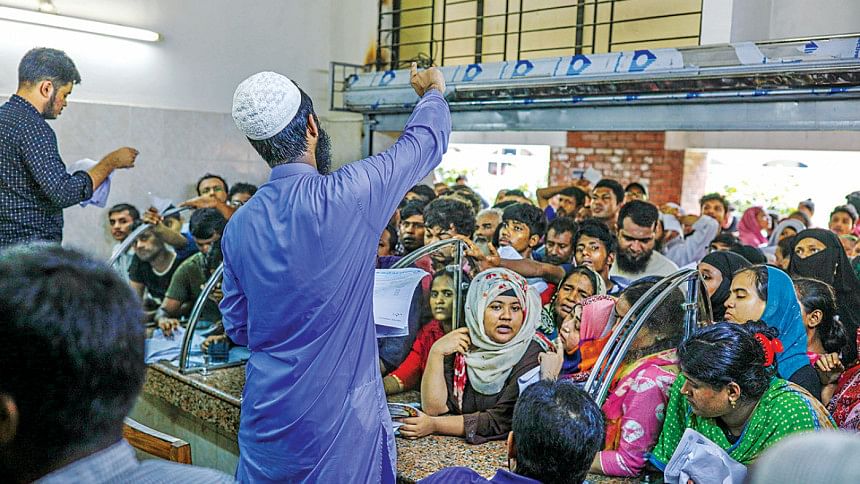 When the country is grappling with a record number of dengue cases, different hospitals, clinics and diagnostic centres face a short supply of a kit that is needed to detect the fever at the early stage.
Health experts and doctors say the government needs to import the kit in large numbers so that dengue patients do not suffer due to late detection of the disease. 
The kit is needed to do NS1 antigen test (nonstructural protein 1). Introduced in 2006, the kit allows rapid detection on the first day of fever, before antibodies appear some five or more days later.
It takes only 15 minutes to get the test result after a doctor or a lab technician takes drops of blood from the patient's fingertip.
Meanwhile, two more people, including a female police official, died of dengue in the capital yesterday.
With them, at least 43 people died of the disease at different hospitals this year, according to doctors and sources there.
The Directorate General of Health Services, however, says the number is 14.
Meanwhile, dengue has spread to 63 districts, the DGHS said yes-terday, adding that there had been no reports of the mosquito-borne disease in Netrakona.
KIT SHORTAGE
Talking to The Daily Star, authorities of several hospitals, clinics and dialogistic centres said they were doing the NS1 test only when they find it necessary as their stocks of the kits was going down.
They said a large number of panicked people were coming for den-gue tests and a few of the results were being found to be positive.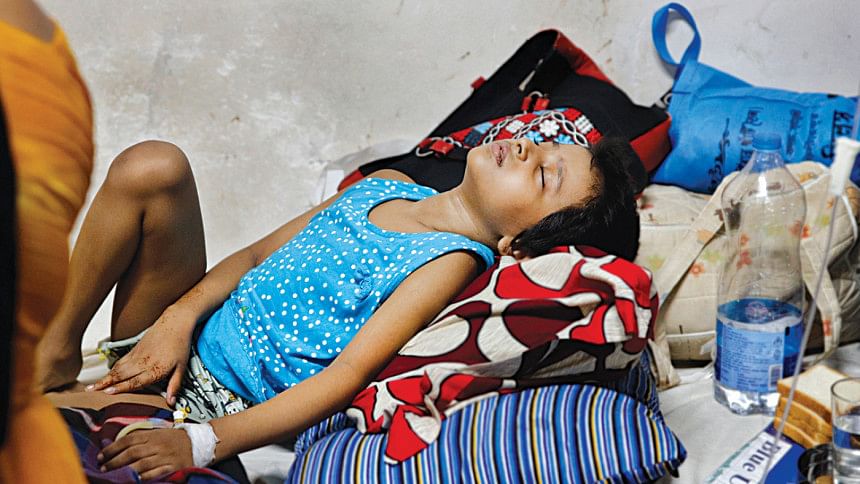 Sheikh Muhammad Muniruzzaman, public relations officer of Popu-lar Diagnostic Centre Limited's Mirpur branch, said some 500 peo-ple do the test there every day and only eight to 10 percent of them are found to have been inflected with dengue.
"You see we are facing a serious shortage of the NS1 kits. So we are not carrying out the test unless patients have high fever," he said.
Abdul Quddus of Exim Bank Hospital echoed Muniruzzaman's statement.
He said the hospital on Begum Rokeya Sarani had run out of the kits and it bought 40 more yesterday. "Those are kept for emer-gency purposes only."
ASM Humayun, manager of Al-Razi Hospital in Tejgaon, said they tried to purchase the kits from Medical and Surgical Equipment Market in Dhaka's Topkhana Road, but those were not available there.
"We are facing serious problems in treating dengue patients," he said.
Also, they were doing 10 to 12 NSI tests every day last week, but the demand now has risen to nearly 150, he added.
Asked about the shortage, Prof Sanya Tahmina, director of com-municable disease control at the DGHS, said the government im-ported 40,000 NSI kits this year and has distributed them to differ-ent government hospitals in and around the capital.
"We've already completed necessary procedures to import another 50,000 kits on an emergency basis. We will get them in seven days," she said.
Prof Sanya said they hoped to get one lakh kits from the World Health Organization from this year, as assured by it.   
She also said, "We purchased 10,000 NSI kits last year. This year, we bought 40,000 kits, but those have proved to be insufficient due to a huge demand.
"It will be a huge challenge if the dengue situation continues to be same for two more months."
Prof Sanya also said many people were going for dengue tests even with light fever and that was why the demand for the kits had shot up lately.
Asked, she said they were sending 150 to 200 kits to each of the districts outside Dhaka every day.
Talking to these correspondents, different traders, who privately sell NSI kits to hospitals, said they were also facing a crisis of the kits and that many were cashing in on the situation.
They said it takes at least three months to import the kits by road and 15 days by air.
"There are some brokers who secretly sell the kits for double the price," said a trader at Medical and Surgical Equipment Market on Topkhana Road. "Usually, one kit costs Tk 160 to Tk 180, but it was being sold for between Tk 350 and Tk 400," he said.
Several other traders said the same.
Md Alauddin, owner of Medi Star Surgical at the market, said he bought 500 kits in mid-July and all of them were sold instantly.
"Had I bought thousands more I would have sold them within mo-ments," he regretted.
Khairul Islam Rajib, who works at an adjacent shop named Genesis International, said there were some 20 to 25 authorised importers who bring the product mainly from Australia, USA, Korea and China.
"We import it from Australia and USA. We normally bring 25,000 kits every year," he said, adding each kit is usable for a year.
He also said they had to destroy 10 to 20 percent of the kits im-ported last year as their expiry date was over.
DENGUE SPREADS TO 63 DISTRICTS
The DGHS said dengue cases were reported in all districts, except Netrakona. 
Until yesterday, a record 17,123 people have been infected with the disease, the DGHS said, adding 1,477 new dengue cases were reported at hospitals in 24 hours since 8:00am on Sunday.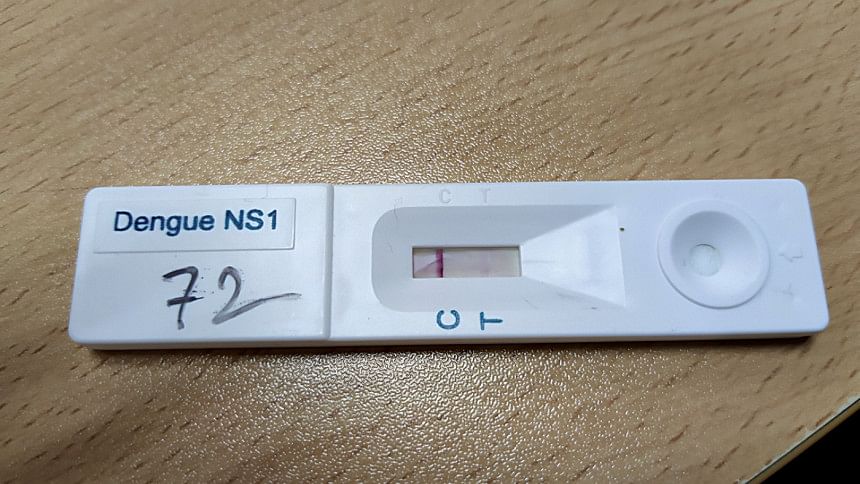 DEATH 
The police official who died of dengue yesterday was identified as Kohinoor Akhter, a sub-inspector of the Special Branch.
She breathed her last around 1:40am, said Sohel Rana, assistant inspector general (media) at police headquarters.
Kohinoor had been running fever since July 24. Initially, she was admitted to Rajarbagh Police Lines Hospital. Her condition deteriorated and she was shifted to Mohammadpur's City Hospital where she died around 1:40am, he added. 
Another dengue patient who died yesterday was Rabiul Islam Rab-bi, said Sub-Inspector Abdul Khan of the Dhaka Medical College Hospital's police outpost.
Rabiul had been admitted to Kurmitola General Hospital on July 22. He was rushed to Dhaka Medical College hospital after his condi-tion worsened yesterday afternoon. He died later, the SI added.
RISKY MONTHS
Though July has already broken all the records of dengue cases since the first outbreak in the country in 2000, upcoming August, September and October months are also being considered to be risky.
Experts said if extensive efforts were not taken immediately, the situation could take a turn for the worse.
MINISTRY STATEMENT
In a press statement yesterday, the information ministry yesterday requested all not to be misguided by a social media campaign that asks to use toilet cleaner and bleaching powder in basins to kill Aedes larva.
Experts said those would not destroy the larvae. Rather, the envi-ronment and the human health would be harmed, it said.
HIGH DENSITY IN 98 WARDS
Meanwhile, a new survey of the DGHS has found a high density of Aedes larvae in areas under 98 wards of the two Dhaka city corpo-rations.
The survey was conducted in 100 areas of the wards between July 17 and July 27.
The survey said Aedes larvae or pupae was found in wet floors, plastic barrels, buckets, clay pots, used or abandoned tyres, tubes, water tanks and discarded colour pots.