Demo continues, stays peaceful
NBR issues fresh clarification on VAT; students want it gone altogether, to hold agitation today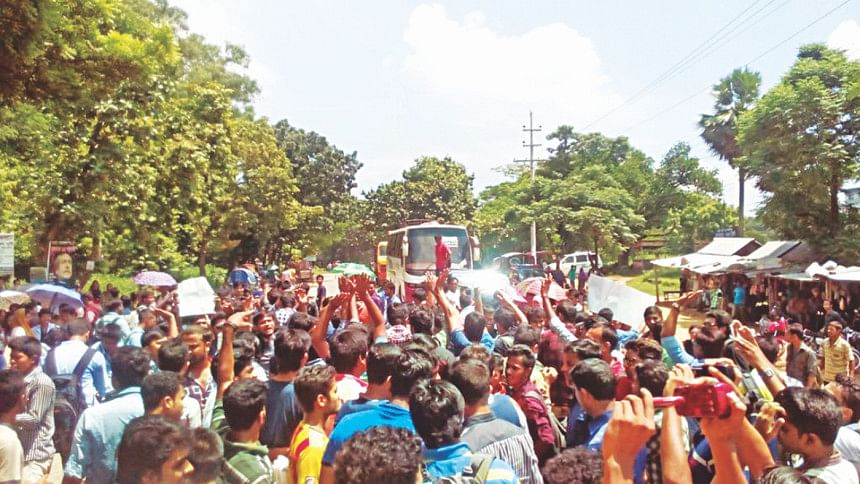 Private university students yesterday blocked the Dhaka-Aricha highway in Savar for over an hour on the first day of their three-day strike, demanding withdrawal of 7.5 percent VAT slapped on their "tuition fees".
Creating a seven kilometre-long tailback, about 500 students of Gono Bishwabidyalay took part in the demonstration in Bishmail area on the outskirts of the capital.
Students also held demonstrations at several places in the capital and in Chittagong, Sylhet and Rajshahi.
However, there was no report of any untoward incident.
Witnesses said that in Savar students of Gono Bishwabidyalay took to the street around 11:45am and continued the agitation till 1:00pm. They said vehicular movement came to normalcy around 3:30pm.
Chanting slogans against the government decision, the students held placards inscribed with "Education is not a product," "We'd rather die than pay VAT," and "Education is our right".
NBR CLARIFICATION
Meanwhile, the National Board of Revenue (NBR) yesterday issued a fresh clarification regarding the VAT issue.
It said students will not have to pay the VAT as indirect tax is already included in the tuition fees.
"There is no room for a spike in tuition fees as it is the university authorities' responsibility to pay VAT, not the students'," said the tax authority in a clarification issued yesterday evening.
Citing rules, the revenue collector said VAT is determined based on the total price for service rendered by a business or a company or an organisation. It said the total price for service may be of two categories -- VAT inclusive price and VAT exclusive price.
If the price of service and VAT are not mentioned separately, then the VAT is already included in the total price paid for the service, it said adding there are specific rules on how to calculate VAT from VAT inclusive price.
Since the imposition of VAT on private universities in June 2015, the tuition fees students pay are counted as VAT inclusive price.
For further clarification, the NBR gave an example. If a university received Tk 1,00,000 as tuition fee, 7.5 percent VAT (Tk 6,976) will be deducted from it and the rest will be regarded as the total price. So the government will get Tk 6,976 and the university Tk 93,023.
STUDENTS' DEMO IN CAPITAL, OTHER CITIES
At a press briefing on the Dhanmondi campus of Stamford University yesterday evening, students under the banner of "No Vat on Education" said they would continue their peaceful strike till Monday.
"Today's [Saturday] agitation was peaceful. Students suspended their classes in support and brought out rallies," said Moshiur Rahman, an organiser of the platform.
Reading out a written statement, Moshiur alleged a vested quarter was trying to foil the movement by threatening them. He, however, did not mention any particular organisation or person.
Private university students intensified their protest programme against the imposition of VAT a day after police fired rubber bullets at an anti-VAT demonstration of East West University students in the capital's Rampura on Wednesday.
In the capital's Dhanmondi, students of Stamford University, State University of Bangladesh, Daffodil International University and World University of Bangladesh brought out a rally and formed a human chain yesterday morning.
Students of Bangladesh University demonstrated near Asad Gate and students of Ahsanullah University of Science and Technology on their campus in Tejgaon Industrial area.
Nurul Muttakin, OC of Bhatara Police Station, said private university students marched for about an hour on Pragati Sarani near Bashundhara residential area in the morning.
In Chittagong, vehicular movement on Chittagong-Cox's Bazar highway was disrupted for about 10 minutes as around 250 students of BGC Trust University took to the streets in Chandanaish upazila around 10:45am.
In Sylhet city, students gathered near Court Point around noon and chanted anti-VAT slogans, our local correspondent reports. Police had been deployed in the area to avert any untoward incident.
In Rajshahi city, students brought out a procession at Shaheb Bazar and Mani Chattar in the early afternoon.
FINANCE MINISTER ON VAT
Meanwhile, Finance Minister AMA Muhith reiterated that the VAT on private universities will not be withdrawn.
"We have to expand the scope of revenue collection. To do so we need to push different areas," he told a programme at the capital's Bangla Academy yesterday.
At another programme in a city hotel, Muhith said students will not bear the brunt of VAT this year.
"What I think is … this time no student is going to be charged [the VAT]. They [universities] will pay it from what [tuition fees] has already been collected."
The finance minister also asked students to be cautious from next year so that the authorities could not collect extra money from them.
"If you are not alert enough, they [the university authorities] might impose it [VAT] on you in different ways in the coming year," he said.