Buet protesters won't budge
Issue ultimatum of 2:00pm today to meet their 10-point demand; 3 more arrested; minister pledges charge sheet at the soonest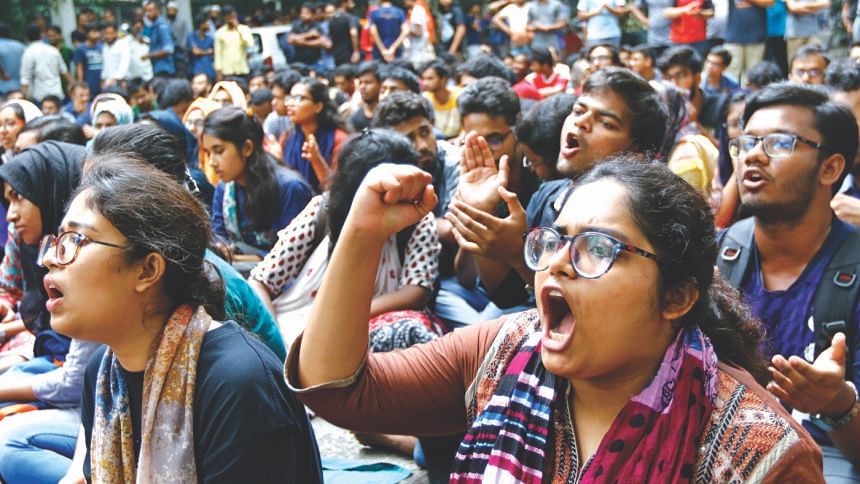 The protesting Buet students yesterday said the VC has until 2:00pm today to make his stance clear about their demands, or else they would lock down all buildings on campus. 
They also threatened to stop the Buet admission tests scheduled for October 14 if the authorities failed to postpone the tests by 5:00pm today. 
"We have given deadlines to meet our 10-point demand. If those are not met, we will be forced to stop all administrative activities. We will be forced to announce that the October 14 admission tests would not be held," said an organiser of the protest. 
The students were briefing reporters during their fourth consecutive day of demonstrations following the murder of Abrar Fahad inside Buet's Sher-e-Bangla Hall.  
Abrar, a second-year student, was beaten to death early Monday allegedly by a group of Chhatra League leaders. 
Over a thousand students yesterday marched on campus, staged a sit-in blocking a major street, drew graffities, and performed a street play. 
They demanded expulsion of the students involved in the murder, the university bearing the cost of the murder trial, compensation to Abrar's family, and a ban on "organisation-based student politics" on campus. 
They said they were not for wholesale ban on student politics but they were against "organisation-based student politics".
The protesters yesterday thanked Prime Minister Sheikh Hasina for saying that the Buet authorities could ban student politics if it wanted.   
The demonstrators were scheduled to have a meeting with the VC yesterday evening but it was postponed until 5:00pm today.  
Meanwhile, police arrested three more suspects taking the arrest figure to 16.
Key suspect Ifti Mosharraf Shakal yesterday confessed to beating up Abrar with other Chhatra League leaders. 
The home and law ministers yesterday said that the trial would start soon and be fast paced. 
The Buet teachers' association, meanwhile, reiterated its demand for the VC's removal.  
Central Chhatra League and their units, including the one in Dhaka University, marched from TSC to Central Shaheed Minar yesterday in what they said was mourning for Abrar. 
They also demanded capital punishment for Abrar's killers. 
"We sincerely urge the government to ensure capital punishment of the killers," BCL acting president Al Nahean Khan Joy said after a rally.  
SHAKAL CONFESSES 
Biomedical engineering department's 16th batch student Shakal, key accused in the Abrar murder case, yesterday confessed that he along with other BCL men tortured Abrar leading to his death. 
Metropolitan Magistrate Sadbir Yasir Ahsan Chowdhury recorded his statement after Detective Branch of Police Inspector Md Wahiduzzaman, investigation officer of the case, produced him before the magistrate. 
Shakal, social welfare secretary of Buet BCL unit, was sent to Dhaka Central Jail in Keraniganj afterwards. 
Police officials said Shakal is from Rajbari and is the fifth accused in the case. His father is a local private tutor.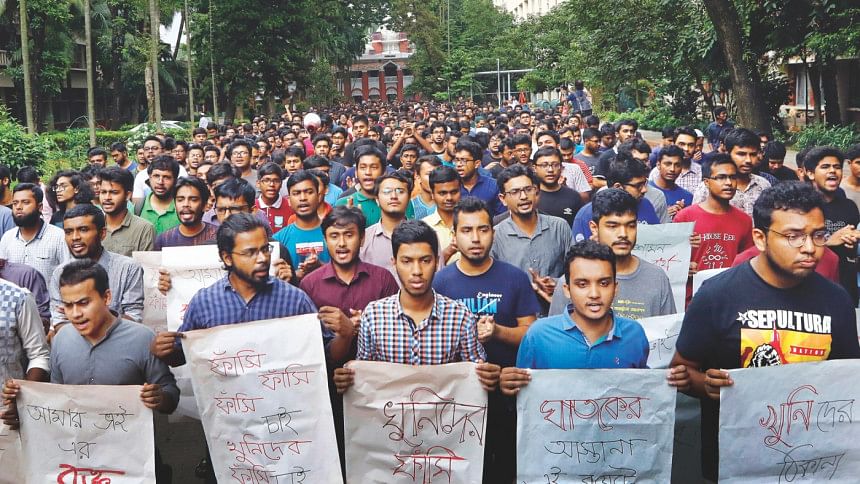 THREE MORE ARRESTED
Yesterday, detectives arrested three Buet students, including Bangladesh Chhatra League leader Amit Saha, Abrar's roommate Mizanur Rahman Mizan, and Hossain Mohammad Toha in connection with the murder. 
Amit was arrested at Dhaka's Sabujbagh around 11:00am, Mizan on Buet campus around 12:30pm, and Toha at Mawna of Gazipur around 3:00pm. 
So far, police arrested 16 suspects including four who were not named in the first information report. 
"Arrest of so many suspects in quick succession was possible due to the sincerity of police," said DMP Additional Commissioner Monirul Islam at the DMP media centre, adding that 10 were arrested even before the case was filed. 
He said many of the accused were willing to confess and police were scrutinising their statements. 
Asked why police did not contact the hall administration knowing there was an injured person inside, Monirul said, "Police had no information about anyone ill or grievously injured." 
'PLANNED MURDER'
Before Abrar was called out of his room allegedly by BCL men, Amit reportedly enquired about his whereabouts via text messages with other students, said police officials. 
Amit, a student of 16th batch of Buet's civil engineering department, is the deputy law secretary of Buet BCL. Abrar was tortured in Amit's Sher-e-Bangla Hall room (room-2011).
Monirul yesterday said Amit was arrested following information gleaned from other arrestees.  
In screenshots of Facebook messenger conversations The Daily Star obtained, accused Robein was seen on Saturday asking students to beat up Abrar and force him out of the dormitory. 
He said he had asked for this before but it was not done. He gave his fellows two days to get it done.
Amit took part in the conversation.
In another Facebook conversation between Amit and Shakal, Amit is seen asking Shakal if Abrar had been forced out of the dorm. Shakal informs him that they had beaten up Abrar a little too much and he was dying. 
The Daily Star could not independently verify the authenticity of the Facebook messenger screenshots.
'REMOVE VC'
The Buet Teachers' Association yesterday reiterated its demand for the removal of the university's Vice-Chancellor Prof Saiful Islam for his "failure to ensure safety of students on campus". 
It urged the government to force the VC to resign if he did not do so willingly. 
Association President Prof AKM Masum said, "The VC's continuous carelessness and his failure to ensure students' safety encouraged the killers to murder Abrar." 
He was talking to reporters in front of the Central Shaheed Minar after placing their seven-point demand, which included a ban on party-based politics on Buet campus.  
The VC could not be reached for comments yesterday.
'CHARGE SHEET SOON' 
Home Minister Asaduzzaman Khan yesterday said the charge sheet in Abrar murder case would be pressed soon, reports UNB. 
"The law enforcement agencies are working on it and a flawless charge sheet will be pressed," he said while talking to reporters at the secretariat. 
Referring to the PM's directives on drives at university dormitories, the minister said, "We'll talk to the vice-chancellors and conduct search operations at halls of universities and colleges soon." 
Replying to a query on "torture cells" at dormitories, he said, "We'll look into it." 
'SPEEDY DISPOSAL OF CASE'
Assuring that steps would be taken to dispose of Abrar murder case fast, Law Minister Anisul Huq yesterday said those involved in the gruesome killing, irrespective of their identity, would be brought to book. 
"The trial will be completed and justice will be served," he said while speaking at an inauguration programme for a building of the Chief Judicial Magistrate Court in Noakhali. 
NHRC MONITORING
The National Human Rights Commission yesterday sought speedy trial of Abrar murder and demanded exemplary punishment of the killers. 
The commission has been closely observing the government's actions in this regard, said a press release.