Crackdown on 'casinos'
Jubo League leader Khalid among 183 held as Rab raids clubs; liquor, cash seized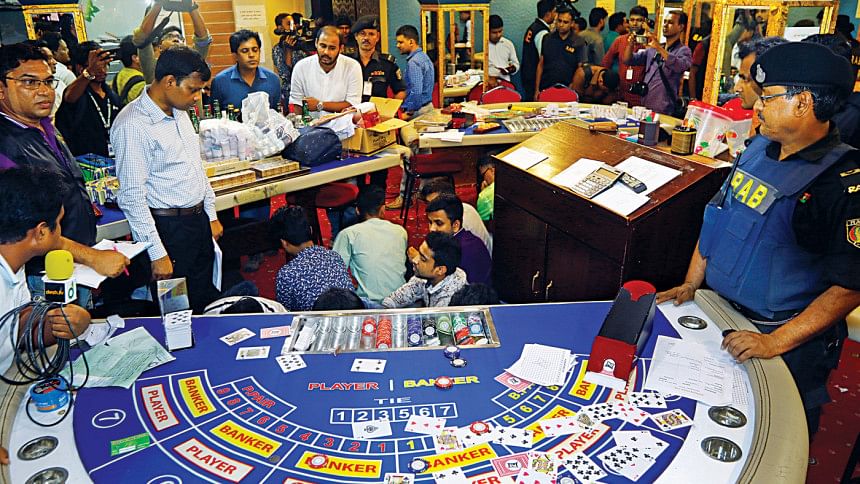 -- 142 held from casino in Fakirerpool
-- 31 jailed for 1-year, 111 for six months
-- Tk 24 lakh, liquor, yaba pills, casino boards seized
-- 3 firearms, bullets seized
-- Another casino in Banani sealed-off
Rab arrested Jubo League Dhaka South Organising Secretary Khalid Mahmud Bhuiyan at his Gulshan home yesterday evening for running a "casino" at a football club in Fakirerpool.
Rab raided at least five clubs in the city yesterday and detained and sentenced 182 people in connection with running "casinos", gambling, and drug abuse, and sealed off at least two clubs.  
Khalid's arrest came after a Rab mobile court detained and sentenced 142 people raiding the "casino" in Fakirerpool Youngmen's Club and seized some apparently blackjack tables, slot machines, Tk 24.29 lakh in cash, yaba pills, and some bottles of liquor around 4:30pm.  
Khalid is the president of the club and he was detained around 7:30pm, Sarwar-Bin-Kashem, director (legal and media) of Rab, told The Daily Star. 
Rab also seized three firearms, bullets, and yaba pills in his possession.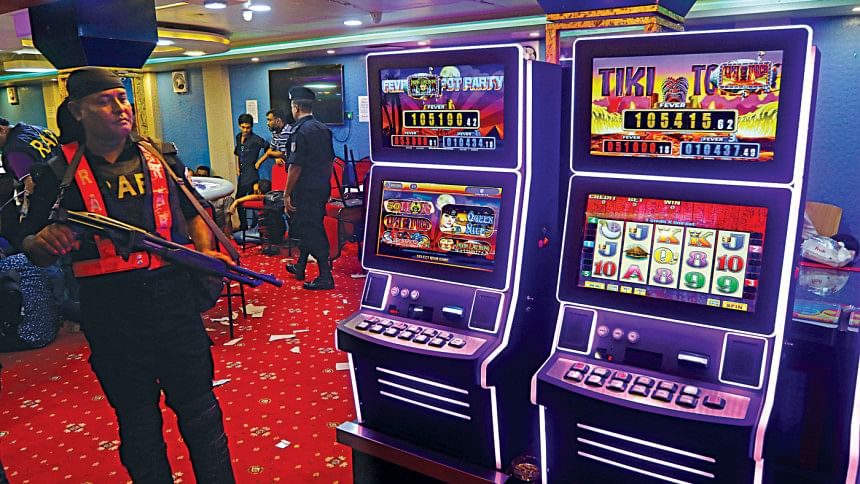 "One of the firearms was illegal while two others were seized for breaching the conditions of the licence for the firearms," Rab said in a text.  
Executive Magistrate Sarwoer Alam in a press briefing after the raid at the club said Khalid ran the well-decorated "casino". Out of the 142 people arrested there, 31 people, including 16 staffers of the casino, were sentenced to one year in jail and the rest to six months' imprisonment.   
Many of them were arrested drunk, he said.
Rab officials said every day crores of taka used to be gambled in the "casino" that remained open 24/7.
Sarwoer said Youngmen's Club was a football club but a portion of the floor space was used for running the "casino".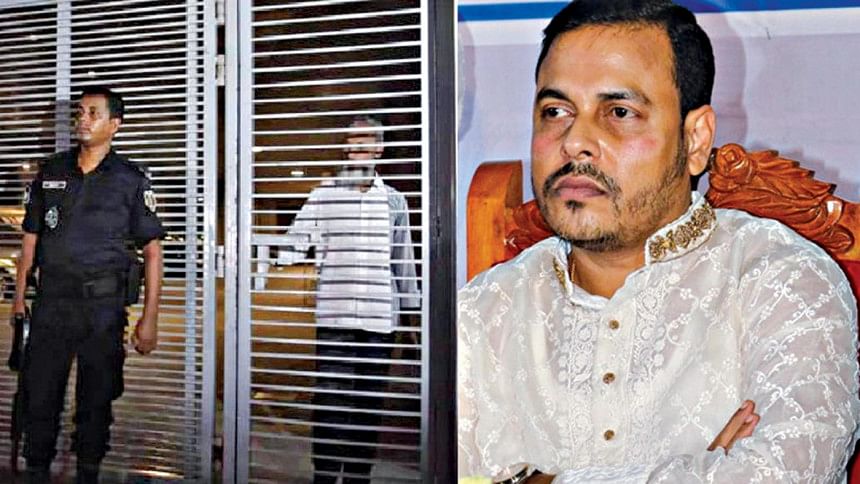 The club had a Nepalese manager but "we could not detain him", he said.
Arrestee Milon Hossain, who hails from Madhabdi in Narsingdi, said in the last six months he lost Tk 1.5 crore at the "casino" and he gathered the money selling off his family land.
In another drive, the Rab mobile court arrested and sentenced 40 people at "casinos" in Muktijoddha Sangsad Krirachakra in Gulistan and Muktijoddha Chetona Club in Shahjahanpur, Rab officials said.
They seized gambling materials, drugs, cash, and even touchstone idols.
The mobile court also raided the Golden Dhaka Bangladesh located in Ahmed Tower in Banani and Wanderers Club in Motijheel area.
It sealed off Golden Dhaka Bangladesh finding no one there, Rab said.
A huge quantity of gambling materials, drugs, and counterfeit currencies were seized at Wanderers Club, which was also sealed off.
Rab officials said that they learnt that two leaders of two ruling party affiliated organisations ran the "casino" in Wanderers Club. The Daily Star could not verify the claim.
According to Rab, there is no legal way to run a casino in Bangladesh.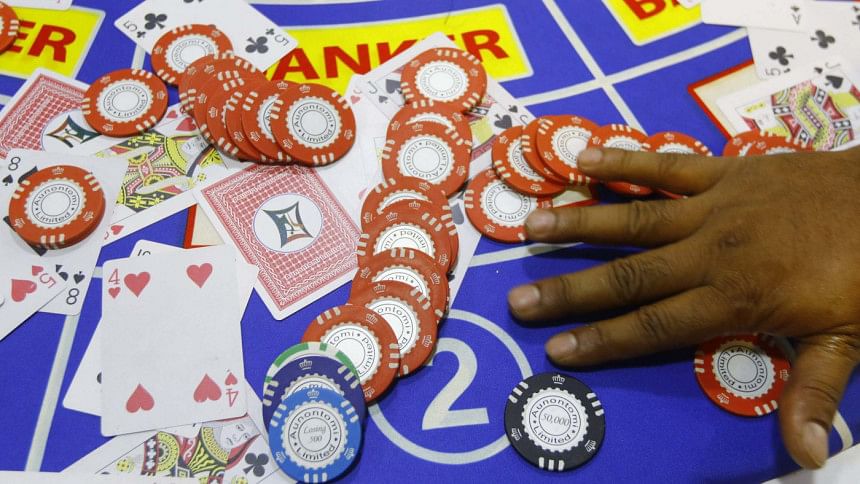 Jubo League is the youth wing of ruling Awami League and the drives came after AL President Sheikh Hasina expressed annoyance on Saturday over allegations that some Jubo League leaders were involved in various crimes, including extortion and running "casinos".
She was presiding over the AL Central Working Committee meeting when she showed her party colleagues a photo on her mobile phone in which a Jubo League leader was seen brandishing a firearm, meeting sources said. 
"Not a single protest procession was brought out after Bangabandhu's assassination. But now these people are staging showdowns with firearms," she was quoted as saying.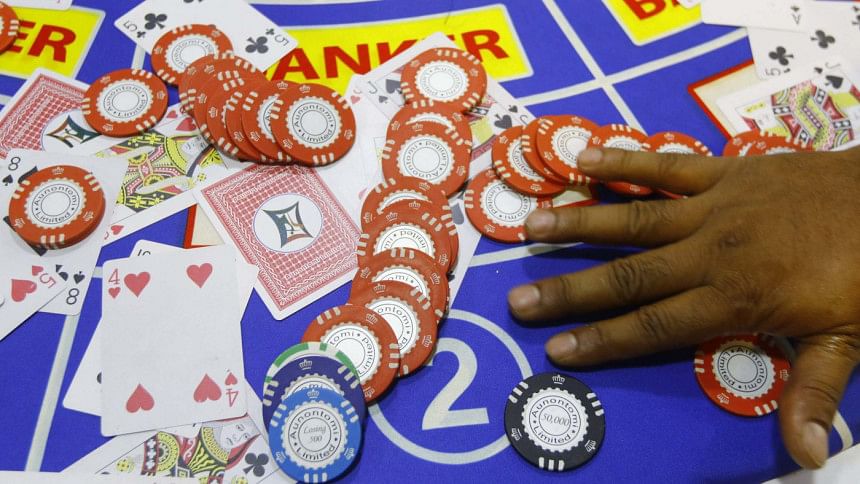 One of the senior AL leaders at the meeting identified the Jubo League leader in the photo as Khalid. 
Rab sources, wishing not to be named, early yesterday said they discovered and were raiding the "torture cell" of Khalid near Kamalapur Railway Station. They claimed to have recovered torture equipment from the spot.
They said Khalid used the cell to torture people who would not pay him the money he demands. The raid was going on as of 1:00am, when this report was filed.
Meanwhile, Jubo League Chairman Omar Faroque Chowdhury during a meeting at Darussalam in the capital yesterday afternoon said, "You [law enforcers] are saying there are 60 casinos in Dhaka. What were you doing all this time? If that is true, the policemen of the police stations and the Rab personnel of the Rab units concerned should be arrested.
"I've never seen a casino... I'd love to see one. If you want to arrest me then arrest me ... But you [law enforcers] have given tacit approval to these casinos."