Narco, arms cases filed against Samrat
ACC probing his wealth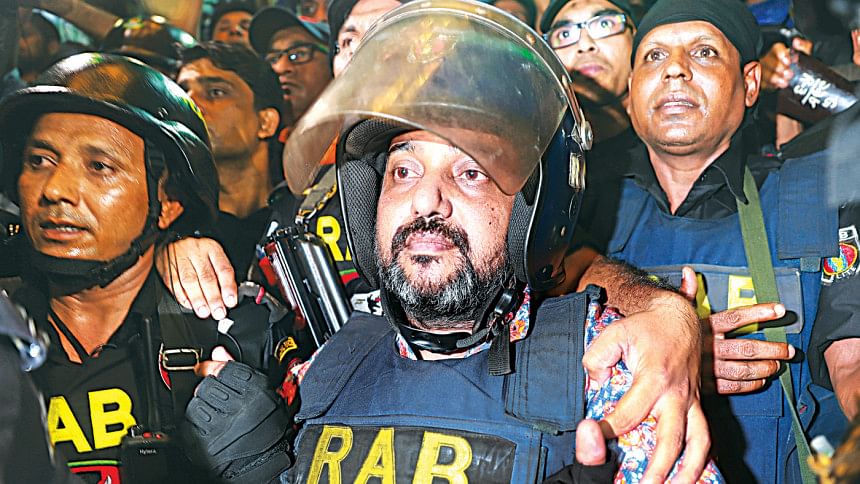 Ismail Hossain Chowdhury Samrat used to lead a large gang whose members would often torture those who refused to pay extortion money or opposed him, Rab claimed yesterday.
For this, the gang resorted to electric shocks.
Samrat amassed a huge amount of money through illegal casino business, tender grabbing and extortion, say statements of two cases filed against the former Jubo League Dhaka South president.
A Rab official lodged the cases with Ramna Police Station yesterday afternoon under the arms and the narcotics control acts.
In the narcotics case, Samrat's aide Enamul Haque Arman, expelled Jubo League Dhaka South vice president, has also been made an accused.
The Rab arrested Samrat and Arman in Cumilla early Sunday.
In the cases, the complainant said Samrat, known as "Casino Samrat", used to control the illegal casino business at 10 clubs in Motijheel, Arambagh, Fakirerpool and Paltan areas. He used his sway as the president of Dhaka South Jubo League to carry out his misdeeds.
Samrat used to visit Singapore once a month to gamble. Rab got the information through investigation and his interrogation, said the complainant.
According to the case statements, Samrat's key accomplices are Dhaka South City Corporation ward Councillor Mominul Haque Sayeed and former Jubo League Dhaka South organising secretary Khaled Mahmud Bhuiyan, who
was arrested earlier.
The Rab raided Samrat's office in the capital's Kakrail on Sunday and seized two devices used for torturing people, a pistol with five bullets, a magazine, two kangaroo hides, 1,160 yaba tablets and 19 bottles of foreign liquor from there.
Later, a Rab mobile court sentenced Samrat to six months in jail for possessing wild animal hides and another six months for possessing liquor.
Another mobile court also sentenced Arman to six months in jail for possessing liquor.
Samrat was sent to Dhaka Central Jail in Keraniganj and Arman to Cumilla Central Jail on Sunday night.
Meanwhile, the Anti-Corruption Commission has begun an enquiry into Samrat's wealth.
It will also probe the wealth of Arman, Khalid and others whose names have come up in the media for their alleged involvement in the casino business, an ACC source said yesterday.
The source added that the commission would enquire into the wealth of top government-listed contractor GK Shamim and the Public Works Department officials whose links with him have been found.
Talking to reporters at ACC's Segunbagicha headquarters yesterday, its Chairman Iqbal Mahmood said the commission was investigating the wealth of at least 15 people whose names have come up in the media for their alleged involvement in the casino business.
"We have collected information on 15 to 20 persons from intelligence sources and the media. We are now enquiring into their wealth," he said.
"Casino business is not an offence under the ACC act. But amassing wealth beyond known sources of income is an offence," he said, adding that is why the
ACC was probing the wealth of the persons who have apparently amassed wealth from the casino business and concealed it in their wealth statements.
ARREST OF GOVT EMPLOYEE
There has been a debate over whether the anti-graft body would be able to conduct its drive against government employees involved in corruption as the Sarkari Chakori Ain-2018 came into effect from October 1 this year.
The law says public servants cannot be arrested until a court frames charges against them. No prior permission is needed in that case.
But before charges are framed, they can be arrested only after getting permission from the appropriate authorities, meaning the hiring authorities or any other authorities defined in any other existing law.
An ACC team yesterday caught Assistant District Primary Education Officer of Thakurgaon Anisur Rahman and Office Assistant Julfikar red-handed taking bribes of Tk 50,000.
Asked, the ACC boss said the act has made it clear that permission will be required to arrest employees when they are discharging their duties. "Is taking bribes a duty?" he asked.
"The commission has high respect for the law. We firmly believe that the act of taking bribes is not a government job.
"The way the government has taken a zero tolerance policy against bribery and graft, the commission is implementing it the same way. There is no scope for misunderstandings," said Iqbal.
Under the new law, a civil servant will be suspended initially and will lose their jobs if they are given capital punishment or punishment of more than one year in jail.
However, they will face departmental action if they are given a jail sentence below one year.