2 cases filed against Samrat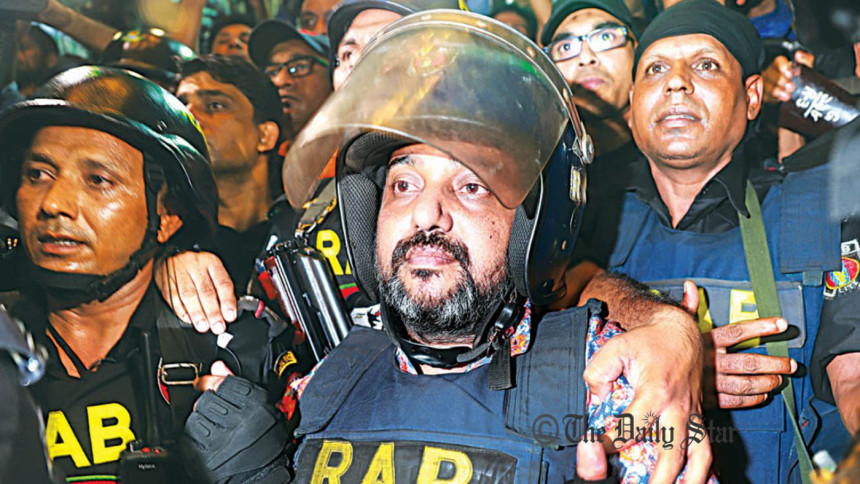 Rapid Action Battalion (Rab) today filed two separate cases against expelled Jubo League leader Ismail Hossain Chowdhury Samrat with Ramna Police Station under firearms and narcotics control acts.
Abdul Khalek, deputy assistant director of Rab-1 filed the case, said Kazi Mainul Islam, officer-in-charge of the police station.
In the case filed under the Narcotics Control Act Samrat's sidekick Enamul Haque Arman, expelled Jubo League Dhaka South unit vice-president, has been made an accused with Samrat.
Hours after the arrest of Samrat and Arman from Cumilla yesterday, Jubo League expelled them from the youth wing of the ruling Awami League for their involvement in anti-social activities and breaching the party's discipline.
Through the arrest of Samrat, one of the casino kingpins, the speculations over his arrest since the drive against corruption began over two weeks ago, has put an end.
"Evidences of the cases were handed over to us and we will take step through investigation," the OC said.
According to Rab, it arrested Samrat, president of Jubo League Dhaka South unit, along with his close aide Enamul Haque Arman, vice president of the unit, from Cumilla around 5:00am yesterday, raiding a house near the Indian border
Samrat was then brought to the capital, and the elite force conducted operations at various establishments where the Jubo League leader either lived or carried out political and business activities.
Rab also took Samrat to his political office in Kakrail where he had been reportedly staying since the crackdown began on September 18.
Following a five-hour search at the office, the elite force at a press briefing said it seized two electric machines used for torturing people, a pistol with five bullets, two hides of Kangaroo, 1,160 pieces of Yaba and 19 bottles of foreign liquor from there.
Later, a Rab mobile court sentenced Samrat to six months in jail for possessing wild animal hides and another six months for possessing liquor.
Rab Magistrate Sarwar Alam told this newspaper yesterday that Samrat was sent to Dhaka Central Jail in Keraniganj.
The Rab members also searched two of his houses in the capital's Shantinagar and Mohakhali DOHS areas.
Samrat controlled illegal casino business at different clubs in the capital and was also involved in tender manipulation and extortion, according to sources in law enforcement agencies.