From 'best organiser' to pariah in 20 days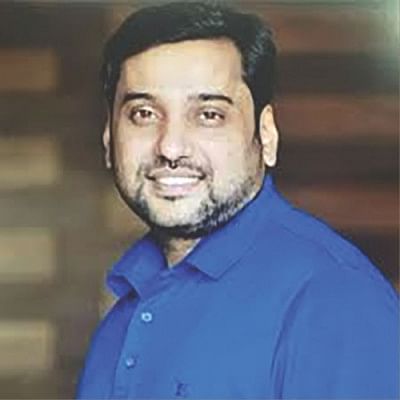 Barely a month ago, during a doa mehfil at the Suhrawardy Udyan in the capital, Ismail Hossain Samrat was hailed as the "best organiser" of Jubo League by its Chairman Omar Faruk Chowdhury.    
The adulation, however, was short-lived.
Only hours later, Awami League President Sheikh Hasina at the party's central working committee meeting on September 16 hinted at action against Samrat for his involvement in criminal activities.
She further said she had warned the Jubo League leader to stop extortion, but he did not pay any heed to her warning, sources said.
Hasina also categorically told the meeting that she did not want any doa mehfil organised with "extortion money".
The damning indictment, by none other than the party president, could be considered as the first nail in Samrat's coffin.
Samrat, who literally lived up to his name by carving an empire based on illegal gambling and extortion business in the capital, saw his house of cards come crashing when Rab arrested him from Cumilla yesterday. 
Twenty days into being the shining star of Jubo League, the Dhaka City (South) unit Jubo League president's arrest led to his immediate expulsion from the youth front of AL.
"For his involvement in anti-social activities and breaching discipline of the organisation, he has been expelled," read an SMS sent by Mizanul Islam Mizu, education affairs secretary of the Jubo League.
Omar Faruk also changed his tune yesterday while announcing Samrat's expulsion from the party.
According to Jubo League sources, however, Omar was the man under whose patronage Samrat became the kingpin of the capital's illegal casinos.
In fact, after Samrat's name emerged over his involvement in illegal gambling following the drive against it on September 18, Omar was quick to jump to his defence. 
During a September 19 programme at Mirpur, Omar brushed aside allegations against Samrat and said it was a conspiracy hatched against Jubo League's "best unit and best organiser".
That Omar threw his weight behind Samrat in such trying times spoke of the latter's penchant for politics, something Samrat spent years cultivating.
FRIENDS IN HIGH PLACES
Hailing from East Saheb Nagar village of Mirza Nagar union of Parshuram thana in Feni, Samrat's father late Faiz Ahmed was a liftman of Rajdhani Unnayan Kartripakkha (Rajuk).
Samrat, the eldest of four siblings, grew up at the government staff quarters on Circuit House Road of Kakrail.
He studied up to class eight and became involved in Chhatra League politics in 1990. But before that, he had made a name for himself during HM Ershad's rule when he was with Chhatra Samaj, the student wing of Jatiya Party, according to Jubo League leaders close to Samrat.
Afterwards, during the BNP-led four-party rule between 1991-96, he joined forces with Jubo League and was elected organising secretary of its Dhaka City (South) unit.
It was at this time when he developed a close bond with the then unit general secretary Nurunnabi Chowdhury Shaon.
According to Jubo League sources, this association led to Samrat's rise, resulting in his being elected the unit president through the council held on July 14, 2012.
Omar Faruk was also elected chairman of the youth front.
But as Samrat indulged in various forms of corruption, his indiscretions soon came to the notice of party higher-ups.
His name came into discussion last year after he demanded ransom from Anjuman Mofidul Islam (AMI), a voluntary organisation providing humanitarian services to the poor, for the construction of its headquarters at Kakrail.
Even the AL president received a complaint against Samrat for this, said sources.
According to them, on September 21, Sheikh Hasina expressed her annoyance over the matter and asked that the Jubo League unit be dissolved when leaders of the party and its front organisations went to see her off at the airport before her departure for the UN summit.
Jubo League chairman and General Secretary Harun-Or-Rashid were present there, they said.
But due to the "blessings" of the chairman and some senior leaders of the party, Samrat escaped Hasina's wrath.
The support he had from within the party was very evident.
The Jubo League unit office Samrat had set up in his own personal office at Kakrail remained surrounded by hundreds of activists from early morning to midnight every day.
During a visit there yesterday, digital posters of Samrat with the Jubo League chairman and general secretary were seen displayed at the entrance of the Bhuiyan Manson, the office building.
Samrat used the fourth, seventh, eighth and top floor of the eight-storey building to carry out his activities.
Apart from using his office to carry out his business activities, Samrat also used it for organisational activities. It was also the place where he meted out punishment to those he didn't like or those who didn't follow his orders.
Besides controlling the capital's casino scene, Samrat himself was a regular gambler and used to travel to Singapore frequently for it.
His second wife Sharmin Chowdhury, while talking to reporters at her Mohakhali DOHS residence, yesterday claimed that gambling was the only addiction her husband had.
But perhaps Samrat's gambling extended beyond cards and tables, infiltrating his very politics and eventually leading to his spectacular fall.