Country's first nano satellite in orbit
Made by Brac University students, Brac Onnesha starts orbiting the earth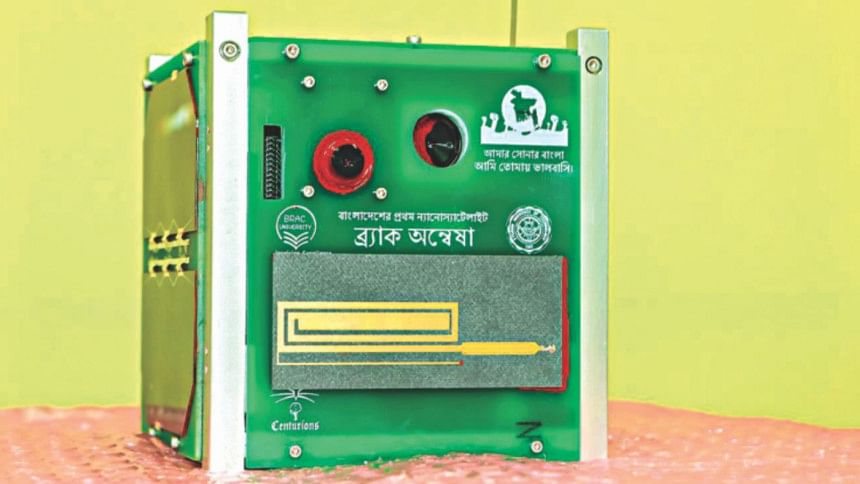 Brac Onnesha, the country's first nano-satellite developed by three Brac University students with the use of Japanese technology, began orbiting the earth yesterday.
The joyous moment came when a robotic arm at the International Space Station (ISS) deployed the nanosat, a cube measuring 10cm along its edge and weighing around one kilogramme, into the orbit at an altitude of around 410km at 3:10pm Bangladesh time.
Japan Aerospace Exploration Agency and Kyushu Institute of Technology (Kyutech) connected to the ISS in space and created opportunity for everyone on the Brac campus to see the event live.   
"Today, we are reaping the rewards of taking risks," Brac University Vice-chancellor Syed Saad Andaleeb said while addressing a programme organised at the university auditorium to celebrate the occasion.
Four years ago, the university authorities had to think twice before going for the nanosat technology which is comparatively new in space science, he said.
Taking 90 minutes to complete one orbit, Brac Onnesha would take high resolution photographs from which topographical data could be obtained, said Brac university officials.
READ MORE: Brac Onnesha launched into space
It would relay audio signals and be used for communications during emergencies via amateur "ham" radio equipment. It would also be able to measure atmospheric density before disintegrating on re-entry at the end of its six-month lifespan, they added.
A ground station on the university premises in the capital's Mohakhali are maintaining communication with the satellite -- downloading information and data collected by it.
Along with Brac Onnesha, four other similar nano-satellites developed by students of Ghana, Japan, Mongolia, and Nigeria were also deployed into orbit by ISS astronauts yesterday.
Bangladesh Ambassador in Japan Rabab Fatima, who attended a press conference along with other dignitaries from other countries at Japan Aerospace Exploration Agency soon after the deployment, said the moment was "historic" as it took "Bangladesh to a new height".
"The space is the ultimate frontier for human advancement," she said, adding that such progress in the field of advanced technology would not only have great impact on students but would also greatly benefit the countries.
Science and Technology Minister Yafes Osman said science students have to come forward and express themselves and "sell their ideas" for the country's advancement.
"And you have to sell these ideas in people's language," added Yafes, who attended the ceremony at Brac University as chief guest.
On June 4, the nanosat was launched into space from the Kennedy Space Center in the US. The SpaceX FALCON 9 rocket carried the nanosat to the ISS.
On 8 February, Brac University became the first Bangladeshi educational institution to get its very own nano-satellite, developed and assembled by three of its students -- Abdulla Hil Kafi, Raihana Shams Antara and Maisun Ibn Monowar-- using technology and facilities of Kyutech, where they are pursuing higher education.
The idea of nano-satellite technology was first raised to the Brac University authorities by Arifur Rahman Khan, an assistant professor at the University of Texas in Austin. He was teaching at Kyutech back then.
It was then taken forward by his acquaintance, Associate Prof Md Khalilur Rahman of the Brac University's computer science and engineering department. The university started space and remote sensing research in collaboration with Kyutech and Bangladesh Space Research and Remote Sensing Organisation in  2014.
On May 25, Brac founder and Chairperson Sir Fazle Hasan Abed formally inaugurated the ground station on the roof of Building-4 of the university.