First nanosatellite ready for launch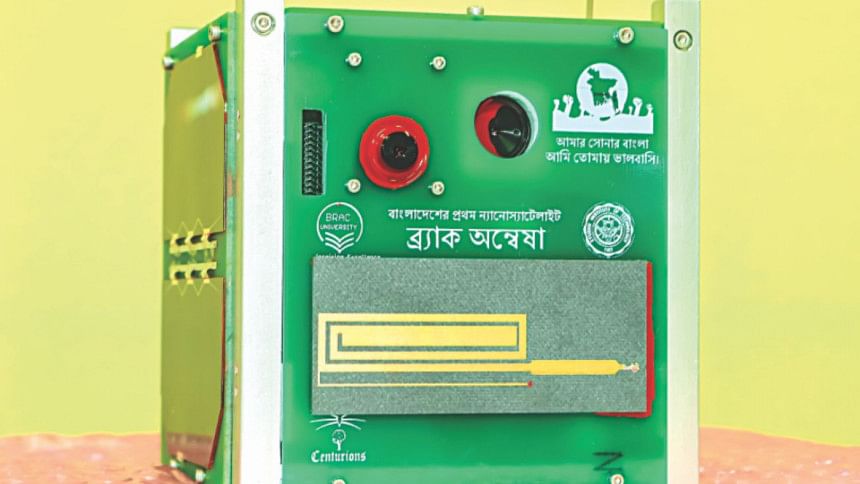 BRAC University yesterday became the first Bangladeshi educational institution to get its very own nanosatellite, developed and assembled by three of its students using technology and facilities of a Japanese university.
"BRAC ONNESHA", a cube measuring 10cm along its edge and weighing around one kilogramme, will be launched into low Earth orbit, at an altitude of around 410 kilometres, sometime next month through Japan Aerospace Exploration Agency.
Taking 90 minutes to complete one revolution and passing over Bangladesh four to six times every day, it will be able to take high quality photographs of Bangladesh, from which topographical data can be gathered, say the BRAC University authorities.
It can also relay audio signals and be used for communication during emergencies via amateur "ham" radio equipment. It will be able to measure atmospheric density before disintegrating on re-entry at the end of its six-month lifespan, they added.
It will also play the national anthem on days of national importance, observe space environment and help monitor its own location, they said. The university has already started building a ground station at its Mohakhali campus in the capital.
BRAC University Vice-Chancellor Prof Syed Saad Andaleeb received the nanosatellite from Kyushu Institute of Technology (Kyutech) President Prof Yuji Oie in Kitakyushu, Japan.
Connecting, via Skype, to a ceremony on the Mohakhali campus, he said, "It will generate the kind of information which will help us in policy planning. Space is one frontier where we have to look at now. Space keeps many promises for us."
The project was costing "a few crore taka", he responded to a journalist's query.
An assistant professor at the University of Texas in Austin, Arifur Rahman Khan, first came up with the idea of the nanosatellite project while teaching at Kyutech.
It was then taken forward by his acquaintance, Associate Professor Md Khalilur Rahman of the BRAC University computer science and engineering department.
People initially felt hesitant to take up the challenge but later on realised the benefits, said Arifur on joining from the US via Skype.
BRAC University started space and remote sensing research in collaboration with Kyutech and Bangladesh Space Research and Remote Sensing Organisation in 2014.
The three nanosatellite developers -- Raihana Shams Islam Antara, Abdulla Hil Kafi and Maisun Ibn Monowar -- are now postgraduate students of applied science for integrated system engineering at Kyutech.
"We will have five to six minutes to collect data from the satellite when it will pass over Bangladesh each day," said Kafi. "It is like a dream come true," added Antara.
BRAC University mathematics and natural sciences department Chairperson Prof AA Ziauddin Ahmed, Bangladesh Telecommunication Regulatory Commission Chairman Shahjahan Mahmood and First Secretary Toshiyuki Noguchi of the Japanese embassy in Bangladesh, among others, attended the event in Dhaka.