Government urges all not to panic over coronavirus
Death toll in China increasing; Bangladeshis stranded in Wuhan not returning in 2 weeks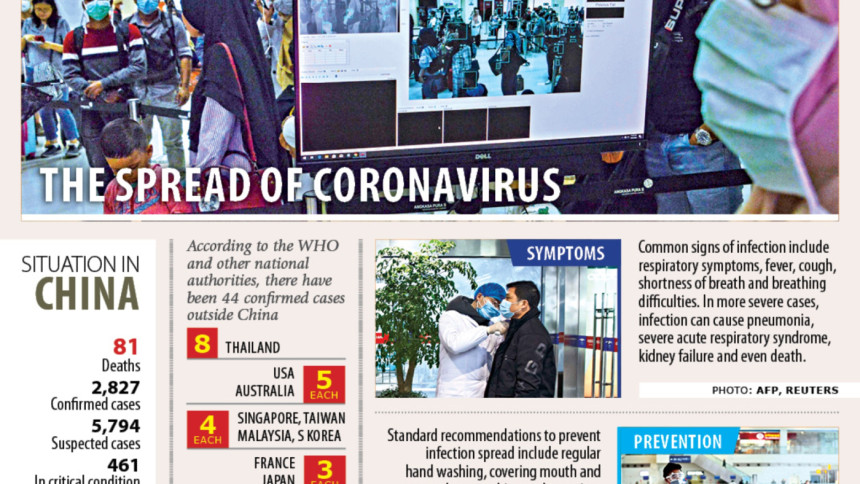 The government has urged people not to panic over coronavirus as it has taken necessary preparation to prevent the virus from entering the country.
Healthcare experts also said people should stay alert, but no case should be considered a coronavirus infection without proper tests.
Dhaka had initiated talks with Chinese authorities to bring back the Bangladeshis, mostly students, stranded in China after the outbreak prompted lockdown of several cities there. 
State Minister for Foreign Affairs Md Shahriar Alam on his Facebook page yesterday wrote, "We have started discussion with Chinese government to bring back willing Bangladeshi citizen staying in China. The process would be fixed based on consent of the local [Chinese] authorities considering the reality."
But China would not allow any Bangladeshis to leave Wuhan city, the epicenter of the outbreak, for at least the next 14 days, said Foreign Minister AK Abdul Momen last night after Dhaka's communication with Beijing.
"Our prime minister had instructed us to bring back the Bangladeshis living in the Chinese city. We have already prepared a plane, but the Chinese authorities said they won't allow any foreigner to leave the city for the next 14 days because they will be kept under observation," he told The Daily Star over the phone.
It is not only Bangladeshis; there are some 700 Indians and several hundred Sri Lankans there, he said.
The minister said Bangladesh embassy in Beijing established contact with 245 Bangladeshis in Wuhan. The Chinese authorities allowed them to go to their closest stores and get groceries yesterday.
Prime Minister Sheikh Hasina, at a cabinet meeting yesterday, also directed all to stay alert.
"The prime minister asked us to be more alert … those who are coming through or from China should also be taken care of specially," Cabinet Secretary Khandker Anwarul Islam told journalists later.
He said the PM directed installation of special quarantine facilities at all ports of entry. 
Authorities of Hazrat Shahjalal International Airport have screened 2,610 people entering Bangladesh from China since January 20, but found no suspected coronavirus infections.
"The number of passengers from China has gone down drastically. We are maintaining all precautionary measures when screening the passengers from China," said Dr Jahir, assistant health officer at the airport.
Meanwhile, despite the calls for calm and not to panic, villagers of Jasaldia in Munshiganj's Louhajang started panicking after a woman and her nephew died following high fever. 
The district civil surgeon said they, following preliminary probe, believe the two died neither of coronavirus nor nipah virus. 
Prof Meerjady Sabrina Flora, director at the Institute of Epidemiology Disease Control and Research, told The Daily Star, "Our team is investigating the area. They [victims] had no history of travelling to China; the symptoms don't go with nipah virus infection either. We would be able to know the cause of death after complete investigation."
The IEDCR also said they do not believe that a Chinese patient at a Dhaka hospital was infected with coronavirus. They, however, would conduct tests for good measure.
In China, the number of cases has reached nearly 3,000 and at least 106 people have died until this morning. 
Since the outbreak in China around a week ago, Nepal has confirmed a coronavirus case while India has quarantined four people for observation.
Experts suggested that the government take all precautionary measures so that the virus, which can be transmitted from human to human, does not enter Bangladesh.
"All entry points should be brought under necessary screening; especially those through which people from China or countries with reported coronavirus cases enter Bangladesh," Prof Saif Ullah Munshi of BSMMU's virology department told The Daily Star.
He suggested that people maintain good habits, like using masks, covering cough, and washing hands often.
"This virus could remain incubated inside a body for a period [14 days]. It is tough to identify such a person. In such a situation, it is important that our preparations are methodical," Prof Saif said.
Colds do not necessarily mean coronavirus infection. "However, we would urge people to stay alert and inform us via our hotline +8801937000011," Flora of IEDCR told The Daily Star.
The number of people killed in China by the new coronavirus has risen to 81 as the hard-hit province of Hubei announced 24 new fatalities.
The first death was recorded in Hainan province; an 80-year-old woman.
Outside China, at least 44 cases have been confirmed in Thailand, the United States, France, and Australia. There have been no deaths outside China.