Shovon, Rabbani removed
Joy, Lekhak given BCL helm; AL council set for December 20-21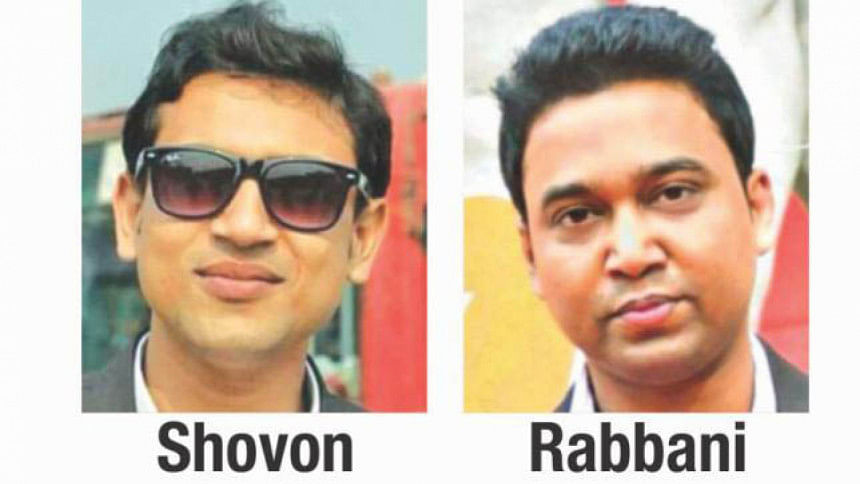 Rezwanul Haque Chowdhury Shovon and Golam Rabbani were removed last night from the posts of Chhatra League president and general secretary for their controversial activities.
Awami League President Sheikh Hasina gave this decision on the two leaders of the pro-AL student body.
Hasina also asked for holding the AL triennial council on December 20-21. 
The AL president was addressing a meeting of AL Central Working Committee, highest decision-making body of the ruling party.
Chhatra League Senior Vice-President Al Nahian Khan Joy and Joint General Secretary Lekhak Bhattacharjee of have been given the charges of president and general secretary.
Shovon and Rabbani had sent their resignation letters to Hasina along with another letter apologising for the student body's "known and unknown mistakes".  
On September 11, Rabbani sent three letters, one apologising for mistakes made and two resignation letters, to four AL leaders designated to look after Chhatra League matters, said sources.  
Rabbani and Shovon in one of the letters had sought the AL chief's forgiveness and wanted a chance to correct their mistakes. 
But at the beginning of yesterday's ALCWC meeting, Hasina told her party colleagues that she has decided to let the duo go. She said she does not like "excesses", sources told The Daily Star. 
After the meeting, AL General Secretary Obaidul Quader told reporters, "Chhatra League's incumbent president and general secretary have been asked to step down. But the existing committee will remain. The senior vice-president will be acting president and joint general secretary will serve as acting general secretary. They will take preparation for the next council." 
Hailing from Barishal, Joy is a law graduate. Lekhak, hailing from Jashore, is an alumnus of Social Wellfare and Research institute. They enrolled in Dhaka University in 2008-2009 session.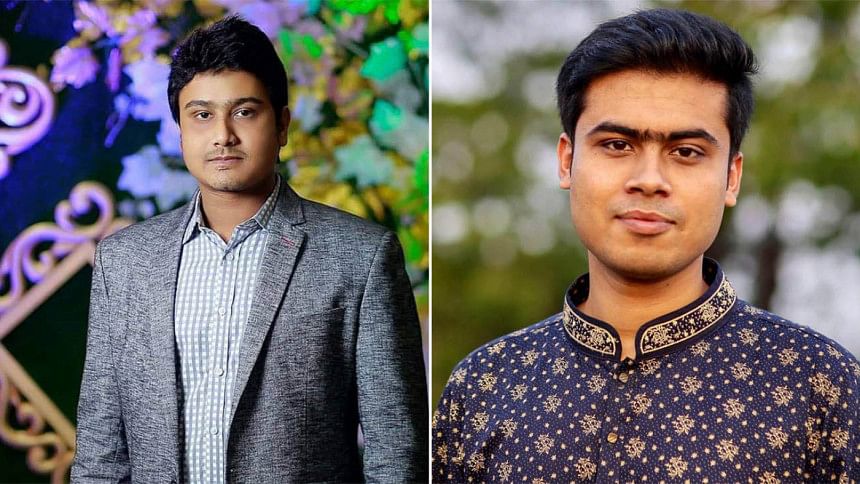 On September 9, Hasina during a joint meeting of AL's Parliamentary Board and Local Government Nomination Board, expressed annoyance over the controversial activities of Shovon and Rabbani. 
Several AL leaders had alleged at the meeting that Shovon and Rabbani had given posts in Chhatra League committees in exchange for money, they made senior AL leaders wait for them at events, and that they were drug addicts. 
AL sources said Hasina became furious when Jahangirnagar University Vice-Chancellor Prof Farzana Islam recently told her that Shovon and Rabbani demanded "Four to six percent" cut from a Tk 1,445-crore project at the university. 
After initially denying, Rabbani admitted to The Daily Star that they indeed demanded their "fair share" from the VC. He said they wanted the money for their "Eid expenditure". 
On July 31 last year, Chhatra League leaders asked Hasina to select its president and general secretary after they failed to elect anyone in their council.   
Hasina chose Shovon and Rabbani. 
Only on five occasions, top leaders of Chhatra League have been expelled, according to the student body's website. 
Abdur Rouf, president between 1968-1969, was expelled from the organisation. General secretary Shafiul Alam Prodhan was expelled for his involvement in the seven-murder incident of the early 70's. Shahjahan Siraj was expelled from the general secretary post in 1971. Habibur Rahman, made president in 1988, was also expelled. 
AL COUNCIL
The ALCWC meeting decided to hold its 21st triennial council on December 20-21. Its last council was on October 22-23.  
The tenure of the AL committee would expire next month but since Hasina has the USA and India tours planned, the party decided to hold the council in December, said sources. 
"My retirement time has come. I will have to go. You will have to find new leadership for the party," a central committee member quoted her as saying. 
Hasina was elected AL president in 1981 while in exile. She returned to the country on May 17, 1981. 
During yesterday's discussion on the council, AL presidium member Engr Mosharraf Hossain stressed the need for completing district and upazila units' council before the national council. 
However, AL Organising Secretary Khalid Mahmud Chowdhury told the meeting that grassroots council was not mandatory for the national council, said sources. 
At the beginning of ALCWC meeting, Hasina said they have huge responsibilities towards the country and asked party leaders and activists to discharge their responsibilities with utmost sincerity, reports UNB.
"We've taken short-, mid- and long-term plans... we've taken farsighted plans. For this, we've huge responsibilities towards the country. All the leaders and activists of Awami League will have to remember this and discharge their responsibilities in that way," she said.