Chandika era comes to a close?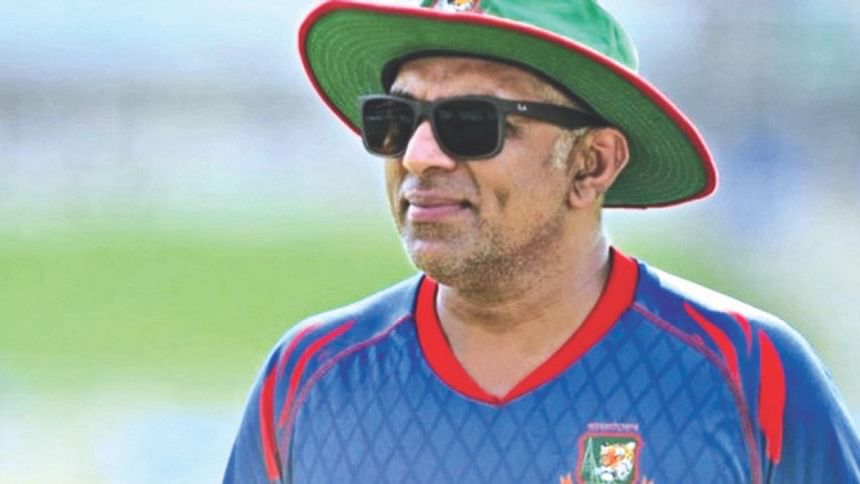 Head coach Chandika Hathurusingha has tendered his resignation to the Bangladesh Cricket Board (BCB) but the reason behind the decision was not clear.
The 49-year-old Sri Lankan was supposed to continue in his role as head coach of the Tigers until the 2019 World Cup in England. But as news circulated in media circles that Hathurusingha was quitting, BCB president Nazmul Hassan took the trouble of arranging a press briefing at his Beximco office yesterday evening, confirming that the board had received a letter of resignation from him during the recent tour of South Africa.
"I received a letter from him saying that he does not want to continue. I cannot remember exactly when it was, but it was definitely before the ODI series, before October 15," said Hassan while talking to the reporters.
It is however yet to be clear whether the Hathurusingha regime with Bangladesh cricket is truly over as Hassan deemed it an emotional decision. "He didn't give any reason behind his decision, so it is difficult to talk about the reason until we talk with him. He just said he was not interested. After the [South Africa] series we got him over telephone once and we asked him to come and he said that he will come after the 15th [of November]. Now we are trying to communicate with him. I cannot actually say anything until I talk to him."
Hassan also reminded that Hathurusingha had earlier (in October last year) tendered his resignation but the board convinced him otherwise and made it clear that they will continue with the Sri Lankan if he changes his mind this time around.
"We cannot keep someone who does not want to stay. Yes, we will talk to him later this month and see if there is something that can be done," he added.
Bangladesh made good progress under Hathurusingha's tutelage but his decision to resign comes at a time when the team have hit their lowest point in his tenure following a disastrous performance in South Africa.
The BCB had appointed Hathurusingha as Bangladesh's head coach for a two-year period in May 2014 and in June 2016 the contract had been extended until the 2019 World Cup.
Under his guidance, Bangladesh particularly gained substantial ground in ODI cricket and made the quarterfinal of the 2015 World Cup and the semifinal of the 2017 Champions Trophy. The Tigers also won their ODI home series against India, Pakistan and South Africa and climbed up the ODI rankings as a result. Bangladesh's first-ever Test wins against England and Australia at home, and against Sri Lanka away were the highlights of his tenure.
Under his guidance, Bangladesh won six, lost 9 and drew 4 out of 19 Tests in addition to 25 wins and 18 losses in 46 ODIs. There were also 10 wins and 17 losses in 28 T20Is.
Interestingly since December 26 last year, his success rate began to stumble as the team won just 2 and lost 7 in 9 Tests and collected 4 wins against 10 losses from 17 ODIs to go along with one win and 6 losses in 7 T20Is.