Blogger killed once again
Killers brandishing machetes storm Goran house in broad daylight, hack Niladri to death; 'Ansar Al Islam' claims responsibility thru' email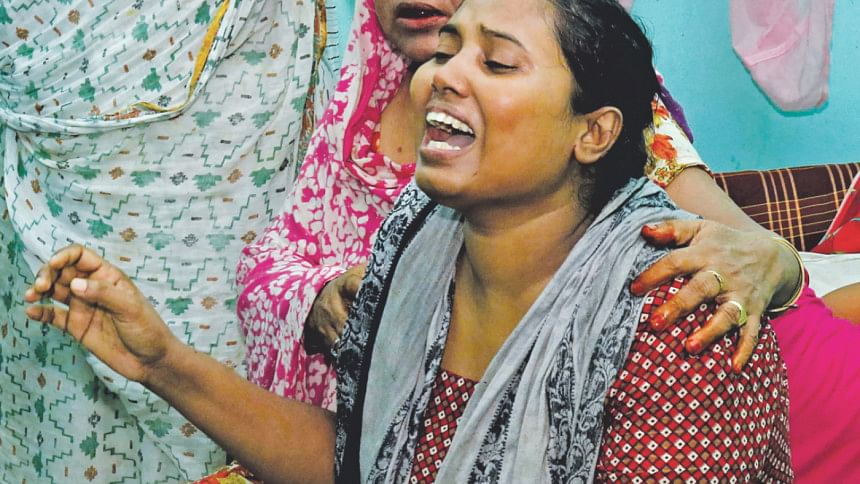 In a chilling attack on free speech, unidentified assailants hacked to death a secular blogger inside his house in the capital in broad daylight yesterday.
Niladri Chattopadhyay Niloy, 28, who also was a Gonojagoron Mancha activist, is the fourth blogger to have been killed this year by suspected Islamist militants.       
Four men armed with cleavers tricked into his Goran house in Khilgaon posing as potential tenants and then killed him in his bedroom around 1:15pm, police and family members said.
He was hacked over a dozen times in the neck, face, shoulder, chest and hands, said sources in Dhaka Medical College morgue, where the body was taken for an autopsy.
Niloy's wife and sister-in-law were home during the murder, but while one assailant held his wife at gunpoint, his sister-in-law was shut in the kitchen.  
Later in the evening, a group identifying itself as Ansar Al Islam claimed the responsibility for the murder in an email sent out to almost all media outlets.
In the email, the group said: "Alhamdulillah! Mujahidin of Ansar-Al-Islam (AQIS, Bangladesh Branch) carried out an operation to slaughter an enemy of Allah (swt) and His Messenger (peace & blessings be upon him), whose name is Niloy Chowdhury Neel."
The sender identified himself as Mufti Abdullah Ashraf and claimed to be the spokesperson of "Ansar Al Islam (al-Qaeda in Indian Subcontinent, Bangladesh Chapter)".
Contacted, police said they had no clue as to who this Ashraf was.
Dhaka Metropolitan Police Joint Commissioner Krishnapada Roy said it was a planned murder and bore the hallmarks of the previous murders of other bloggers.
The time of the murder was carefully picked, as most men were at mosques attending Jumma prayers then, he told reporters at the scene.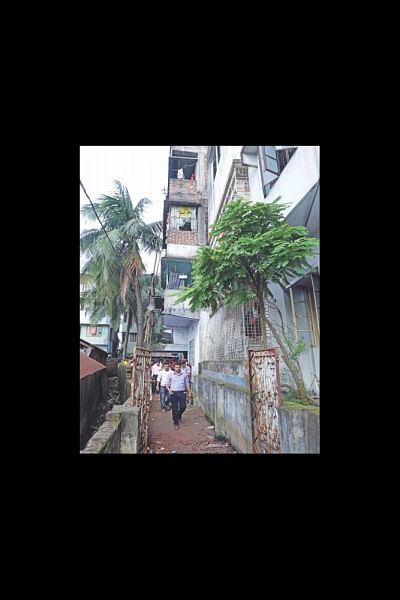 Earlier this year, suspected militants killed three secular bloggers and writers -- Avijit Roy in February, Oyasiqur Rahman in March and Ananta Bijoy Das in May.
All three were hacked to death with cleavers, but outside their homes. Various extremist groups claimed responsibilities for their murders through tweets. However, law enforcers are yet to verify the authenticity of those claims.
Criminologists and fellow activists say police failure in cracking the murder cases of secular bloggers and writers has apparently boosted the morale of religious extremists as they continue to go after their targets one after another.
Niloy's wife Asha Moni said her husband received threats over the phone and in Facebook several times and was followed by some men on a number of occasions lately. He sought law enforcers' help in this regard in vain. Of late, he was desperately trying to leave the country.
Niloy and Asha were married for two years.
She said a man in black T-shirt and jeans came to their top-floor flat in the five-storey building after 1:00pm. The man, carrying a bag, requested her to allow him in for having a look around the flat as he was looking for a flat there to rent.
Asha walked the man through the flat, but became suspicious as he was continuously sending messages through his cell phone. She then asked the man to leave right away, but three more youths, brandishing machetes, had entered the house by this time.
The four, all aged around 30, then ran straight to the bedroom where Niloy was and started hacking him indiscriminately, as they shouted: "Allahu Akbar." 
One of them held Asha at gunpoint and locked her sister Isratun Tonni in the kitchen from outside.
The Daily Star correspondents saw blood splattered on the bedroom walls and the book shelf.
All the while, Asha screamed for help but no one from the neighbourhood responded.
The killers left within five minutes before the next door neighbour, Md Shamim, could come out to help.
On their way out, the assailants locked the flat from outside.
"I saw three of the youths carrying bloodstained machetes going down the stairs," said Shamim.
"They took revenge with cleavers because they failed to counter his writings through logic," said a wailing Asha.
After completing his master's in philosophy from Dhaka University last year, Niloy had been working as a researcher at Research and Development Collective, a local NGO.
Condemning the murder, Ain o Salish Kendra (ASK) Executive Director Sultana Kamal in an email to this newspaper said, "ASK is appalled at the state of affairs which gives reasons to believe that the law and order forces are not acting seriously enough to stop such violence on free thinkers."
Niloy's friend Dipok Sil said they were classmates in Tejdaskathi High School in Pirojpur from where they did their SSC in 2005. Niloy regularly wrote on Facebook and a blog named "Istishon" under the name of Niloy Neel.
In February 2013, he became an activist of Gonojagoron Mancha, which champions the demand for the capital punishment for war criminals. He was also involved with Science and Rationalist Association of Bangladesh.
His write-ups were largely secular, based on logic, and often took a dig at Jamaat-e-Islami, war criminals and Jamaat leaders for their role as Pakistani collaborators during the country's 1971 Liberation War. 
Fellow blogger Parvez Alam said apparently all the targets were free thinkers who spoke against the fundamentalists opposing Bangladesh's birth.
While Parvez and other bloggers fear that they might be the next targets, the Islamists in their email sent out to the media warned: "If your 'Freedom of Speech' maintains no limits, then widen your chest for 'Freedom of our Machetes'."