Dawn of a new era
Bangabandhu-1 up for launch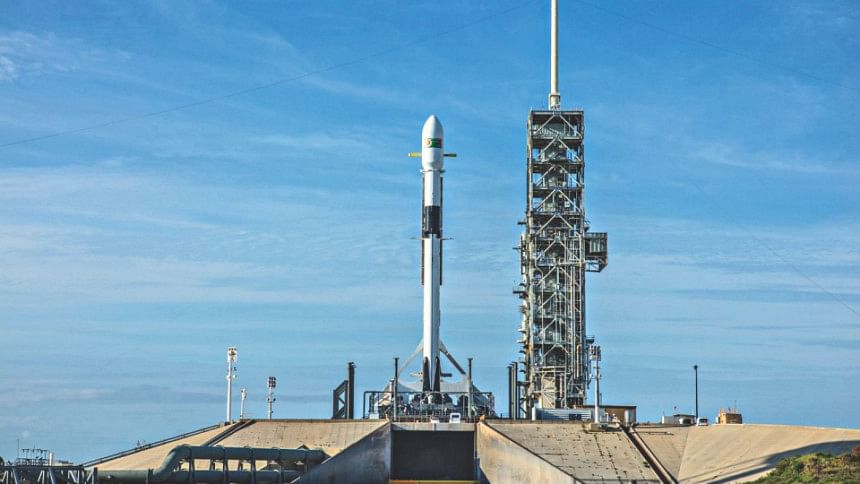 Bangabandhu-1 is likely to be on the way to its orbit by the time you read this report.
The satellite was scheduled to be launched by a Falcon-9 rocket of SpaceX in Florida between 1:37am and 4:22am Bangladesh time.
Telecom Minister Mustafa Jabbar said this would be a huge stride towards digitisation.
"There is no doubt that this is the most sophisticated project in the country's history. It will help boost digitisation and earn global respect," Jabbar told The Daily Star.
The satellite, a Tk-2,765.66 crore project, will offer Direct-to-Home (D2H) services, making people's access to worldwide TV faster and easier.
Remote haor, hill tracts and coastal areas will also have internet connections. It will also be helpful for e-treatment and disaster management facilities.
"Bangabandhu-1 will open up a new digital chapter in the history of the country and will be a crucial tool for further successes in the future," State Minister for ICT Zunaid Ahmed Palak, who was present at the launching site, said in a statement.
After the launch, the 3.7-tonne satellite will travel up to 36,000km up and then make adjustments for its orbit in about 10 days, said project director Mezbahuzzaman.
The launch process has two phases. The first is the Launch and Early Orbit Phase (LEOP) and the second one is Satellite in Orbit. The LEOP phase will take 10 days while the second one will take another 20.
Once the satellite becomes active, it will be controlled from three stations in the US, Italy and South Korea, Mezbahuzzaman said.