Barapukuria Power Plant: Govt may go for coal import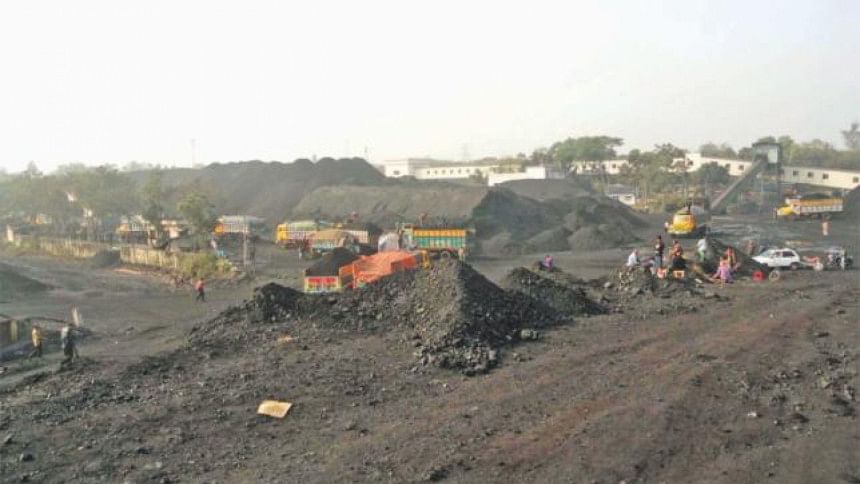 The government is considering importing coal to run Barapukuria coal-based power plant in Dinajpur as supply from the country's lone coal mine, Barapukuria Coal Mining Company Ltd (BCMCL), has stopped.
"As an alternative, we have already considered coal import," Power Division Secretary Ahmad Kaikaus told reporters at Bidyut Bhaban in the capital after introduction of a guideline for production of renewable energy.  
Nasrul Hamid, state minister for power, energy and mineral resources, said the government could import coal to increase its stock, but it was yet to decide from where it would be imported.
The 525MW Barapukuria coal-based power plant suspended its production on July 22 for an indefinite period for a lack of fuel supply, a fallout of around 1.45 lakh tonnes of coal "going missing" from the coal mine yard.
Electricity supply in the country's northern region has been hampered severely as Barapukuria power plant, which depends on coal supplies from the BCMCL, was shut down.
Last week, the government formed a committee to look into the possibility of coal import.
The power secretary said they would import coal that was suitable for Barapukuria power plant. He said they had already started contacting all coal exporting countries.
Nasrul said extraction of coal from Barapukuria coal mine had also already started. Around 100 tonnes of coal were being extracted every day. The power plant would resume its production very soon, he added.
At the programme, Prime Minister's Energy Adviser Tawfiq-e-Elahi Chowdhury said they were going to extract coal from a new coalface in September. In one or one and a half months, good quality coal would be available at BCMCL.
After the matter of coal "going missing" came to light, an initial probe by the Petrobangla, the coal mine's parent company, found negligence of some key officials of the coal mine and took action against its four top officials.
The coalmine's Manager (administration) Anisur Rahman has filed a case with Parbatipur Model Police Station against its 19 officials.
The Anti-Corruption Commission has opened an inquiry into the coal scam. Besides, the government has formed a separate inquiry committee. 
Asked about the inquiry, Tawfiq-e-Elahi requested reporters to be patient. He said the prime minister had given them a directive in this regard. When the inquiry would end, it would be known what happened.
The government has taken an initiative to introduce the net metering system to encourage renewable power generation through solar panels. 
Net metering system is setting solar panels on the rooftop of houses and factories to produce renewable energy and supply it to the national grid, said Power Division officials.
The guideline for the net metering system was formally introduced by Tawfiq-e-Elahi and Nasrul.
The energy adviser told reporters that around 500MW electricity would be generated through solar panels annually.
About the production and use of the electricity, he said if anybody consumed 100 kilowatts electricity from the Bangladesh Power Development and generated 50 kilowatts through solar panel and supplied it to the national grid, he would have to pay the price of 50 kilowatts for consuming electricity from the BPDB instead of 100 kilowatts.