Bangladesh-China Relations: Focus on better economic ties
Analysts, diplomats at roundtable call for attracting more Chinese investment in Bangladesh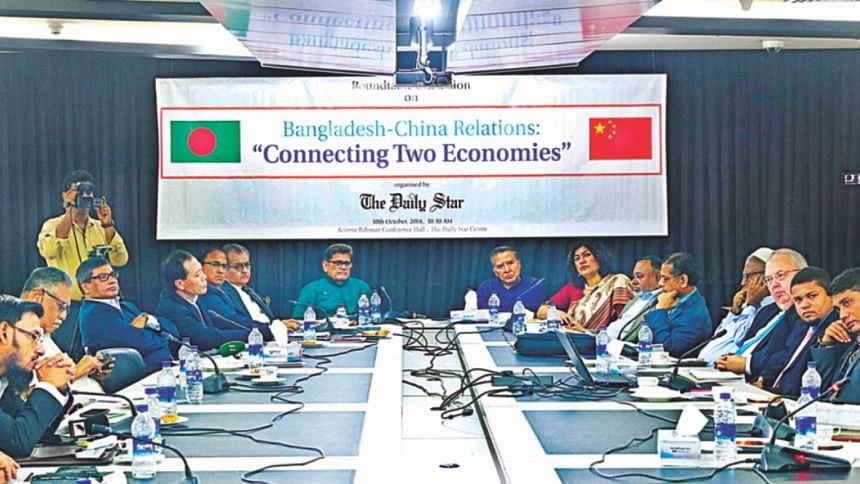 With a boost in mutual trust and cooperation, bilateral relations between Bangladesh and China have reached a new height that could be used for greater economic growth and benefits of the people of both the countries, say diplomats and experts.
"We should negotiate with China smartly so that we can attract more foreign direct investment from it," said Mustafizur Rahman, executive director of the Centre for Policy Dialogue.
The two countries are expecting further increase in bilateral trade and cooperation with Chinese President Xi Jinping due to make a landmark visit to Bangladesh on October 14.
Mustafizur was speaking at a roundtable titled "China-Bangladesh Relations: Connecting Two Economies" organised by The Daily Star in the run-up to the Chinese president's visit. Diplomats, businessmen, researchers and business leaders attended the roundtable at The Daily Star Centre in the capital.
He noted that China's financial commitment to Bangladesh is very high.
From 2002 to 2009, the Chinese government gave $200 million to Bangladesh and $900 million between 2009 and 2015.
Last year, China committed to give Bangladesh $23 billion in the next five years. "So is the commitment of China to Bangladesh," he said.
Of the funds, 56 percent would be given as concessionary loans, 36 percent as grant and 8 percent without interest. Bangladesh should go for concessionary loans from China since the repayment rate is very good, said the CPD executive director.
He cited the example of Sri Lanka, which went for big Chinese investment for development of its infrastructure such as ports, roads and highways.
Similarly, Bangladesh can also use Chinese investment for improving its weak infrastructure.
"Chinese investment can really change Bangladesh's capacity."
However, Bangladesh has to ensure good governance and improve institutional capacity for attracting such big investment, he said.
The country has the opportunity to attract more Chinese investment as wages of labourers here are still more competitive than in China.
China's interest to invest in Chittagong, Mongla and Payra ports indicates that it is keen to invest in its Southern gateway that connects several Chinese ports, noted Mustafizur.
China has already become Bangladesh's largest trade partner with its export to Bangladesh crossing $10 billion mark last fiscal year. 
The country's export to its long-time friend China is also on the rise.
The total export to China was $808.14 million in fiscal 2015-16, according to data from the Export Promotion Bureau.
Farooq Sobhan, president of Bangladesh Enterprise Institute, said Beijing has a serious commitment to Dhaka, especially in terms of investment in infrastructure.
With investment from the economic giant going up, Dhaka is ready to offer a Special Economic Zone (SEZ) to Chinese investors.
Farooq said if Chinese investors are given the SEZ, they would relocate their factories here and eventually help Bangladesh become the largest garment exporter worldwide.
Darryl Lau, consul of Singapore Consulate in Dhaka, said the biggest change in Asia, and the world, is the rise of China. 
China's GDP grew at an average of more than 10 percent a year for over 30 years, Lau said.
China is now the biggest trading partner of almost every ASEAN country, including Singapore.
Lau said China's outbound Foreign Direct Investment exceeded its inbound FDI last year. "China's rise has had an impact on everyone, and I would like to make some observations in this regard.
"One, China's rise has been, overall, a huge plus for the world. China is stable, prospering and increasingly integrated into the global economy."
He said consumers worldwide have benefited from affordable and high quality exports from China: clothes, smart phones, home appliances and much more.
"However, we can also benefit from new opportunities for trade and economic cooperation with China, for example through projects of the Asian Infrastructure Investment Bank and the 'One Belt, One Road' initiatives, which address Asia's need for better infrastructure and connectivity, the subject of today's discussion," he said.
In a friendly gesture, China allowed duty-free access of nearly 4,750 Bangladeshi products to the country since July 2010. As a result, Bangladesh's exports, especially garment items and jute and jute goods, are going up.
With the duty benefit, Bangladesh exported garment items worth $341.22 million, registering 11.9 percent year-on-year growth in fiscal 2015-16 to China, which is the largest apparel exporting country worldwide.
China, which has over $200-billion domestic garment market, is becoming a major export destination for Bangladesh owing to its fast-increasing middle-class population.
Noor Mohammad Sarker, research associate at Bangladesh Institute of Law and International Affairs, stressed the need for better connectivity with China by land, air and water.
China-led regional integration has become the key driver of global trade growth and seamless regional connectivity, and multimodal transport system has been one of the key strategies of China, he said in his keynote presentation.
Maksudul Alam, researcher at the Institute of Policy Advocacy and Governance, said it is important to know how Bangladesh is strategically important to China.
For example, China's landlocked southern part is closer to Chittagong port than it is to the Chinese port of Guangzhou. China's access to Chittagong port for transporting goods to its southern part would greatly benefit it.
If China helps Bangladesh build infrastructure, it would benefit China in the long run, he said.
"We need to be well prepared for negotiations.
"We need to have a clear-cut strategy for balancing the relations between our neighbours and global powers," said Alam.
Munshi Faiz Ahmad, chairman of Bangladesh Institute of International and Strategic Studies, said, "We hope that India and China can work together and we will benefit from both of them."
"We don't need to be worried about big trade deficit with China as we import raw materials from it." And the imported raw materials are turned into finished products for export purposes, he said.
"We should also focus on blue economy as China is one of the most important countries for us for maritime trade," Ahmad said.
In his welcome note, Mahfuz Anam, editor and publisher of The Daily Star, said China has mesmerised the whole world by the way it developed to become the second largest economy in the world.
The Asian giant is now making heavy investments in infrastructure projects in Bangladesh, which is a great opportunity for the country, Anam said.
The country is now in a historic time when neighbours are finding it to be a good investment destination. However, the country should not be drawn into any historic legacy of rivalry in regional politics, he noted.
In response to a query why cost of Chinese projects goes up, water resources expert Ainun Nishat, professor emeritus of Brac University, said this happens due to anomalies in job specification in tender process. 
"Whenever there is a deviation, project cost goes up," he said, suggesting that the authorities need to mention job specification carefully and ensure that it is followed strictly.
Bangladesh could benefit from the hydropower project on the Brahmaputra in China if there was a transmission line connecting Bangladesh with it, Nishat said.
"If China builds a dam and generates power, I should welcome it. They could transfer some of the power to us."
If the BCIM system works in Bangladesh, China, India and Myanmar, the region could greatly benefit from energy cooperation, he noted.
The expert also mentioned that environmental concerns in some of the export processing zones in the country were not addressed. The authorities must ensure that effluent treatment plants are installed in the special economic zones that will be set up in the future.
Yasoja Gunasekera, Sri Lankan high commissioner to Bangladesh, said Sri Lanka has great interest in Bangladesh. "We have investment in banking, garment and power sectors and even in agriculture sector in Bangladesh. So let's go together."
Shahedul Anam Khan, associate editor of The Daily Star, moderated the discussion.