'Attacker' of Tutul held
He stabbed the publisher thrice, claim police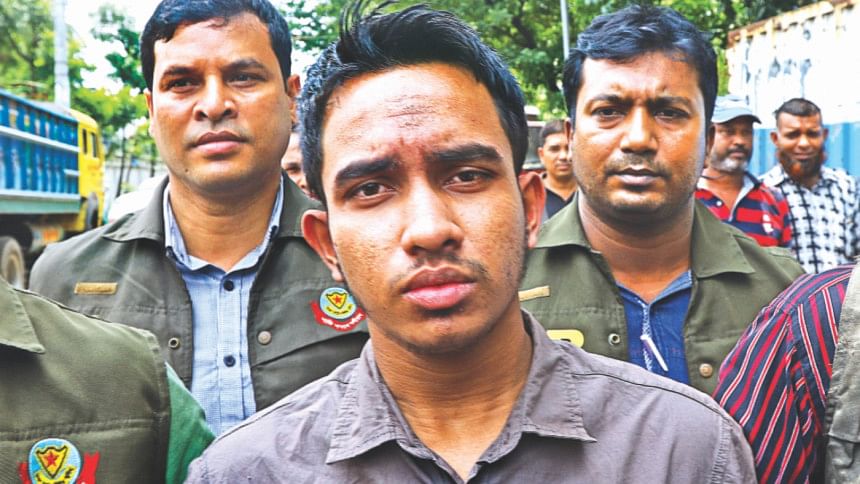 Police yesterday claimed to have arrested an alleged operative of banned militant outfit Ansarullah Bangla Team (ABT) who they said directly took part in the murder attempt on publisher Ahmedur Rashid Tutul last year.
Sumon Hossain Patwari alias Sakib alias Shihab alias Saiful, 20, was among the six youths whose photographs were released by the Dhaka Metropolitan Police (DMP) on May 19, declaring bounties for their informers. Police claimed that they were involved in the killings of bloggers, writers and an LGBT rights activist. Tk 2 lakh bounty was for the informant of Shihab.
"Shihab was one of the five operatives who entered the Shuddhoswar's office in Mohammadpur on that day. He stabbed Tutul [owner of Shuddhoswar publishing house] thrice with a machete," said DMP Additional Commissioner Monirul Islam.
At a press briefing at the DMP media centre yesterday, Monirul claimed that they arrested Shihab on Wednesday night based on the information gleaned from two ABT men Mujahidul Islam and Ariful Islam, nabbed on Monday from Kamrangirchar in the capital.
On October 31 last year, Tutul and two bloggers Ranadipam Basu and Tareque Rahim came under a machete attack at the Lalmatia office of Shuddhoswar. Tareque was also shot in the chest. The trio survived the attack after receiving treatment at Dhaka Medical College Hospital.
On the same day, another publisher Faisal Arefin Dipan of Jagriti Prokashani was stabbed to death inside his office in Aziz Super market in Shahbagh.
Monirul said Shihab was brought to Dhaka from Chittagong two months before the attack and               motivated and trained in a rented house in Mohakhali along with four others.
All the five attackers carried machetes while three of them had firearms too. Their senior leader, Shariful alias Sharif, who coordinated the attack, was outside the Shuddhoswar publishing house at that moment, Monirul added.
The five were apparently fresh recruitees of the militant outfit. The attack was for some of them a first mission. Shihab returned to Chittagong after the mission, Monirul said.
He told police the names and addresses of some of his accomplices during interrogation, and police were trying to arrest them.
Replying to a query, Monirul           said Shihab was unaware of the simultaneous attack on publisher Dipan, but following their failure to kill Tutul, Sharif rebuked them, citing another group's success in killing Dipan.
According to police, another five ABT men went to the office of Jagriti Prokashani at the same time and stabbed Dipan to death. The attack was coordinated by Selim.
Both Sharif and Selim, the third tier leaders of ABT after operational commander and spiritual leaders, were on police's list of wanted six ABT men. They trained the 10 ABT men of the two groups.
Investigators believe that the synchronised attacks on them came as both were publishers of slain secularist writer-blogger Avijit Roy, who was hacked to death on February         26 last year on Dhaka University          campus.
Responding to another query, Monirul said Jasimuddin Rahmani, now in jail, is the spiritual leader of ABT, but there are some other leaders of the banned outfit.
The media and IT wing of the ABT, which claimed the responsibility for many secret killings in the country, basically collect information on their possible targets and submit reports to their leaders.
The leaders then raise the issue before their "Sharia or Mufti Board" and discuss the next course of action. If the board agrees on any killing, the leaders order their subordinates to carry out the murder by their sleeper cell members, he added.
Shihab passed the HSC examination from a Chittagong college and joined a private organisation. He was recruited in ABT in early 2015, according to police.
A Dhaka court yesterday placed Shihab on a five-day remand.