Arson attacks take 4 more lives
Student buses of Dhaka, Jahangirnagar universities torched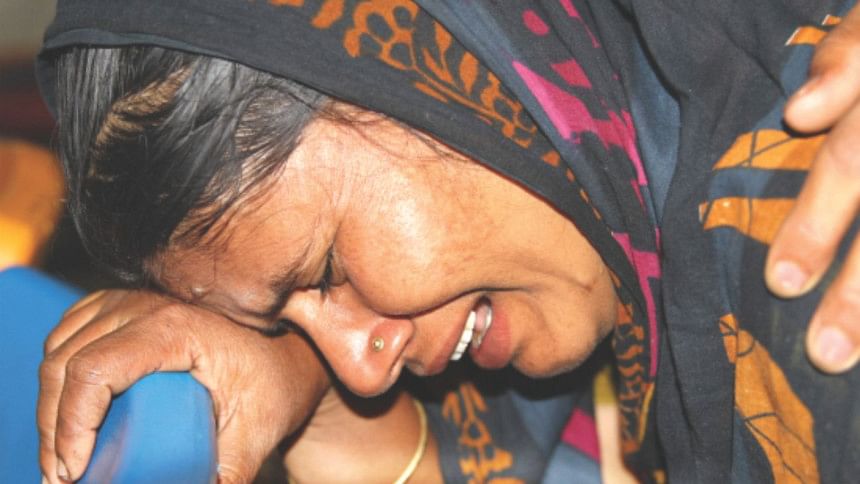 When day labourer Matin Biswas left his village home in Magura with his two uncles and a cousin for work on Friday night, he had no idea of the horrors awaiting him.
As he and eight others were returning to Malikgram village from Magura town by a truck after offloading sand, alleged blockaders threw two petrol bombs at the vehicle in the town's Moghi area on Saturday morning.
He along with the other eight victims was brought to Dhaka Medical College Hospital early yesterday.
As Matin gasped for breath lying in a bed at the burn unit in the afternoon, his wife Jahida Tahrima said, "Only Allah knows how we will survive if something bad happens to him."
Her fears turned into reality as Matin, 25, with 56 percent burns lost his battle for life around 4:30pm.
Matin's uncle Rawshan Ali, 36, and another day labourer, Shakil Ahmed, 32, also died from burn injuries at the unit. Rawshan died immediately after he was brought to the hospital around 2:30am, while Shakil died around 12:30pm.
The other six were under treatment.
"The six patients are in a critical condition," Partha Shankar Pal, resident surgeon at the burn unit, told The Daily Star.
The condition of truck helper Mohammad Yeadul, who suffered 90 percent burns, was more critical than that of the rest.
Meanwhile, truck owner Khandakar Sharif Uddin from Jessore, who suffered burns in a firebomb attack in Chandpur on March 19, died at the burn unit yesterday.
With these deaths, 92 people have been killed so far, mostly in arson attacks, in violence since the BNP-led 20-party alliance launched its non-stop blockade on January 6.
At least 181 arson victims were brought to the burn unit. Of them, 20 died and 31 are under treatment. The rest left the hospital, said sources at the DMCH.
Truck owner Sharif, 40, who was going to Khulna from Chittagong by a truck, suffered 88 percent burns, as alleged blockaders hurled a petrol bomb at the vehicle on the way in Chandpur around 3:20pm on March 19.
"While under treatment, he [Sharif] frequently told us to take care of his three children," said Sharif's brother-in-law Badaruddin.
OTHER INCIDENTS OF VIOLENCE
In the capital, suspected blockaders set alight a double-decker bus of Dhaka University on Kazi Nazrul Islam Avenue in the Farmgate area around 7:30pm.
Pickets torched a bus of the United Paribahan at Mirpur around 10:30pm. Fire fighters extinguished the flames within a few minutes, according to fire service officials. 
In another incident, arsonists set fire to a bus of Jahangirnagar University on the campus around 4:30am.
Ansar members doused the flames, said Jefrul Ahmed Sajal, a security official at the JU.
In Shibalaya upazila of Manikganj, a library room of Utholy Gani Sarker High School was torched on Saturday night.
Around a hundred books and some certificates were gutted, said Hosne Ara, head teacher at the school.
In the meantime, police in overnight drives arrested five BNP and Jamaat-Shibir men from different areas of Sitakunda upazila in Chittagong for their alleged links with subversive activities.