Another mad race shatters another family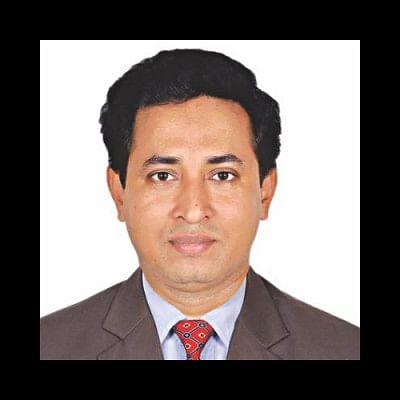 Just three days ago, he had become a father for the second time.
An immeasurable amount of joy and happiness gripped Nazim Uddin and his family as they were blessed with a second baby girl after a long wait.
But their joy suddenly faded yesterday, when Nazim became yet another victim of the unhealthy and illegal racing competition among bus drivers in the city.
A senior executive of the advertisement department of English daily Dhaka Tribune, Nazim was knocked down and run over by a bus during the race between two buses around 9:45am on Mayor Hanif Flyover in the capital.
The 38-year-old was heading towards Gulistan from Jatrabari on his motorcycle.
The accident exposed a sense of apathy in the drivers, despite numerous accidents of this kind in recent times.
Earlier on April 3, Rajib Hossain, a third-year student of Government Titumir College, lost his right hand after it got stuck between two speeding buses trying to overtake each other in the capital's Bangla Motor area.
He succumbed to his injuries at the Dhaka Medical College Hospital (DMCH) on April 16.
Describing yesterday's incident, a witness named Rasel Mahmud, who was on another motorcycle several yards behind the bus, said a Manjil Paribahan bus and the victim's motorcycle were moving on the flyover next to each other.
"Suddenly, a bus of Sraban Paribahan sped by my motorcycle and tried to overtake the Manjil Paribahan bus. Both bus drivers then began speeding. Suddenly, I saw the motorcyclist ahead of me fall on the road, and the Shraban Paribahan bus running him over," he said.
Rasel could not tell for sure which bus first knocked Nazim down.
However, Azizur Rahman, officer-in-charge of Jatrabari Police Station, said the bus of Manjil Paribahan hit Nazim's motorcycle first and then the Sraban Paribahan bus ran him over.
Police seized both the buses and detained Manjil Paribahan's helper Kamal and Sraban Paribahan's driver Ohidul, he said.
Rasel, along with some others, took Nazim to DMCH where doctors declared him dead. Rasel's brother Nayeem chased down the Sraban Paribahan bus in Gulistan and handed over its driver to police.
Hailing from Bhola's Lalmohan, Nazim had been living with his wife Sabrina Yeasmin Irin in Shyampur area. Their first daughter, Nusrat Jahan Moon, was born eight years ago. The couple named their new born daughter Israt Jahan Noor.
"He was very happy after their second daughter was born, as they were hoping for another child for quite some time. Our entire family was overjoyed," Nazim's father-in-law, Arif Hossain, told The Daily Star.
"Now, we can only see a bleak future. How will his family run? What will happen to his children?" he asked.
He said his daughter Irin's condition, who was still receiving treatment at the hospital after the caesarean, deteriorated soon after she heard the news.
"I don't know what to do now. How can I console my daughter and granddaughters?" asked Arif, who was taking the body to the village home for burial.
Quoting a passenger of one of the buses, he said the drivers began racing from Shanir Akhra area despite repeated warnings from the passengers.
"How could such drivers get a licence? How many people will die due to this unhealthy competition?" he asked, demanding that the government bring the people involved in such acts to book.
The victim's uncle Jamal Uddin told reporters at DMCH that the government should take immediate steps to stop reckless driving and provide training before issuing licences in order to stop such deaths on the roads.
In a meeting on Tuesday, senior police officials and leaders of transport owners and workers' unions pointed out the unhealthy competition among drivers to pick passengers, reckless driving, overloading and overtaking as the main reasons behind such accidents.
Organised by Dhaka Sarak Paribahan Malik Shramik Oikya Parishad and Traffic Division of Dhaka Metropolitan Police (DMP), they requested drivers to refrain from such practices.
Due to the reduction of trips caused by severe traffic congestion in the city, bus owners often rent out their vehicles to the drivers who indulge in reckless driving just to maximise profit by making as many trips as possible, leaders of transport owners and workers said.