Three major challenges
Muhith says ahead of his successor's first budget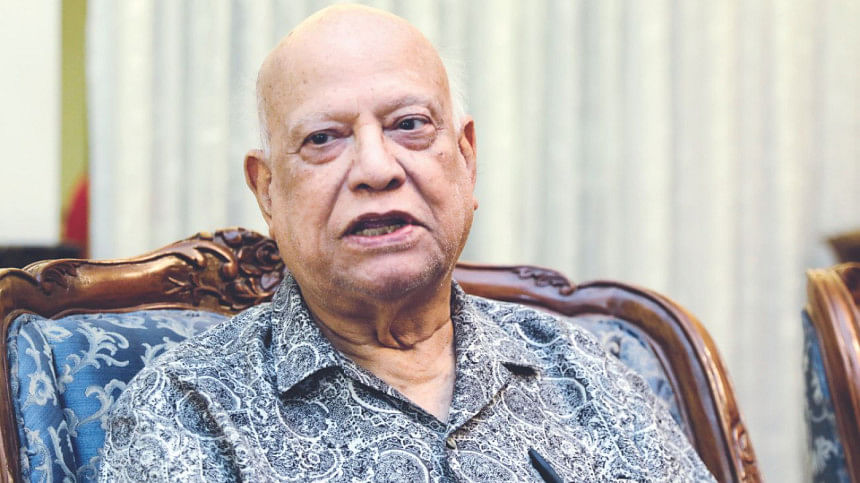 Former finance minister AMA Muhith has said his successor faces three major challenges: increasing the size of the national budget, realising more revenue and improving the banking sector.
"The most important thing is to increase the size of the budget in line with the GDP," Muhith said during an interview with The Daily Star at his Banani residence in the capital recently. 
The observation comes at a time when Finance Minister AHM Kamal is preparing to unveil his first budget on June 13.
Muhith had placed the national budget a record 12 times -- 10 times during the Awami League tenures and twice during Ershad rule. 
As the AL government's finance minister, he presented his first budget of around Tk 95,000 crore in 2009 and finished his term with a budget of around Tk 460,000 crore in 2018.  
Muhith said the size of the budgets was low in relation to the gross domestic product, largely because Bangladesh's tax-to-GDP ratio was the lowest in South Asia.
During Muhith's decade-long tenure as the finance minister, the tax-to-GDP ratio rose from 9 percent to 11 percent.
"But it has to be raised to 15 percent," he said, suggesting the government increase the contribution of income tax to the total revenue.
Currently, income tax accounts for only 30 to 35 percent of the total revenue earned. It should be 50 percent as there are a lot of wealthy people in Bangladesh, said Muhith.
The number of taxpayers has to increase to generate more revenue and four crore out of 16 crore people in Bangladesh should pay taxes.
"If it doesn't happen, efforts should be made to bring at least one crore people under the tax net within the next five years."
At present, only 15 lakh people pay taxes.
Muhith said earnings from value-added tax (VAT) and customs would increase automatically, and gave his support to multiple slabs of VAT.
The former finance minister also said he had faced the challenges of fixing the revenue target while preparing the budget.
"If you set a high revenue target, then you will hear a hue and cry. But if you set a low target, then you will not have [enough] money to provide services to the people," he noted.
Implementation of the budget poses another big challenge, according to the former bureaucrat. 
During the interview, Muhith also touched upon external pressures present during budget formulation.
He said he had never faced any political pressure while formulating the budget during his long career.
"But businesses had tried to create pressure."
He said the Federation of Bangladesh Chambers of Commerce and Industries, the Dhaka Chamber of Commerce and Industries, and the Bangladesh Garment Manufacturers and Exporters Association play an important role in the budget preparation.
"You will have to share with them whatever you want to do. You can do nothing by making them unhappy. Ultimately, you need to collect money."
Improving the condition of the banking sector was another challenge for the current finance minister, according to Muhith.
"If a bank fails, it will create a serious crisis in the economy. So, during my tenure I had emphasised on the banking sector and never allowed any bank to fail."
He blamed owners and sponsors for the Farmers Bank crisis, saying, "The bank was looted by its owners.
"I should have allowed it to die. I should have allowed it to merge with another bank."
The private commercial bank, which was established in 2013, became a hotbed for financial irregularities in less than three years of operation. More than Tk 3,500 crore was siphoned out of the bank, according to the Bangladesh Bank.
Subsequently, Farmers Bank was renamed the Padma Bank, as the troubled lender looks to sweep the gross irregularities and loan scams under the carpet and get an image makeover.
"A lot of chances were given to banks and now they should be brought under control. Banks must be brought under regulation," Muhith said.
There are 68 banks in the country, a number Muhith believes is too high and for this he suggests they should merge.
The banking sector should be run properly through enforcement of laws and regulations, and the banks should not be given too much liberty, he said.
The paid-up capital for a bank should be increased to Tk 1,000 crore from Tk 400 crore.
"Then they will merge and the number of the banks will come down to 20.
"I will meet the prime minister and give her some suggestions about the banking sector and how to mitigate the crisis." 
Muhith said he had failed to impose tax on profitable educational institutions, adding that if they were taxed, the additional cost would be passed on to the students.
On state-owned jute and sugar mills, Muhith said Bangladesh did not need those as workers "did not work to make them profitable".
He added, "But they get wages through launching movement and get allowances.
"No money will come back from the jute mills although money is injected into them."
He also said state-owned sugar mills were not necessary as they were not profitable. Now sugar is produced from beetroot and the production cost is one-fourth of that of sugarcane.
He gave the example of Thailand, where state-run mills were abandoned. "We have to learn from Thailand's experience," he added.