All problems can be solved thru' dialogue
PM on relations with neighbouring countries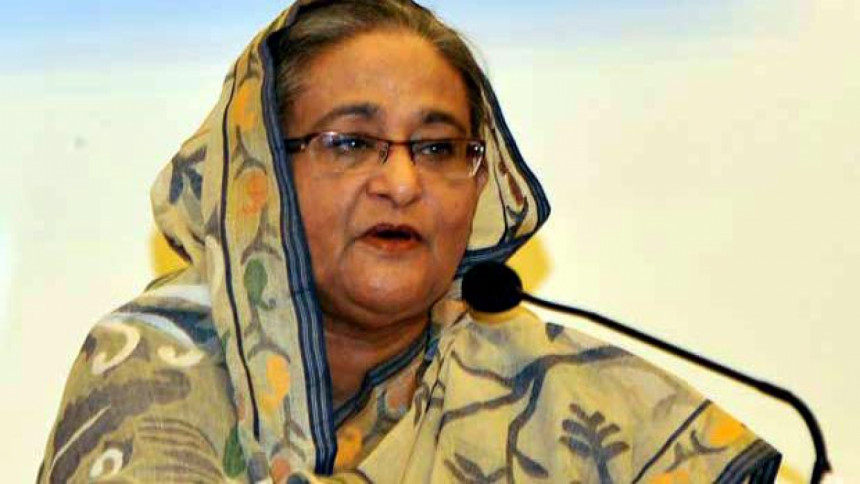 Prime Minister Sheikh Hasina yesterday told parliament that it was possible to resolve all problems with neighbouring countries through dialogue, no matter how complex those were.
The PM said this pointing to her government's success in resolving disputes with India and Myanmar over maritime boundaries.
On the Rohingya issue, the premier informed the House that it was her government's timely decision to give shelter to the forcibly displaced Rohingyas.
"Bangladesh wants a sustainable and equitable solution of the Rohingya crisis, keeping good bilateral relations with Myanmar," she said in a scripted answer.
"The government is continuing its diplomatic efforts bilaterally, regionally and multilaterally to solve the [Rohingya] crisis,             keeping normal relations with Myanmar."
According to the UN estimation, around 6,88,500 Rohingyas entered Bangladesh since the fresh           influx of Rohingyas began on  August 25.
In reply to a query, Hasina told parliament that the trial of August 21 grenade attack case was at the final stage as the prosecution had completed their closing arguments, while closing arguments for 18 out    of 52 accused were done as of       January 24.
Date of the verdict in the case will be fixed after closing arguments for other accused are finished.
Answering another question, the PM informed the House that the government had recently reconstituted a three-member Chittagong Hill Tracts Accord implementation committee with lawmaker Abul Hasnat Abdullah as its convener to expedite the implementation process of the treaty.
Hasina also said of the 72 clauses in the CHT treaty, 48 had already been implemented fully and 15 partially, while the process to implement the rest was underway.
Kujendra Lal Tripura has been made the chairman of the Taskforce on Rehabilitation of Returnee Refugees and Internally Displaced Persons to expedite the repatriation and rehabilitation of refugees and internally displaced persons, she said.
Replying to a query, the premier said the government had taken steps for restructuring organograms at public offices to create scope for promotion of the lower-grade employees.
There are some posts in the administration where scope for promotion is very limited or impossible. Necessary steps are being taken to create scope for those employees, she added.