Rohingya camps potentially in harm's way
A permanent solution must be found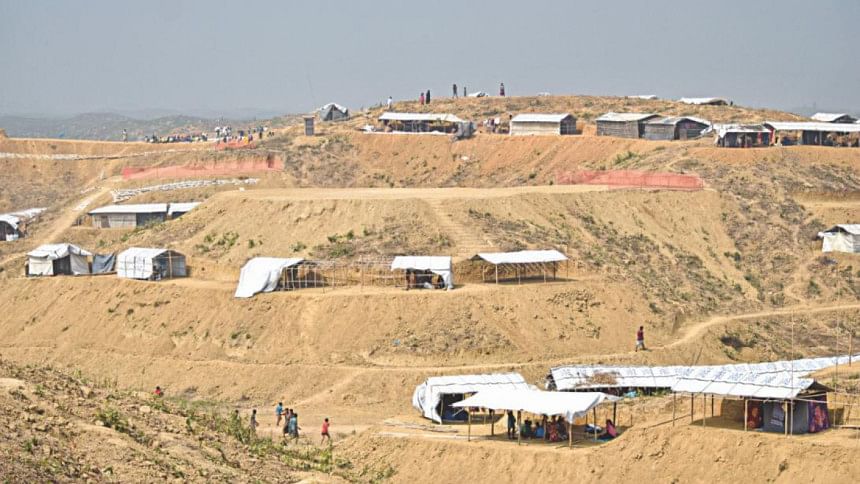 The makeshift Rohingya camps in Ukhia of Cox's Bazar are at grave risk of being wiped out by landslide and are vulnerable to being ravaged in case of a nor'wester or cyclone as monsoon approaches. In the meantime, the slow pace of the repatriation of Rohingyas, the seeming unwillingness of Myanmar to speed it up and the international community's continuing silence in the face of all this are extremely concerning.
The cost that Bangladesh is having to incur because of Myanmar's actions is extremely unfair and continues to rise. The local community, too, is facing problems because of the scale of the crisis, which is also taking its toll on the environment causing huge losses. All this because the Myanmar government brutalised its own people, forcing them to flee for refuge which Bangladesh granted on humanitarian grounds. And yet, the international community's response does not match the seriousness of the crimes perpetrated against the Rohingyas, especially in terms of eliciting a real solution to the crisis. There are currently over one million Rohingya refugees in Bangladesh. How can the international community not take that seriously nor recognise that it is impossible for Bangladesh to deal with a crisis of such magnitude on its own?
Given the scale of the crisis, it is essential for the Bangladesh government to be prepared for deadly mudslides that have occurred before. It is also important for the government to recognise the need of the local populace and the environment in order to formulate proper strategies that can counter the crisis effectively. We again call on the international community to recognise the suffering that is being forced upon the Rohingyas and Bangladesh by its silence and lend greater assistance to the repatriation process to speed it up.