Asean Summit and the Rohingya issue
Strategic sensitivities or eroding credibility?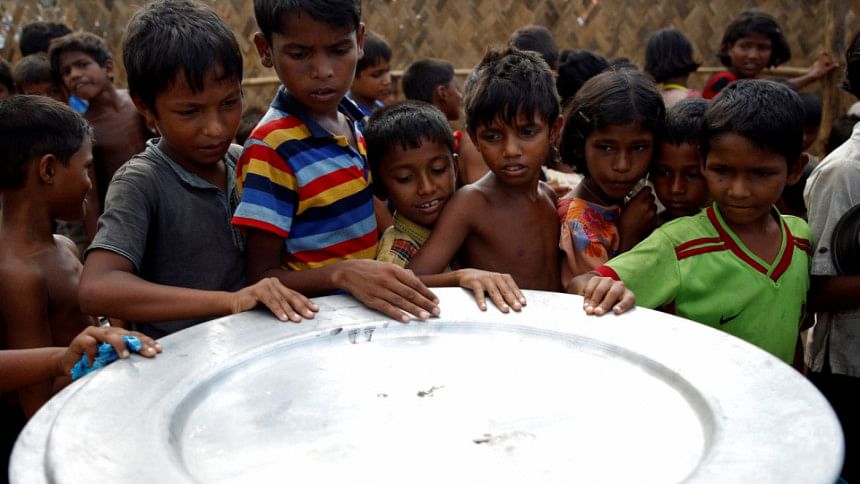 This year's Asean Summit ended on November 15 with the commitment to forge cooperation for peace, security and development. Asean and other world leaders attending the summit also pledged to boost business, investment and trade. 
As regards the South China Sea dispute, the Summit called for frank understanding and further dialogue which should prevent conflict. No specific Memorandum of Understanding (MOU) was signed to reflect the process of a gradual resolution. But it was agreed that the adoption of a "code of conduct" in the South China Sea could be a "stabiliser" for the region. 
Asean leaders were implicitly critical of North Korea's threats of using nuclear missiles but recognised China's proposal for consultations to reduce tension. A key outcome was the signing of a MOU on the "rights of the migrant workers", viewed as a landmark achievement, after a decade of negotiations. 
All things considered, the Summit seemingly concluded on a positive note. However, it could not present focused views and concrete actions in resolving the critical Rohingya crisis. The meeting avoided any resolution that would call upon Aung San Suu Kyi and her government to undertake their required role in resolving the crisis they created. 
The traditionally conservative but seemingly forward-looking Asean literally avoided taking appropriate views and recommending actions in dealing with the issue. The only exceptions were the observations by Canada's Prime Minister Justin Trudeau and UN Secretary General Antonio Guterres. They both cautioned Asean members of the consequences of bypassing the issue and reiterated that the humanitarian crisis involving the Rohingyas may cause "regional instability and radicalisation". 
However, most of the countries did not exert adequate pressure on the Myanmar leader to take back the Rohingyas and ensure peace and security in Myanmar's Rakhine province. Much to the disappointment of the international community, the Asean Summit could not even come up with a specific proposal for stopping the genocide being committed by the Myanmar military in Rakhine state. 
Even a "Code of Conduct" similar to that undertaken for the South China Sea could have been visible evidence of Asean's responsiveness in mitigating the severity of the Rohingya crisis. Similarly, Asean leaders could have considered adopting another "Code of Conduct" to protect the rights and privileges of minorities in all countries. Had Asean taken these initiatives, they would have added value to the UN Human Rights covenants, contributed to firming up new elements for a renewed global approach for "stateless and displaced" people. 
Another deviation from the standard inevitable outcomes of the Summit was the deliberate oversight of issues relating to human rights and civil liberties. Regrettably, these initiatives were absent. Leaders could not visibly demonstrate adequate commitment and vision to address these issues in the near future. On the contrary, a couple of Asian economic powerhouses offered increased economic assistance to Myanmar on the sidelines of the Summit, whereas a couple of key global development financing institutions have curtailed lending to Myanmar.
Leaders of Asean would have done justice to their own agendas for peace and security had the Summit Declaration reflected how Bangladesh has responded to the Rohingya crisis. Bangladesh's response and handling of the crisis is an exemplary gesture of support to distressed individuals and extraordinary diligence in ensuring peace and stability in the region. 
While Bangladesh has repeatedly called for substantive and result-oriented collaboration with Myanmar, Myanmar's response has been minimal. Asean should have noted that Myanmar is sowing the seeds of discord and destabilisation, the costs of which would be too much for the region to bear. Additionally, Myanmar's actions will adversely impact regional cooperation frameworks and potentials, both in Southeast Asia and South Asia.
Historically, Myanmar's track-record has never been compliant with basic norms of democracy and rule of law, which is why it was under sanctions for several years. Events like Myanmar's handling of their own "Saffron Revolution" in the late 1980s and the indiscriminate torture of pro-democracy supporters in the pre-sanctions period are glaring instances. 
Given Myanmar's acute deficiencies and inadequacies in governance, Aung San Suu Kyi's mild assertion that her government will review implementing the Kofi Annan Commission's recommendations and work on implementing a MOU with Bangladesh cannot serve as sustainable assurances. Judging by Myanmar's continued arrogance and intransigence towards ground realities, Suu Kyi's attitude and actions reflect reckless distortion of the truth to protect the interests of the ruthless Myanmar regime that has denied rights to, and is continually committing atrocities on, its own citizens.
An updated modus operandi in handling the crisis and a new agreement or MOU (replacing the 1992 agreement) is urgently called for, as relevance of the previous agreement has significantly diminished. Taking into account Myanmar's rigid and negative stance on the issue, a bilateral approach is unlikely to give any expected results. While bilateral consultations may continue, extensive multilateral understanding and offer of support to resolve the crisis could contribute to growing international consensus in resolving the issue. 
Keeping in view the extent and magnitude of the crisis, it would be expedient to suggest coordination among Asean and other international organisations in regard to the following actions: (i) refer to the genocide, exodus and plight of Rohingyas as ruthless violation of human rights and emphasise on immediate actions to end this (ii) Ask Myanmar to ensure an appropriate environment so that Rohingyas can return to their homes in Rakhine and live there with safety and human dignity (iii) Sustained international pressure on Myanmar to implement the recommendations of the Kofi Annan Commission and coordinate with UN agencies concerned on the urgent repatriation of Rohingyas to Myanmar (iv) Comprehensive international support for the initiatives and efforts of Bangladesh, continued assistance for the Rohingyas and facilitating the process of their repatriation to Myanmar (v) Sending delegations to the Rohingya camps in Bangladesh to assess the situation, extend continued assistance and facilitate the probable repatriation process as soon as this starts (vi) UN, EU and Asean's peace and conflict resolution mechanisms could be mandated to extend support to both bilateral and multilateral consultations on the Rohingya issue (vii) Finally, should there be a need for "safe zones" for Rohingyas once it is possible for them to return to their homes in Myanmar, Asean may coordinate with the European Union and United Nations for the creation of such safe zones.
Has Asean's silence on the Rohingyas been one of strategic sensitivity? If so, this makes extremely limited sense, as further delays may worsen the situation and make things more difficult to solve in future. In addition, is there a chance that the silence and inaction of institutions like Asean might erode their credibility? One hopes not.
---
Dr Mohammed Parvez Imdad, PhD, is a Visiting Professor and Lead Economist based in Manila, Philippines. Email: [email protected]
---
Follow

The Daily Star Opinion

on Facebook for the latest opinions, commentaries and analyses by experts and professionals.
To contribute your article or letter to The Daily Star Opinion, see our

guidelines for submission

.
---