Acceptable, peaceful
CEC on UP polls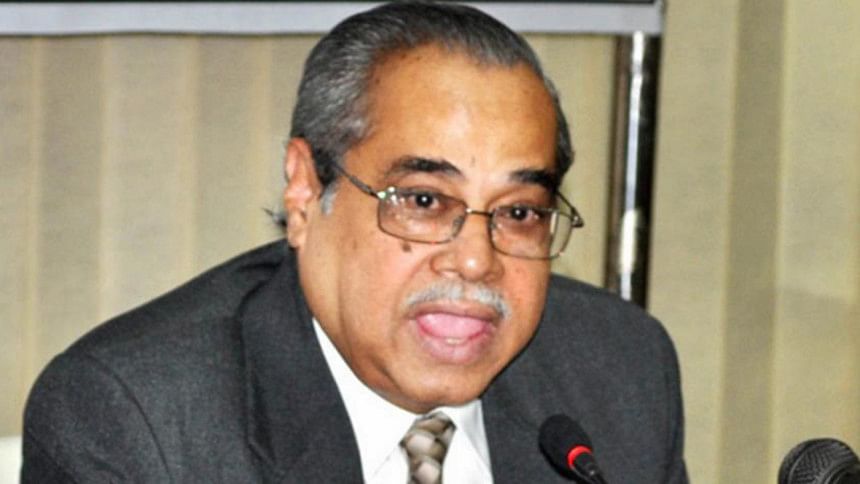 Chief Election Commissioner Kazi Rakibuddin Ahmad yesterday claimed that the first phase of the union parishad polls was "acceptable" as voting was "peaceful" in most of the polling centres.
"The union parishad polls were definitely acceptable as you [the media] have showed [everyone] long queues of voters at the polling stations," he told journalists at a post-polls press briefing at the EC media centre in the city.
"Your correspondents said the elections were free and fair."
Voters, including women, turned up at the polling centres to cast their votes in a festive mood, he mentioned.
Rakibuddin, however, admitted that there were some stray incidents of violence and the EC had to cancel voting at over 50 centres across the country for irregularities and ballot stuffing.
"….we had to suspend voting at some centres. I had to do that. If I had not done that, you would have asked me why I didn't take any action," he said.
The CEC blasted members of law enforcement agencies for not being able to stop ballot-stuffing at some centres.
He said ballot-stuffing took place at a few polling centres on the night before the polling day which is not acceptable.
Law enforcers opened fire in two places and made arrests in one. But in many areas they did not take any action, he added.
Asked about the BNP's demand for re-polling in 50 unions, the CEC said it is not possible for anybody to hide anything from the media as technology has advanced a lot.
He called upon people to come forward to stop electoral violence in the country.
Rakibuddin expressed concern for the victims of yesterday's violence. He said two election officers were shot while on their way to a polling centre in Hatiya of Noakhali. Besides, an Ansar member was killed in Barisal when his own rifle fired accidentally.
As many as 717 unions went to polls in the first phase yesterday. In the subsequent phases, elections are due in 643 unions on March 31 and in 681 unions on April 23.
Polls to around 2,200 unions will be held in three more phases until June. 
POLLING SUSPENDED
EC officials yesterday said the commission suspended voting at 65 polling stations due to violence and irregularities. 
Of the polling stations, 14 are in Satkhira while the rest in Khulna, Pirojpur, Laxmipur, Barguna, Bhola, Comilla, Noakhali, Patuakhali, Brahmanbaria, Cox's Bazar, Barisal and Sylhet.
The commission last night decided to ask the police authorities to suspend the cops who were deployed at the 14 polling stations in Satkhira, said EC sources.
The EC will scrutinise the ballot papers of the 14 centres to determine which candidates' supporters stamped the ballots. Cases will be filed against those candidates whose supporters stuffed ballot boxes.