Lawmakers Blinded by Power
Who gave them the license to brutalise their constituents?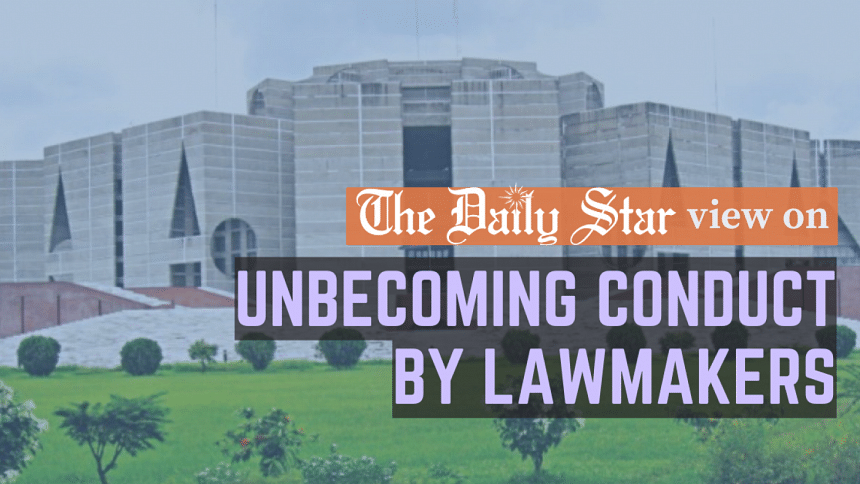 We are deeply worried by the activities of some of our lawmakers who have recently made headlines by assaulting and threatening people, including teachers, local public representatives, traders and public officials. In the latest incident on July 16, a ruling party lawmaker from Cumilla allegedly attacked an upazila chairman on the parliament premises. According to media reports, he punched and kicked the chairman during a meeting. On July 7, another lawmaker from Rajshahi beat up a local college principal in front of his fellow college principals. These are just some examples from the recent past. Such stories of power abuse were also occasionally reported over the past few years.
Going through the details of such incidents, we cannot help but be appalled at the unruliness of these MPs who, rather than standing by the people in their hour of need, brutalised them or allowed violence in their presence. Regardless of the circumstances behind their action, such vulgar display of intolerance from persons in authority is totally unacceptable.
We wonder how they would justify the impropriety of their behaviour. What could make them feel so emboldened to behave in such a manner? The first reason that comes to mind is that they feel beholden to no one because of their power. They were blinded by it, having possibly emerged from a culture of thug politics. Otherwise, why would someone assault a respectable person such as a college principal in such a way? Why would an MP hurl abuse or threaten public officials for petty reasons? Why would an MP assault another public representative?
The second, and equally important, reason for their unruliness is that none of them were ever held to account or have had to face any legal consequence for their actions. This has further emboldened them to continue with their objectionable activities. While, as elected representatives, lawmakers are supposed to look after their constituents, often they end up forgetting their role and use their positions of power to gain personal benefits or assault those who either stand in their way or who they deem disloyal. They forget that their position is not a license to do whatever they want.
We urge the government to investigate all incidents of assaults by lawmakers and take legal action against them. At the same time, the party in power should also take punitive action against leaders/members who have been using its name for their petty gains. We hope the senior leadership of the party would take this issue seriously and do the needful to discipline them, not only for the sake of its image but to preserve democratic values as well.