6 militants to die for Ashulia bank heist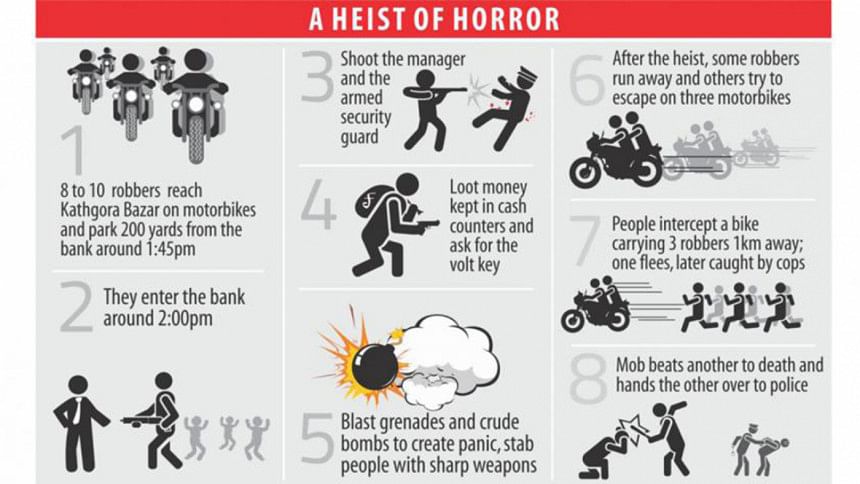 Six members of banned militant outfits Jama'atul Mujahideen Bangladesh (JMB) and Ansarullah Bangla Team were handed death sentences by a Dhaka court yesterday for the grisly bank heist in Ashulia in April last year that left eight people dead.
Another accused was given a life term and two others three years' jail each while two were acquitted by the court.
The condemned convicts are Borhan Uddin, Saiful alias Al Amin, Mahfuzur Islam alias Sumon alias Jamil, Jashim Uddin, Palash alias Sohel Rana and Mintu Prodhan.
Ukil Hasan was handed life term while Abdul Baten and Shahjahan Jamadar three years' jail each. Mozammel Haque and Babul Sarder were acquitted.
Judge SM Kuddus Zaman of the District and Sessions Judge's Court of Dhaka delivered the verdict in the killing and robbery case in presence of eight convicts. Palash alias Sohel Rana is on the run.
"During the trial I have seen all the accused persons excepting absconding accused Palash in the dock. But I did not notice any sign of repentance on their face or demeanor. I do not find any mitigating circumstances justifying a lenient approach in determining appropriate sentence for the accused persons," observed the judge in the judgment.
The court on January 21 framed charges against the accused. The trial has been completed within 26 working days after recording statements of 64 prosecution witnesses.
On April 21 last year, a gang of 8-10 people aged between 25 and 40 looted Tk 35 lakh from a branch of Bangladesh Commerce Bank in Ashulia Industrial Area on the outskirts of the capital in broad daylight, according to case document.
They attacked bank officials, clients and locals with sharp weapons, fired shots and hurled crude bombs while escaping the scene, leaving seven people dead.
A mob later beat one of the robbers dead and handed another over to police.
On December 1, Ashulia police submitted two charge sheets in the two cases -- one for the killings and robbery and the other for possession of explosives. The second case is pending with another Dhaka court.
Ashulia police during the investigation into the cases found involvement of 13 people.
One of them was killed by the mob and the mastermind of the robbery, Abdullah Al Baki, died in a "shootout" with law enforcers in the capital's Gabtoli area in November last year, police said.
Baki was said to be a member of Ansarullah Bangla Team and a former JMB operative.