Two BAF trainer aircraft crash
Four pilots escape unhurt; investigation on to know the cause of the accident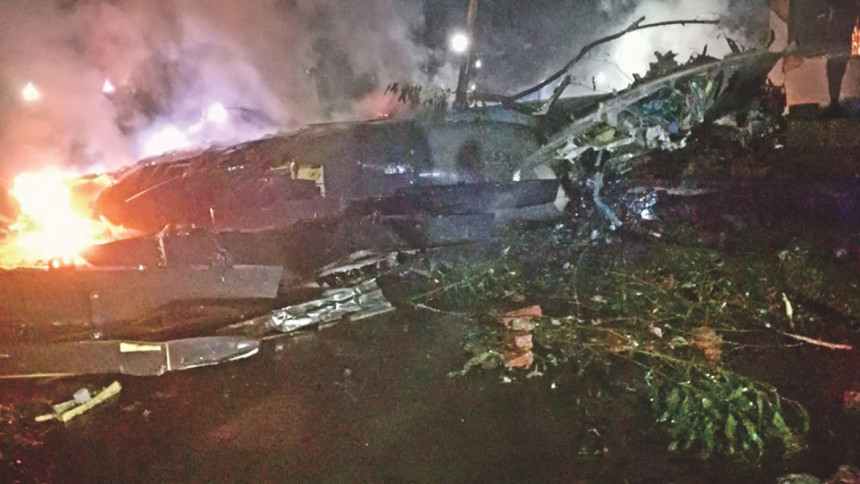 Two trainer aircraft of Bangladesh Air Force (BAF) crashed at Maheshkhali upazila in Cox's Bazar yesterday evening.
"All four pilots of the planes were rescued alive with minor injuries they sustained when they ejected," Inter Services Public Relations (ISPR) Director Lt Col Rashidul Hasan told The Daily Star.
Of the four pilots, group captain Sharif was with squadron leader Monir, and wing commander Rajib was with squadron leader Azim.
The ISPR official said the two Yak 130 aircraft crashed around 6:30pm. They lost connection with the control tower at 6:15pm, around 15 minutes after they took off from Jahurul Haque Air Base in Chittagong.
The cause of the accident is yet to be known. A high-power committee was formed to investigate the incident, said Lt Col Rashidul.
The pilots are receiving treatment at BNS Patenga Hospital. They are out of danger, he added. 
Air force insiders said that the incident might have happened due to a mid-air collision.
Search operations were still underway as of filing of this report at around 9:30pm, reports our Cox's Bazar correspondent.
One of the aircraft crashed in Putibila village while another in Maispara of the upazila, a few kilometres away from one another, according to firefighters. The planes caught fire soon after the crash.
Shafayet Hossain, station officer of Fire Service and Civil Defence in Cox's Bazar, said firefighters rescued a pilot and sent him to Cox's Bazar Sadar Hospital.
Deputy Assistant Director of Fire Service and Civil Defence, Abdul Malik, who led the team of fire fighters said, "At 6:30pm, we heard about the incident and reached Putibila in an hour. We extinguished the fire at 8:30pm."
Parts of the plane had fallen in front of a house and locals panicked thinking it was an earthquake. One person sustained minor injuries while a fireman, Arif, was hurt while putting out the flames, he said, adding that when they reached Maispara, they could see only the wings of the plane, with a large portion buried in the mud and the fire having already gone out.
An Air Force helicopter was seen hovering in the sky, witnesses and police said. Officials from the air force, local administration and law enforcement agencies rushed to the spot.
Sirajul Haque, a local in Putibila area, said the aircraft caught fire with a loud bang. The crash caused panic among the locals. Onlookers swarmed to both places.
Officer-in-Charge of Maheshkhali Police Station Prodip Kumar Das, who was on the spot, told The Daily Star that he saw two parts of an aircraft ablaze in two separate places.