I'm still Chelsea's number one, says beaten Mourinho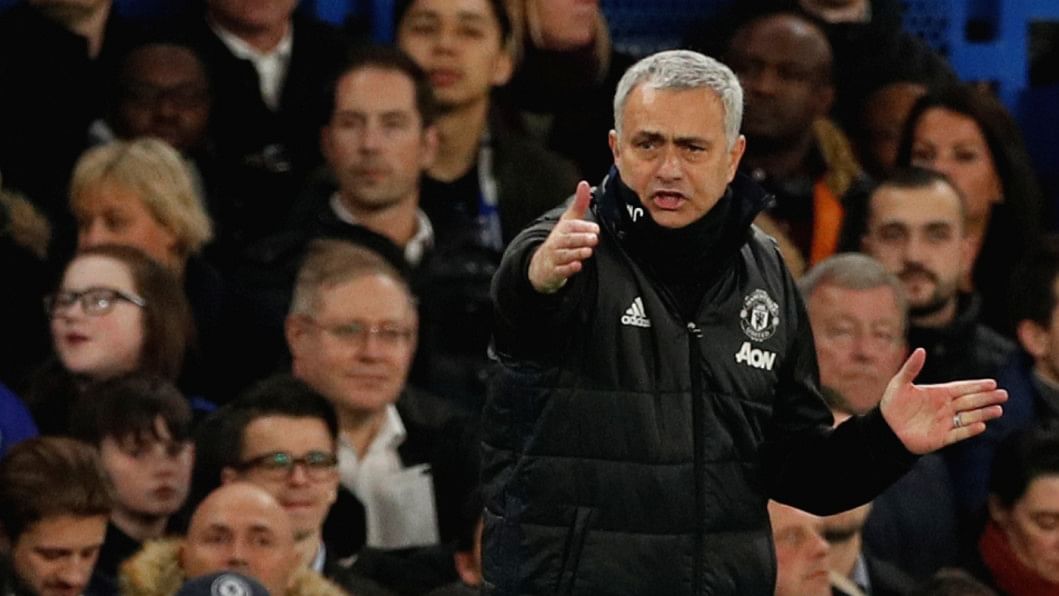 Manchester United's Jose Mourinho, humbled for the second time this season in front of the Chelsea fans who once idolised him, did not go quietly on Monday as he declared that he remains the London club's number one manager.
Mourinho, winner of seven major trophies during two spells in charge at Stamford Bridge, suffered 'Judas' taunts by fans with short memories as his battling 10-man United side went down 1-0 in a stormy FA Cup quarter-final.
The Portuguese coach also clashed with his successor Antonio Conte, who remains on course to claim a Premier League and FA Cup double in his first season in Mourinho's old seat.
"They can call me what they want. Until the moment they have a manager that wins four Premier Leagues for them, I'm the number one," Mourinho, sacked last season after leading Chelsea to a double of league and League Cup in 2014-15, told reporters.
"When they have somebody that wins four Premier Leagues for them, I become number two. Until then Judas is number one."
Mourinho became involved with fans behind the away dugout during a tetchy first half, raising three fingers -- the number of Premier League titles he delivered for the club.
He was particularly frustrated by referee Michael Oliver's decision to send off Ander Herrera in the 35th minute for a second yellow card -- both for fouls on Eden Hazard.
United's players seemed to target the livewire Hazard before the interval, something that did not go unnoticed by Italian Conte. Mourinho said the sending off changed the game and that the holders would have won had it been 11 versus 11.
"I think we can agree there was a match until Herrera saw the red card and there was another match after that," Mourinho, whose side can still add the Europa League to the League Cup they have already secured in Mourinho's first season, said.
"Before that I saw a match that we were going to win. When we stayed with one player less they could be more dominant. But in spite of that we defended well and had the biggest chances.
"Mr Oliver goes home and he can do his own analysis because I don't want to analyse his work," he added.
N'Golo Kante struck Chelsea's winner in the 51st minute although United, without suspended striker Zlatan Ibrahimovic and injured duo Wayne Rooney and Anthony Martial, dug deep and forward Marcus Rashford went close to an equaliser.
United, who suffered only a third defeat in all competitions since a crushing 4-0 loss at Chelsea in October, face Rostov in the Europa League last 16, second leg on Thursday level at 1-1. They are also vying for a top-four Premier League finish.
"We have a very important match on Thursday and I want to rest a little bit and prepare as best as we can," he said. "I go very proud of my players very proud of my supporters."