Facebook post reunites family after 9 yrs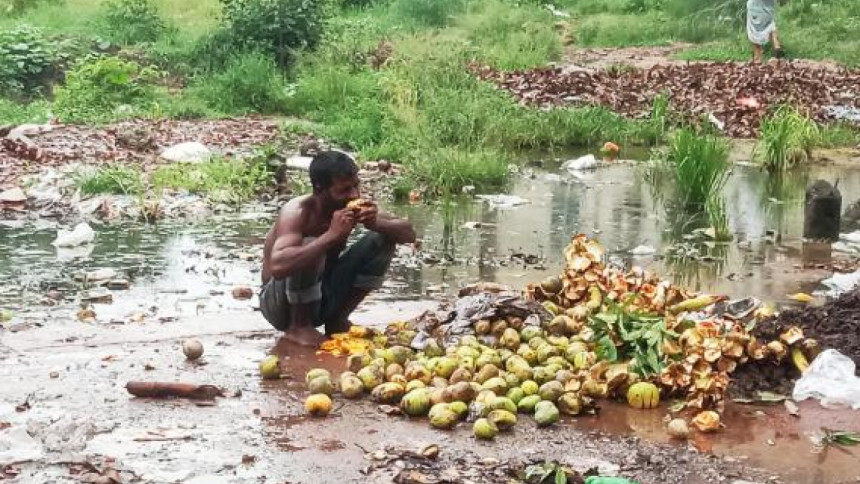 Sohel Rana used to make a living as a rickshaw-puller in Dhaka city. The youth from Natore was married and had two children, with the family living with him in in the city.
One day, Sohel suddenly went missing. As time passed, his family believed him to be dead and made peace with the loss.
Nine years later, they began hearing whispers of Sohel being alive and of a photo of him circulating on social media.
The photo showed a man sitting near a pile of discarded mangoes. It was taken by one Tareq Aziz, a young businessman from Brahmanbaria.
Speaking to The Daily Star, Tareq said that he was struck by the imagery of rotting mangoes and a man choosing one from among them. The photo was taken at Brahmanbaria Poura Super Market, which had been dismantled for reconstruction.
After taking the picture, Tareq approached the man and gave him one kg mango.
Tareq, however, later felt guilty that he had not offered the man a proper meal. For five days straight, he looked for the man again before finally tracking him down. He took the man to a nearby restaurant where they began talking and he got to learn that the man was from Natore.
Afterwards, Tareq posted the first photograph and a video on Facebook and wrote about the man. Tareq also collected contact numbers of Natore journalists and requested them to highlight the man locally.
Later, a local of Natore recognised Sohel and contacted his family members. Then the family made a video call to Tareq and confirmed the man's identity.
Family members informed Tareq that the man was Sohel Rana, the eldest son of Mazid Shah of Shotokuri village under Singra upazila in Natore, and that he had been missing for nine years. His elderly father and mother are alive and he also has a younger brother and two sisters. 
Besides, he has a wife and two children living there.
On June 21, eight days after the first picture was taken, Sohel was finally reunited with his family.
Sohel's family members were overwhelmed to see him, but the last nine years also raised a lot of questions.
His younger brother Ujjal Mia told this correspondent over phone that they could not believe Sohel was alive. It was an Eid blessing, he declared, adding, "Sohel is not saying anything now; mentally, he seems to be ailing. We will arrange proper treatment for him."