Garos demand stop to destruction of forests in the name of eco-tourism
Members of the Garo community today formed a human chain in Tangail's Madhupur protesting the construction of an arboretum, a guest house and boundary walls over an ancient crematorium by the forest department in the name of eco-tourism.
The human chain was organised at Telki beside the Tangail-Mymensingh highway at 12:00 pm today under the banner of "Madhupurer Bikkhubdo Adivasi Chhatra Janata," reports our Tangail correspondent.
The forest department will have to stop constructing the arboretum and the guest house, otherwise, people from the ethnic minority community will wage tougher movements to resist the bid, speakers at the programme warned.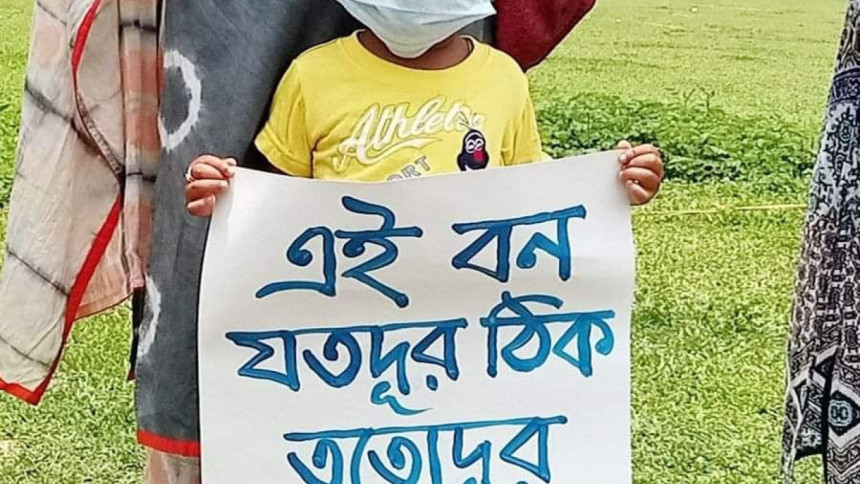 Alik Mre, general secretary of Bangladesh Adivasi Chhatra Sangram Parishad, Proloy Nokrek, president of Garo Students Federation, and Tony Mathew Chiran, organising secretary of Bangladesh Adivasi Jubo Forum, spoke at the programme, among others.
Jamal Hossain Talukder, assistant conservator of forest department (North) in Tangail, told The Daily Star that an arboretum was constructed on a three-hectare land in Telki village about one year ago for botany practice, scientific experimentation and research in the Madhupur forest. 
"The locals did not raise any objection against it at that time. Construction of walls and structures of the project is now underway, and local senior Garo leaders also took part in the inauguration of the works," he said.
"The real motive of those who are now protesting against it is to occupy forest land," he added.