3 killed as Mocha lashes Myanmar
Floods, destruction reported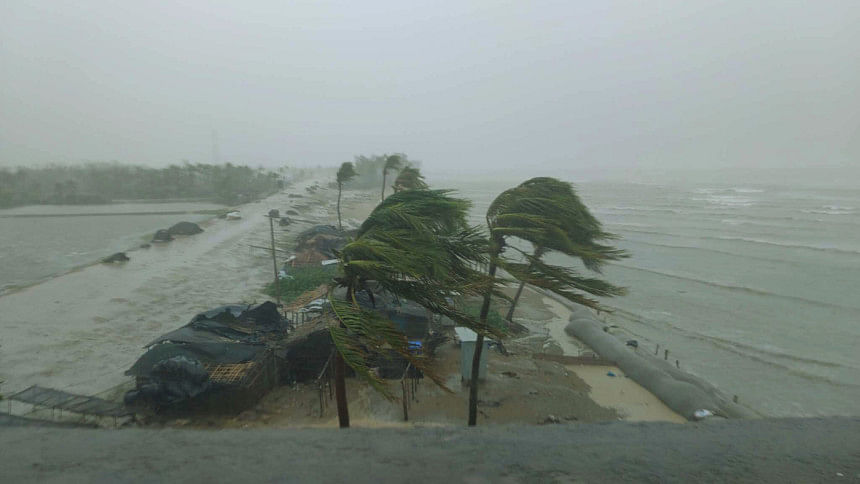 Thousands of people hunkered down yesterday in monasteries, pagodas and schools, seeking shelter from a powerful storm that slammed into the coast of Myanmar, tearing the roofs off buildings and killing at least three people.
Myanmar appears to have borne the direct impact of Cyclone Mocha, as winds of up to 210 kph (130 mph) ripped through settlements and brought down a communications tower.
The center of the cyclone made landfall in the afternoon in Rakhine state near Sittwe township, Myanmar's Meteorological Department said.
Parts of Sittwe, the capital of Rakhine state, were flooded and the ground floors of several buildings were underwater, a video posted on social media by a witness in the city showed.
Myanmar's military information office said the storm had damaged houses, electrical transformers, cell phone towers, boats and lampposts in Sittwe, Kyaukpyu, and Gwa townships. It said the storm also tore roofs off of buildings on the Coco Islands, about 425 kilometers southwest of the country's largest city, Yangon.
More than 4,000 of Sittwe's 300,000 residents were evacuated to other cities and more than 20,000 people are sheltering in sturdy buildings such as monasteries, pagodas and schools located on the city's highlands, said Tin Nyein Oo, who is volunteering in shelters in Sittwe.
Yesterday morning, at least 3 deaths caused by wind and rain were reported in Myanmar.
A rescue team from the country's eastern Shan state announced on its Facebook social media page that they had recovered the bodies of a couple who were buried when a landslide caused by heavy rain hit their house in Tachileik township. Local media reported that a man was crushed to death when a banyan tree fell on him in Pyin Oo Lwin township in the central Mandalay Region.
In Sittwe, a cell phone tower collapsed under high wind and other buildings were damaged, local media reported.
Across Rakhine state and the northwest of the country, about 6 million people were already in need of humanitarian assistance, while 1.2 million have been displaced, according to the UN humanitarian office (OCHA).
Hundreds of thousands of the Muslim Rohingya minority remain in Myanmar's Rakhine state, where many are confined to camps separated from the rest of the population.
"The state government has moved many Rohingya from Sittwe camps to higher grounds area," Zaw Min Tun, a Rohingya resident in Sittwe said, adding that the evacuation took place without any warning.
"They also didn't provide any food to them, so people are starving."
In May 2008, Cyclone Nargis hit Myanmar with a storm surge that devastated populated areas around the Irrawaddy River Delta. At least 138,000 people died and tens of thousands of homes and other buildings were washed away.