TK 800 boat fare now TK 50,000: Rescue, relief work halted in Sylhet, Sunamganj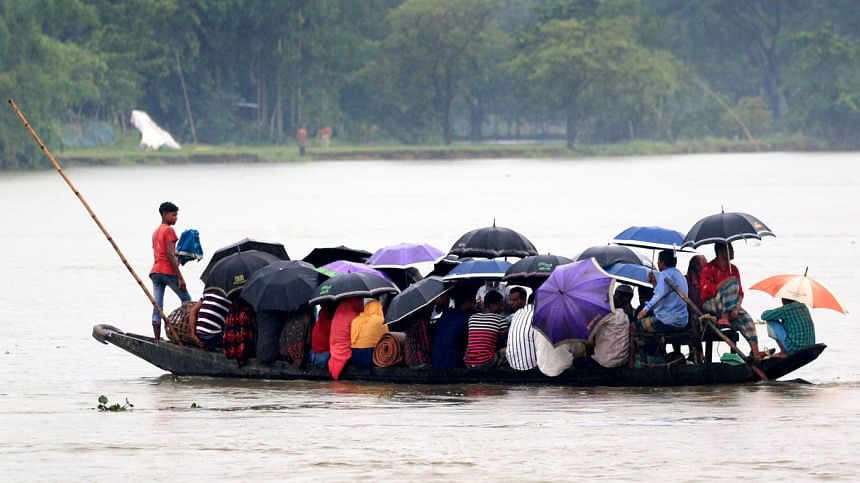 Thousands of people in Sylhet and Sunamganj are waiting to be rescued from floodwater. But their relatives cannot make the rescue trip on vessels due to excessive boat fares being charged in this dire situation.
Boat fare which is usually Tk 100, is now being charged TK 10,000. In some places, people are unable to find boats even after willing to pay the excessive amount.
The relatives of the flood-affected people of Companiganj and Gowainghat upazilas of Sylhet are thronging the Salutikar ghat near Sylhet city for boats.
Apart from hundreds of passenger boats, boats meant for carrying sands are also engaged in transporting people as most roads on the land have been disconnected.
However, the rent of each boat has been increased at least 100 times by the boat owners and middlemen.
The distance from Salutikar to Telikhal village in Companiganj is 10 km and the boat fare is usually Tk 800 to Tk 1,000. However, boatmen were seen claiming TK 50,000 for the trip.
A man named Maroof Ahmed faced such a situation yesterday (June 17, 2022) afternoon while trying to bring his pregnant wife from their village to Sylhet city. He agreed to pay up to Tk 40,000, but the boatman declined.
On Friday afternoon, it was seen at Salutikar ghat that the TK 20-50 boat fares per head were raised by TK 1,000 to TK 1,500 per person.
The situation is the same in most flooded areas of Sunamganj. Farid Ahmed, a businessman from Sylhet, said, "My driver's family was in danger after being trapped in a village in Chhatak upazila of Sunamganj. Despite spending a lot of money to rescue them, I couldn't afford to rent a boat. They were later rescued by local volunteers and taken to a nearby shelter."
Many people from Sylhet city have gone there with relief assistance, but many are not able to go due to the extra fare of boats.
Some students from a madrasa in Sylhet city went to Salutikar with relief in a laguna, but they were asked for TK 40,000 for a boar fare.
"I wanted to give relief on personal initiative. But I can't get a boat due to the extra fare," said one Ahsan Habib.
Meanwhile, many people said they are not getting boats for going to provide relief or rescue work even after being willing to pay 100 times the normal fare.
Abdul Jabbar, chairman of the local Abbul Jabbar Trust, said he could not get boats to go to remote areas even though he had agreed to pay extra fare since Friday.
Sylhet Deputy Commissioner Md Mujibur Rahman said, "We are not getting the necessary number of boats to carry out the rescue operation even after paying some extra fare. But I didn't know they were demanding this much fare. I will look into the matter and take necessary action."