Army deployed to manage heavy flooding in Sylhet, Sunamganj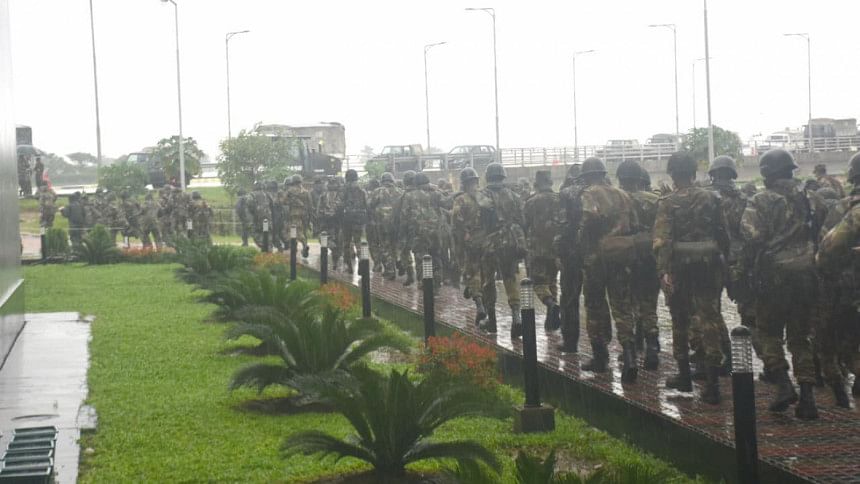 Members of Bangladesh Army have been deployed to manage the heavy flooding and its aftermath in Sylhet and Sunamganj.
The deployment comes following a request from the civil administration, according to the ISPR.
Talking to our Sylhet correspondent, Mujibur Rahman, deputy commissioner of Sylhet, said members of Bangladesh Army will rescue stranded people using boats.
The DC also said the flood situation is getting worse and considering the situation, the cooperation of army has been sought in rescuing affected people.
According to the ISPR, the army personnel were deployed in three upazilas – Sadar, Gowainghat, and Companiganj – of Sylhet district, and five upazilas – Sadar, Jamalganj, Dirai, Doarabazar and Chhatak – in Sunamganj district.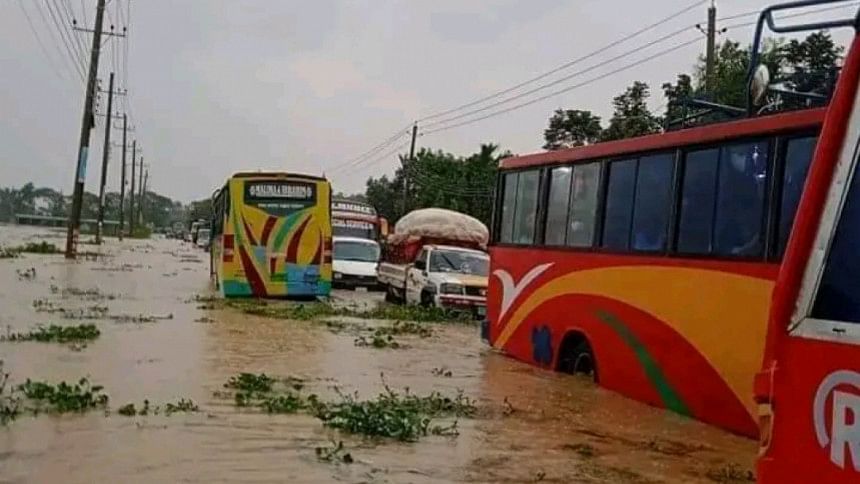 Apart from these, the army men will take the flood-affected people to a safer place, select temporary shelters for those people with the association of civil administration and arrange food and drinking water for them.
Also, they will provide medical aid and assist the civil administration in protecting food storages, power stations and other installations.
Sylhet district's Gowainghat, Kanaighat, Companiganj, Jaintiapur, and Sylhet Sadar upazilas are the most affected along with parts of Sylhet city that lies beside the Surma river.
Sunamganj town is the worst hit as almost all areas in the town have been flooded along with low-lying areas of Chhatak, Dowarabazar, Sunamganj Sadar, Bishwambarpur and Tahirpur upazilas.
According to the Flood Forecasting and Warning Center, at 9am today (June 17, 2022), the water of Surma river was flowing 108 cm above the danger level at Kanaighat point in Sylhet, 70 cm above the danger mark at Sylhet city point and 120 cm above the Sunamganj town point.
The Sarigowain river is flowing 23 cm above the danger level at Sarighat in Jaintapur upazila of Sylhet while water of Puratan Surma river is flowing 2 cm above the danger level at Dirai in Sunamganj.
Heavy flooding in Sylhet and Sunamganj has left several lakh people marooned.
Around 10,000 people took refuge in temporary flood shelters which have been opened up in primary schools.
Road communications with Chhatak and Tahirpur upazilas with the district headquarters have been snapped since Wednesday.