No food aid reached Sunamganj's Eklimnagar village even in 6 days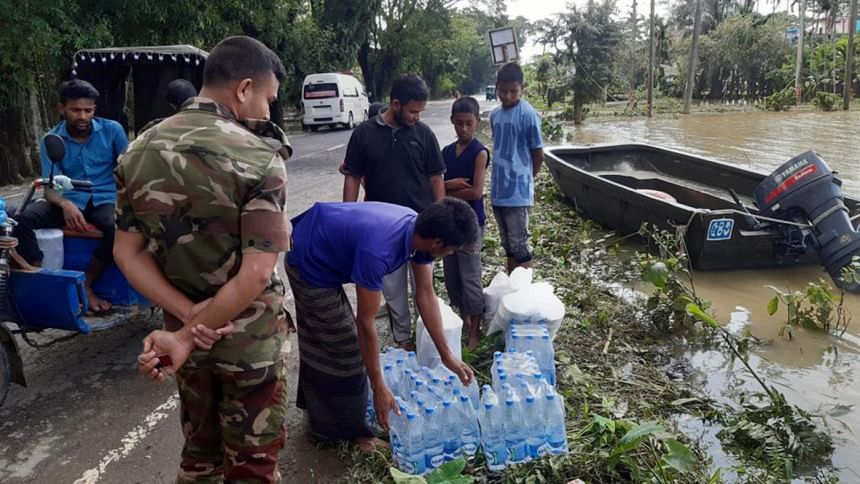 Eklimnagar village, under Chhatak upazila of Sunamganj, has been cut off since the flood started six days ago. No food aid has yet reached the village.
Talking to The Daily Star, Shamim Ahmed, a resident of the village, said that a fellow villager was washed away in the flood water while charging his mobile phone at some distance.
Shamim said he had taken shelter at his relative's house in Shahidpur area of Gobindaganj at the beginning of the flood.
After reporting to the Army Coordination Centre, set up at Shahidpur, around 2:30 pm today in this regard, an army team along with him started on a speed boat for distributing relief materials.
Shamim told the Daily Star that adjoining North Khurma and Shoula areas were also cut off.
Army personnel told The Daily Star that they opened a hotline number for relief operations, but people in remote areas are not able to communicate with them due to poor network and no electricity.
"The relief items our team can take on the speedboat is going to run out before the team reaches a remote area," said an army man.
While this correspondent was talking to army members, a young man named Sahab Uddin came to the speedboat, parked along the Sylhet-Sunamganj highway, with 100 packets of biryani and some bottles of water.
He said a voluntary organisation provided the food. He would take those to his village, Alamnagar with the help of the army.
"Of the nearly 500 families in our village, 20 have taken shelter on the first floor of the local orphanage. Everyone took as much rice and food as they could. Now, we don't have any more food," said Sahab Uddin.
He said that apart from these 100 packets , no other food help has reached the orphanage. Many people in the village have taken shelter in primary schools there. But he doesn't know the situation there.
Meanwhile, there is still water on both sides of Sylhet-Sunamganj highway. Every house is still under water. People have taken shelter along the road with cattle.