Inaccessible, in distress
Both admin and private efforts far from enough for over a third of Sylhet unions
Thousands of people in 93 unions -- one-third of the total 336 in Sylhet division -- suffer immensely as no humanitarian aid could reach them as yet.
People of another 67 unions are struggling for adequate relief.
The administrative efforts to distribute relief are falling short everywhere, while individuals and private organisations are also not being able to reach those who need it the most.
The information gathered by The Daily Star from the grassroots shows that adequate relief is not reaching the people in remote areas even days after the flood hit them.
Of the unions still waiting for any kind of humanitarian aid, 36 are in Sylhet district, 38 in Sunamganj, eight in Moulvibazar and 11 in Habiganj.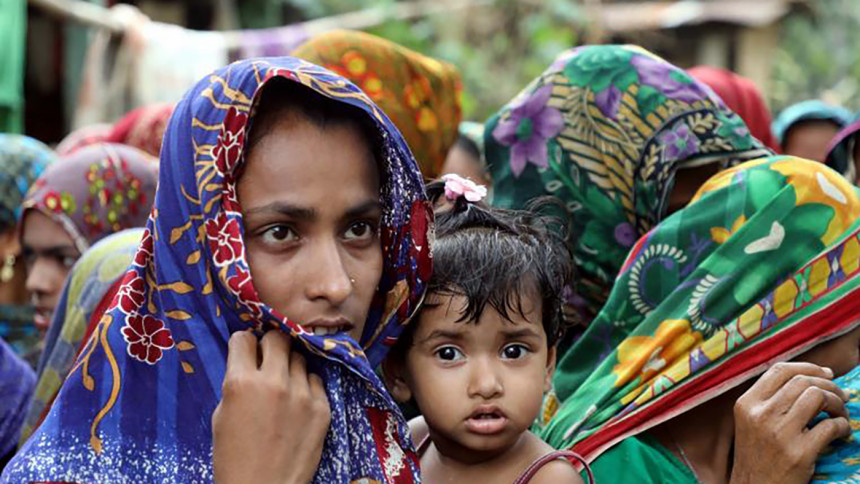 Meanwhile, NGO aids have reached 57,860 households in 24 upazilas of Sylhet, Sunamganj and Netrakona till yesterday, said a media release.
RELIEF STILL SCARCE
Aytun, a resident of Chatlarpur village of Jaintiapur union, where waters went up chest-high about 10 days ago, has spent the last nine days eating dry flattened rice (chira).
Yesterday was a good day for her, and her two children and husband, as they could finally cook some rice. But there was nothing else.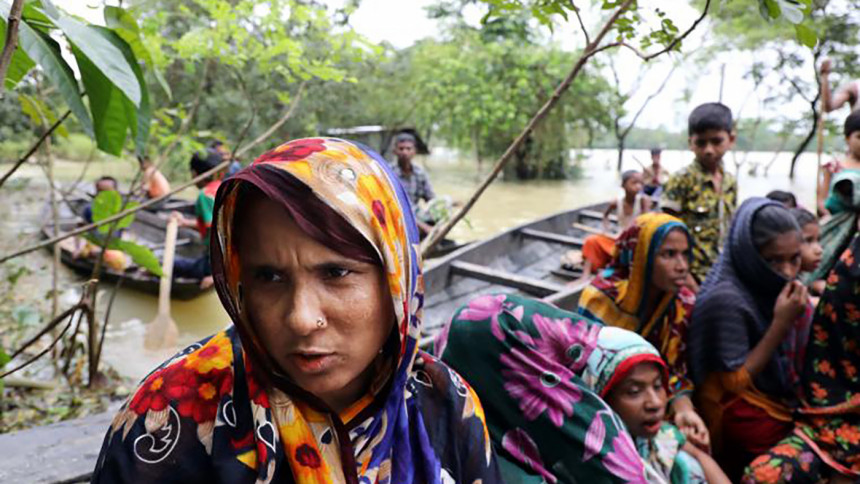 She had fixed bamboo poles horizontally across her hut and built a shelf, where she and her family spent the last week and half, while the flood battered her home.
"We had some food in the beginning … But the last nine days were incredibly hard. We didn't have a single meal," Aytun said.
The strong flood currents had washed away all her possessions.
"I used to work as a day labourer. Until the waters go down, I will have no income."
A boatful of aid came to the spot and gave her a bag. To her dismay, she found only a litre of bottled mineral water and some more chira.
In Pashchim Gardhana village of Darbast union, people flocked to a relief boat for rice.
They each came in their own dinghy boats, while those without vehicles called the relief boat from afar standing in chest deep water.
This was the first relief boat for them.
"I have two-days' worth of rice left, and a six-member family to feed," said Faridun, sitting on a dinghy.
"This was the last of the rice I had bought. We have set up the stove on the bed and that is why we are being able to cook."
Meanwhile, flood-affected areas in Netrakona are also distressed as relief is still scarce.
Amzad Hossain, a resident of Lengura union in Netrakona, said, "At least 300 houses have been washed away since the flood hit the union last Friday. People here received no food aid till today [yesterday]."
Of all the 10 upazilas there, people in Komlakanda, Durgapur, Barhatta, Mohanganj and Khaliajuri were the worst affected.
In Khaliajuri, army personnel have been coordinating the government and non-government aid activities effectively, Roni, one of the locals, told The Daily Star yesterday.
Razib Sarker, a local journalist who has visited multiple flood-hit areas in the last six days, said, "The majority of the people have been starving. The local administration could reach only the nearest areas. But the hard-to-reach areas have remained untouched."
ADMIN STRUGGLES
Abdul Latif, member of the union parishad, said they got 24 sacks of rice for 1,100 families -- meaning each family got enough to last a day.
Abul Kalam, a member of Pashchim Jaflong area in Sylhet's Gowainghat upazila, said, "We are trying to reach the people who are stranded in the village and in dire need of relief, as the snapped-off communications are being restored."
Several local council representatives and volunteers confirmed they were struggling to reach many flood-affected people due to accessibility issues and the crisis of relief; administrative officials also admitted that the crisis is real.
Rozina Akter, upazila nirbahi officer in Sylhet's Bishwanath upazila, said "Boats are rare in the upazila while non-flooded roads are blocking the paths. Moreover, not many private efforts are seen in the upazila."
Muntasir Hasan, UNO of Dharmapasha and Madhyanagar upazilas in Sunamganj, said, "The villages in deep haors are hard to reach. Due to accessibility issues, not much relief is reaching the flood-hit people in the upazilas."
DEATH TOLL
The fatalities caused by the floods rose to 68 after 24 people died in 24 hours till yesterday morning, UNB reports citing the Directorate General of Health Services.
Of them, 23 are from Sylhet division alone, the report said, adding that 20 people have died by drowning in floodwater, two died in lightning strikes and one from diarrhoea.
The deaths were recorded from May 17 to June 23.