Farmers in Southern, Central Regions: Rain brings fear, tears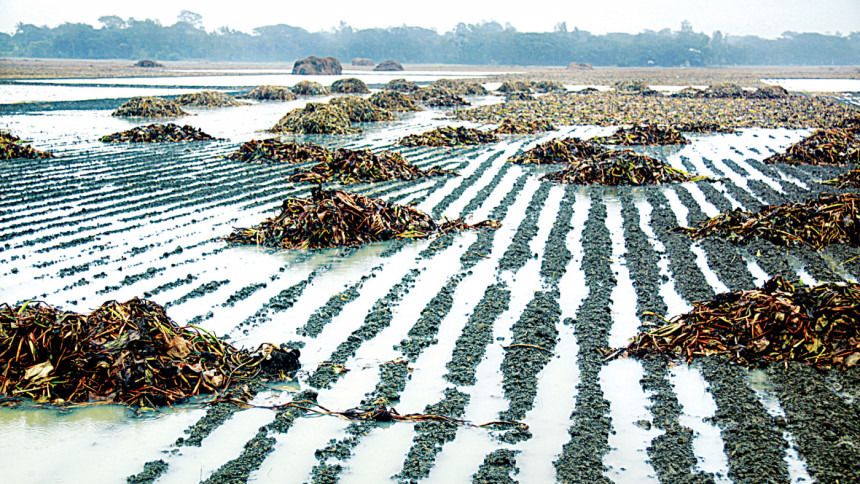 "My crop was supposed to ripen within the next two to three weeks … I fear that over half my crop will be damaged."
The untimely rain that lashed different areas of the country for the last two days could result in extensive damage to crops, especially winter vegetables and seedbeds.
Farmers who were expecting to harvest their vegetables and preparing seedbeds are in fear of losses.
Officials and experts said this untimely rain will have an impact on winter vegetables but if the rain continues and water remains on cropland for much longer, then damage to crops will be severe.
Department of Agricultural Extension (DAE) officials said they have been collecting information on the damage to crops and it will take some time to get a full picture.
Officials said currently the crops being cultivated are Aman paddy, potato, onion, lentil, various vegetables, maize and wheat.
Depression formed over the Bay of Bengal has triggered incessant rains for the last two days across the country.
Jashore witnessed the maximum rainfall, 163mm, in the 24 hours since 6:00pm on Sunday, said a bulletin of Bangladesh Meteorological Department (BMD).
The forecast is for light to moderate rain and likely thundershowers in many places in Dhaka, Chattogram, Sylhet, Khulna and Barishal divisions.
"Weather may remain mainly dry elsewhere over the country," said the BMD 24-hour forecast bulletin released at 6:00pm yesterday.
Dr Hamidur Rahman, former director general of DAE, said this untimely rain can have both positive and negative impacts on crops.
"If there is stagnant water due to the rain, crops will be damaged, especially winter vegetables including tomato, potato and eggplant," he said, adding that the rain however is a blessing for maize cultivation.
But if the rain continues for a few more days, the damage to crops will be huge, he said.
Md Asadullah, director general of DAE, said the soil is very dry right now and the rain will not have any adverse impacts on the crops, but they will be damaged if the rain persists for a few more days.
Our correspondents from different districts yesterday reported on crop damage.
In Patuakhali, vast areas of cropland have gone under water due to heavy rain and high tide in the last five days. The crops include Aman paddy, Khesari pulse, fruits and winter vegetable.
Farmers fear that half of the submerged Aman crop will be damaged, while local agriculture officers said only five percent of the paddy will be damaged.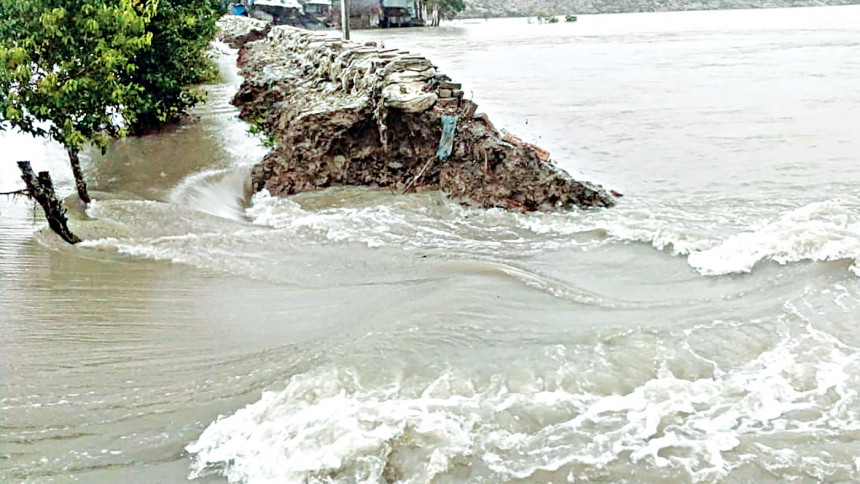 "I cultivated Aman on around two acres of land. My crop was supposed to ripen within the next two to three weeks, but now all the paddy has been submerged. I fear that over half my crop will be damaged," said Abul Hossain, a farmer of Patuakhali Sadar upazila's Sharikkhali village.
Watermelon plants on around 400 bighas of land have gone under water. All of these will be damaged, said Mohammad Saifullah, an agriculture officer in Kalapara upazila.
Contacted, KM Mohiuddin, DAE deputy director, said, "Around five percent of submerged Aman paddy will be damaged. But most of the Khesari pulse, watermelon and winter vegetables will be damaged."
In Barguna, an almost similar situation prevailed as large portions of cropland got inundated.
"This year, I had good production of Aman paddy. I expected to make some profit. But all of my paddy has gone under water," said Abul Hasan, a farmer of Badarkhali village in Barguna Sadar upazila.
In Munshiganj, potato seeds of around 4,000 hectares of land are feared to have been damaged due to incessant rains, said the local agriculture office.
The damage will increase if rain continues, said Md Khurshid Alam, deputy director of DAE.
"I planted potato seeds on around 15 acres of land around two weeks ago. All of my land has gone under water," said Kamrul Hasan Russell, a farmer of Hamidpur village in Sadar upazila.
In six districts of Barishal division, Boro seedlings were planted on around 3,000 hectares of land, said Md Toufiqul Alom, deputy director of DAE in Barishal. Around three percent of these would be affected due to the rain water, he said.
In Jhenaidah, Ropa Aman paddy of around 2,300 hectares of land lie submerged.
A very small portion of these crops would be damaged if rain stops immediately, but the damage will be worse if rain continues, said Azgar Ali, deputy director of DAE.
In Bagerhat, fishermen and traders who earn their livelihood drying fish, have to incur huge losses due to rains.
Some 15,000 people of Alorchol, Majher Char, Narkel Baria and Shalar Char areas of Sundarbans depend on fish drying.
Fish worth around Tk 2 crore have already been damaged, said Mohammad Belayet Hossain, divisional forest officer of the Sundarbans East Forest Department. The losses may increase if rains continue, he added.
In Noakhali, communication through waterways from the mainland to Hatiya island remained suspended due to rough weather.
As a result, some tourists were stranded on the island, said Md Selim Hossain Khan, Hatiya Upazila Nirbahi Officer (UNO).
Besides, operation of passenger vessels, which operate on the Dhaka-Chattogram-Bhola route, remained suspended.
In Khulna, over 200 families of Gatirgheri and Hariharpur villages of Koyra upazila have been marooned by the tidal surge after breaching of an embankment.
In Shariatpur, vast areas of cropland cultivating paddy, onion, pulse, spices and winter fruits have been submerged, posing the risk of substantial damages, said local DAE officers.