Eroding Sugandha, Padma devouring fresh areas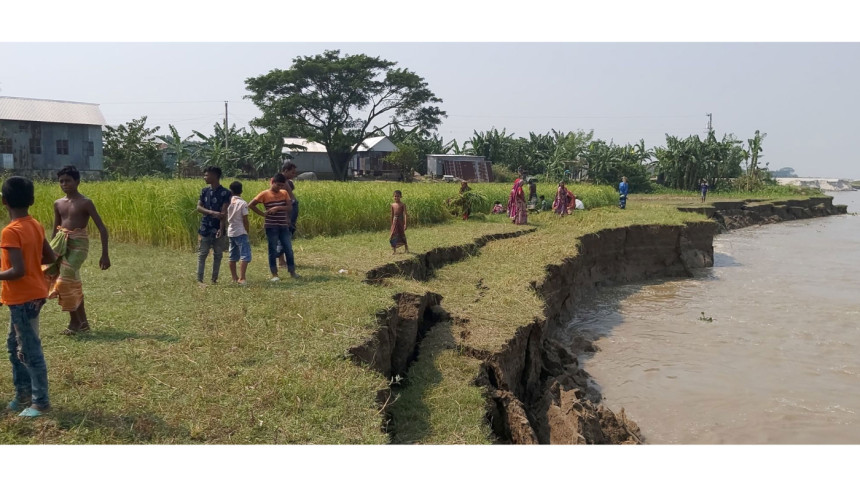 Houses, croplands, a mosque and several establishments have disappeared due to sudden erosion of Sugandha river near Rahamatpur area under Babuganj upazila in Barishal in the last one week.
More than 50 houses, croplands and several establishments are under the threat of erosion. In this circumstance, many people are relocating their houses and cutting down trees.
Locals and experts said climate change, incessant rain, cutting soil for brick kilns and unplanned river governance are responsible for the river erosion.    
In the meantime, Sabullah Shikdar Dangipara area of Harirampur union in Faridpur's Charvadrason upazila has fallen under the onslaught of the erosion of the Padma river.
Sabullah Shikdar Dangi Govt Primary School is under the threat of erosion.
Houses of Idris Ali Bepari, Babul Hawladar and Omar Ali have been devoured by the river erosion at Paschim Khudrakhati village under Rahamatpur union of Babuganj.  Besides, the Paschim Khudrakathi Mosque, 50 decimals croplands and a hundred-year-old Eidgah field were wiped from the map.
The victims alleged that the local administration did not take any visible steps to curb the river erosion.
Idris Ali said his house was some 100 metres away from the Sugandha river.
"Suddenly, the erosion started. I could relocate some of my valuables and in the meantime, my house disappeared in the river," he said.
Earlier on September 21, seven houses, a mosque and several establishments disappeared in the massive erosion in Arial Kha river at Mirganj area.
Md Bacchu Miah of Rahamatpur area said river erosion is a common phenomenon for Babuganj residents. People surrounded by the three rivers---Sondha, Sugandha and Arial Kha---are facing constant erosion.
Hundreds of families have become destitute but the erosion could not be stopped. Local people said more and more people will be destitute if steps are not taken immediately.
Erosion started at Sabullah Shikdar Dangi area of Harairampur union under Charvadrason upazila in Faridpur. The Padma river was 60 metres away from the Sabullah Shikdar Govt Primary School two months ago but due to the erosion, the school is now just 14 metres away from the Padma.
Dr Muhammed Forruq Rahman, manager-research and advocate of Network of Climate Change, Bangladesh said, riverbank erosion is a natural disaster but it has become an issue of major concern due to the rapid climate change phenomenon and the impacts of climate change on bank erosion in different parts of Bangladesh are more obvious in Bangladesh.
He added that "We need to raise voice nationally as well as globally to cope up with the multifaceted loss and damage from bank erosion due to climate change."
Dipak Ranjan Das, chief engineer of the Water Development Board in Barishal, said they have done emergency work at the upazila to stop the erosion.
"However, to curb the erosion in the upazila's Mirganj, Northern part of Barishal Airport and Birshrestho Captain Mohiuddin Jahangir village, we have already submitted a project and are hoping that the project will be passed soon," he said.
Faridpur Water Development Board's Chief Engineer Partha Pratim Saha said they too have submitted a project regarding the prevention of erosion. They will go for the implementation work once the project is approved.