'Generate, allocate global funding for least developed countries facing natural disasters'
Speakers at Bali conference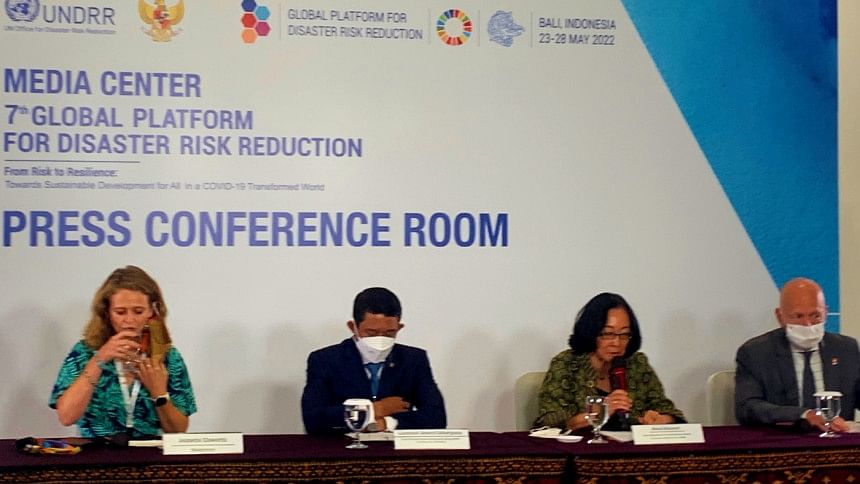 With a call to generate and allocate necessary global funding for least developed countries that are facing natural disasters to strengthen the culture of disaster preparedness and investing in technology, the seventh Global Platform for Disaster Risk Reduction (GPDRR) 2022 ended today (May 27, 2022) in Bali, Indonesia.
The seventh GPDRR 2022 adopted four agendas – strengthening the culture of disaster preparedness, investing in disaster science, technology and innovation, building infrastructure that are resilient to disasters and climate change and committing to implement global agreements at the local level.
The officials from United Nations Disaster Risk Reduction (UNDRR) and representative of Indonesian government said in a press conference that – all those agendas will be known as Bali agendas.
"Bali Agenda for sustainable resilience can be the answer to the world's challenges regarding how disaster management is carried out after the Covid-19 pandemic and amid the threat of climate change," said Lt general Suharyanto, head of natural disaster management authority, Indonesia who read out the Bali agendas.
Earlier in the three days of discussions, the speakers urged, more countries must think about climate resilience and urgently adopt and improve early warning systems to reduce risks from an increasing number of disasters across the world.
Ministers and other high-level government representatives, civil society members and development partners attending from 181 countries, discussed their experiences, solutions and strategies to meet the growing cost of both disaster risk reduction and disaster recovery.
The speakers focused on global financing frameworks to address risk and build resilience in the conference titled -- "From Risk to Resilience: Towards sustainable development for all in a Covid-19 transformed world."
In different forums, the delegates also emphasised on full and effective participation of indigenous peoples, women and girls, persons with disabilities, and other vulnerable groups in environmental decision-making process.
Before the closing session held last evening, the Bangladesh delegations gathered at a programme hosted by UN Bangladesh office to discuss lesson learned from GPDRR 2022 conference.
The socio-economic impacts of Covid-19 and ways to reconstruct the world was an important segment of the three-day long conference.
The plenary sessions focussed on the multi-hazard nature of risk that governments and stakeholders face in order to reach the global goals, including those of the Paris Agreement, the Sendai Framework and the 2030 Agenda for Sustainable Development.
In the closing session, Megawati Sukarnoputri, fifth president of Indonesia joined the programme online as the chief guest while Mami Mizutori, coordinating minister for Human development and cultural affairs chaired the session.
The GPDRR conference was the first international UN disaster forum since the start of Covid-19 pandemic.
Some 4,091 participants from 184 countries attended the event where 3,001 people participated in person, while over a thousand delegations followed the five-day event via virtual platforms.