Tanguar Haor: Accusations fly as unique biodiversity comes under threat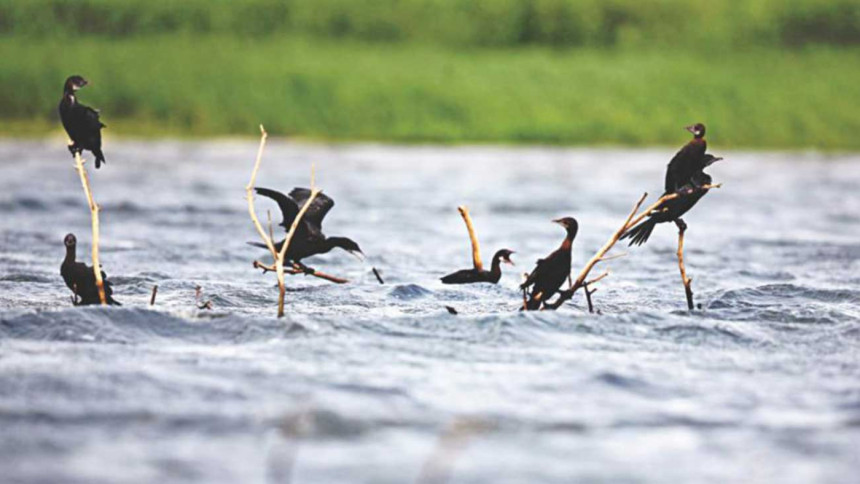 Blue skies overhead, green fields underneath the clear beel and the continuous chirping of local and foreign birds- that is how a nature lover or tourist would describe Tanguar Haor, one of the many significant wetlands located in Sunamganj district.
Read More: Rampant felling of trees threatens Tanguar Haor
The haor, with its unique ecosystem known for hosting many species of fish and as a staging area for the migratory birds that fly in to escape the bitter northern hemisphere winter, is a rich resource for the inhabitants of some 88 villages in and around it.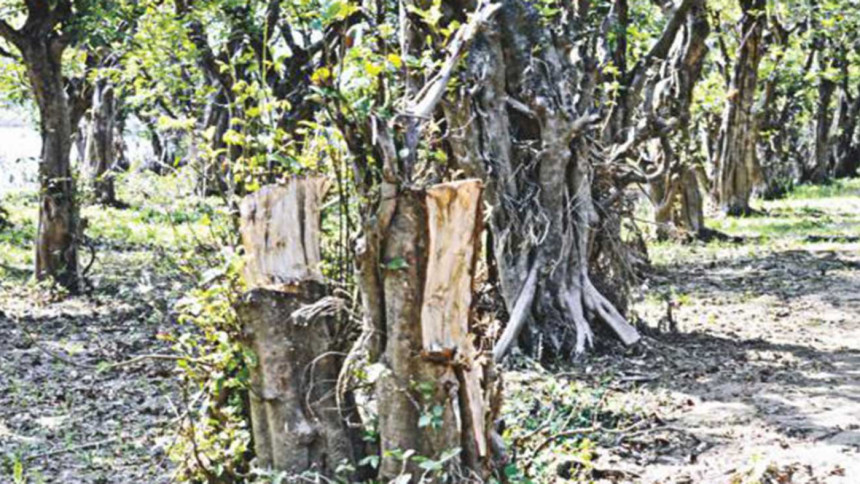 Yet even as the 10,000 hectare-haor, one of the country's two Ramsar Sites - wetlands designated of international importance under the The Convention on Wetlands, commonly known as Ramsar - has gradually grown into an international tourist spot, its precious biodiversity is now threatened by the spectre of overexploitation.
Tanguar Haor provides habitat for at least 135 fish and 208 bird species, including 92 waterbird species and 98 migratory bird species, and including 10 IUCN Red Book and 22 CITES listed species. About 30-40,000 migratory waterfowl converge on the area in the northern winter months, according to the site's Ramsar listing.
Where varieties of plants like Hijol, Karach, Nalkhagra, Chaliabaan, and many others sprouted abundantly, turning it into a famed sanctuary for the migratory birds, today a group is behind massive deforestation in Tanguar Haor flouting regulations.
Their destructive activities are not only hampering the aesthetic beauty of the haor - they are directly playing havoc with its priceless biodiversity.
In the early 1990s, environmentalists raised a demand to conserve eight endangered sites of the country including Tanguar Haor, following which the government undertook a 10-year project with the cooperation of International Union for Conservation of Nature (IUCN) with an allocation of Tk 63 crore in first phase.
Cancelling the lease system, District Administration handed over authority to protect the haor to the IUCN in 2006. The IUCN itself puts it somewhat differently, insisting that from 2006 to 2016, the Government of Bangladesh, with support from the Swiss Agency for Development and Cooperation and IUCN, managed Tanguar Haor, together with local communities.
In April, it stated that the government has decided to continue to support the co-management of this important wetland through a new programme.
Many however allege that since the IUCN took over, cutting down trees illegally has increased due to lack of supervision.
Bablu, one of the locals, said that the law enforcers, who are meant to protect the haor, can be bought off with just a little bit of money to allow people to cut down trees and catch fish illegally..
Denying the allegation, Coordinator of IUCN, Wahiduzzaman Sarkar said, a group of people, in collusion with some dishonest law enforcers, are behind the tree-cutting.
District Administration has been informed about the illegal deforestation from time to time, he added.
Upazila Executive Officer, Muhammad Saiful Islam said, various workshops have been held to create awareness among the locals so that they themselves can protect the wetland.
On the other hand, recently, in a program, Kabir Bin Anwar, Director General of Administration Department of Prime Minister's Office, said that IUCN has completely failed to protect the fish and biodiversity of Tanguar Haor.
If those meant to protect this unique and resplendent natural resource for Bangladesh become divided on how to go about the task, it can only benefit the corrupt and feckless circles already engaged in stripping the Tanguar Haor of its vitality.