Eid joy eludes flood-ravaged haor areas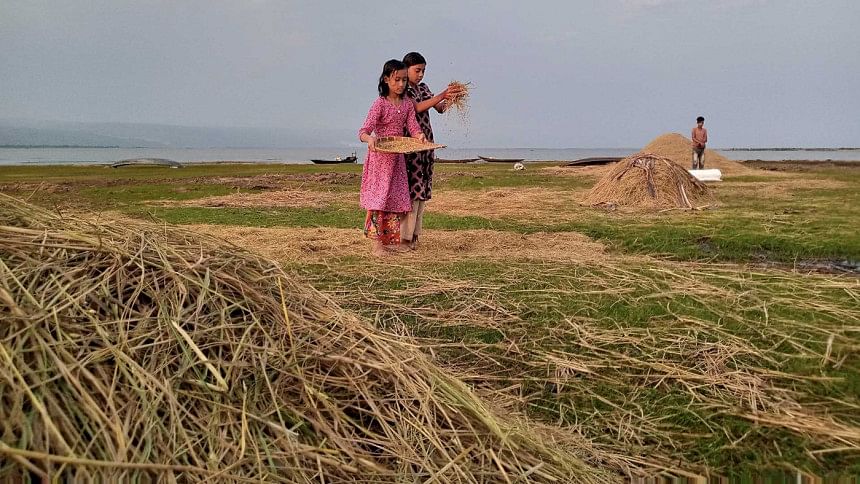 "Most paddy fields in our village are under water. We are not only facing food shortage but also lacking fodder for our cattle. Had the flood happened after two weeks, we could have harvested at least enough to feed ourselves,"
Abdul Mannaf Talukder, a 75-year-old farmer of Rangchi village under Sunamganj's Madhyanagar upazila – on the bank of Tanguar Haor – bemoaned.
Like Abdul, all 440 farmer families of the village are in distress after losing their only harvest of the year, Boro paddy.
While visiting the haor village the day before Eid, this correspondent saw the field, where hundreds of farmers should be busy drying paddy, almost vacant except a few children drying rotten paddy and straw.
Though this is not particularly a joyous time for them, the farmers were trying their best to upheld Eid spirits.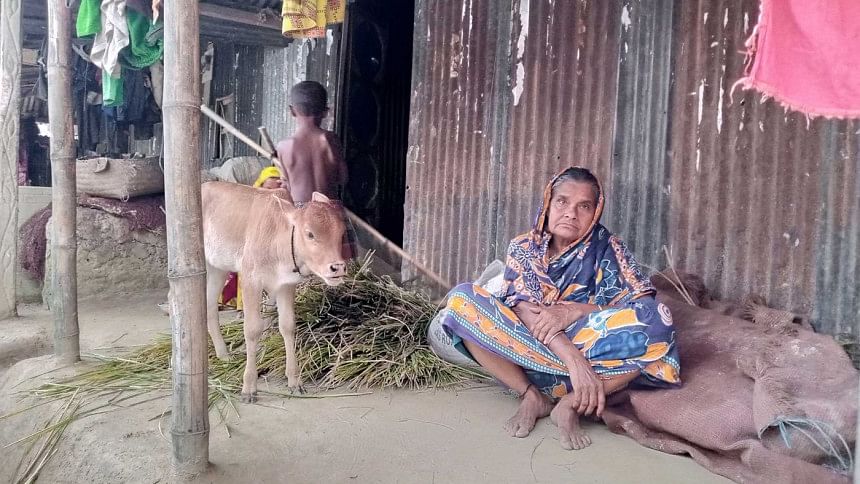 The only tailor of the village, Shakil Ahmed, was seen busy sewing clothes at his small shop.
Since March 30, vast haor areas of Sunamganj have been inundated by the floods caused by water from upstream due to heavy rainfall in India's Meghalaya. 
Water entered and inundated haors by breaking the government-built dykes at some haors and overflowing others.
As Tanguar Haor is a protected site under Ramsar Convention, there were no government crop protection dyke to protect the paddy cultivated in the area and the included beel. 
However, an old dyke named Nazarkhali in the adjoining Tahirpur upazila was repaired with the help of district administration and Water Development Board.
The Nazarkhali dyke collapsed on April 2 due to flash flood. In a few days, flood water inundated Sonadubi Beel, Bandha Beel, Muktarkhola Beel and many others where the farmers of Rangchi villages cultivated Boro paddy.
Md Golam Hossain, a farmer of the village, said, "Last year I harvested 300 maund paddy from around 6 acres of land. This year, only 20 maund were saved, which was also damaged and can be used as fodder only. This Eid brings no joy, but we are celebrating nevertheless."
Abdul Helim, another farmer of the village, said, "Every farmer is in debt as we all take loan from Brac, ASA, Grameem Bank and other NGOs, cooperatives and individuals. They will start putting pressure to repay after Eid."
"Some will now sell cattle, some their land to repay the loan and then take loan again in the next year to cultivate, he said, adding that many will leave for Dhaka for work.
Farmer Abdul said, "To repay my Tk 1 lakh loan, I'm trying to sell some land, but no one is willing to buy the land that went under water."
Farmers said that there are around five thousand cattle in the village. They already started selling those and in a few months, most of them will be sold.
The farmers of the village demanded construction of Nazarkhali dyke under Kajer Binimoye Taka project to protect Boro harvest.
They said that it would save the government huge sums of money that they spend on constructing several dykes on the edge of Tanguar Haor and Gurmar Haor.
According to the Department of Agriculture Extention (DAE) in Sunamganj, a total of 5,775 hectares of farmland were flooded in 19 small and large haors and beels, which is 2.25 percent of the total Boro cultivating area of 2.22 lakh hectares. In terms of money, the amount of loss is Tk 70 crore and a total of 20,000 farmers have been affected.
However, various organisations working for farmers and their rights disagree and claimed that the government offices has been deliberately shown less in statistics.
Kashmir Reza, president of Haor O Paribesh Unnayan Sangtha, said, "As per our collected data, at least 15,000 hectares were inundated, affecting 50,000 people and the loss is no less than Tk 500 crore. They do not consider the loss of the farmers who harvested half ripe paddy."
Although a few weeks have passed since the floods in haor, the affected farmer families of many villages, including Rangchi, have not yet received any help. No special allocation has come for them even on the occasion of Eid.
Md Nuruzzaman Siddiqui, member of ward-1 of Bangshikunda Dakshin union in Sunamganj's Madhyanagar, where the village is, said, "The list of 440 affected farmer families were sent to the administration days ago, but no allocation or support has been sent yet."
Bimol Chandra Shome, deputy director of the Department of Agricultural Extension, said, "We have already compiled a list of 20,000 farmers affected by the floods. In the coming winter season, they will be given special priority to get fertiliser and seeds in agricultural incentives."
However, the agriculture ministry has not yet requested the list, he said, adding, "We prepared the list and it will be sent if the ministry wants. We will take action according to the instructions given to the affected farmers in advance."