World Cup season keeps Mousumi Mou busy
Mousumi Mou has been busy this season, hosting two live football shows during the ongoing FIFA World Cup 2022. One of the programmes is for DBC News Sports and the other is airing on BTV.
"The show that I am hosting for DBC News Sports is titled 'Messi Ronaldo Neymar Ami Tumi K Kar?', which is really interesting," she shared. "The show airs every day, and will continue till the tournament ends, from 3 pm to 4 pm. In the show, three people from the audience, along with two celebrity guests and a footballer analyse the World Cup matches."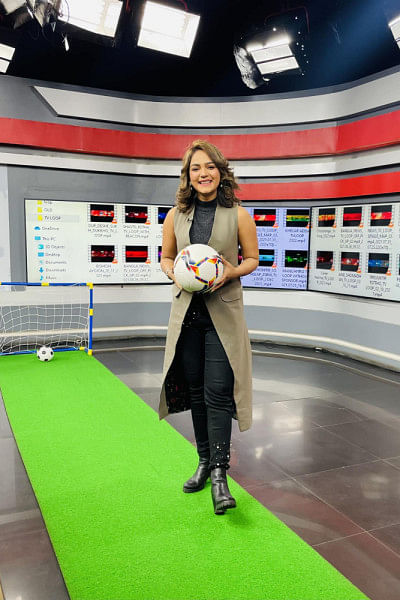 Her other show, which airs on BTV, is titled "World Cup Moments". The show goes live every day at 9 pm. "The World Cup has been one of the most hyped sporting events, which has a lot of excitement surrounding the sport. In this show, we share some of the best moments from the current tournament," added Mousumi.
Mousumi Mou herself is an avid fan of Brazil, and has been anchoring sports shows since 2019. Apart from anchoring, she has also appeared in telefictions and web-projects, and is also a mime artiste.