Who are you to talk about my child?: Bubly lashes out after Apu's comments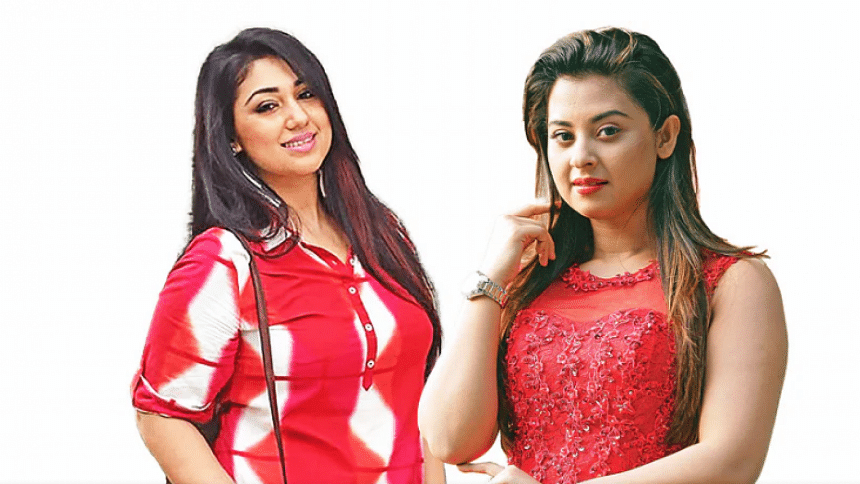 After noted actress Apu Biswas shared her thoughts on the ongoing controversies regarding her, Bubly, and Shakib Khan, on a television show last Thursday, Bubly took to her social media account and wrote an explosive post, heavily hinting towards Apu Biswas.
The actress said in her post, "I want to make one thing clear, if someone makes a bad comment about me and my personal life for their own gain, I will be taking lawful actions against that individual or group, as I am a law-abiding citizen of our country…"
"All the evidence against the person or persons involved, who play this dirty game every few days, are available on the social media platforms, newspapers, and YouTube, which would suffice for legal actions against them," said the actress in her post.
Furthermore, the actress mentioned, "I feel it is below me to respond to such ill-comments, and as such I try to ignore these things. But if an individual or group feels that this is an opportunity to demean me, then that's their delusion. I don't even feel like wasting my time responding to them."
"My parents didn't teach me to be a two-faced snake, to be an opportunist, who for their benefit would stab you in the back and bandage the wound on the next moment," she continued on the post. "My parents didn't teach me to change colours like a chameleon. Some people shamelessly make disrespectful comments on television talk shows, my parents didn't teach me to be like that or be disrespectful to people."
"I am proud that I didn't learn these things because those who can do these things would not hesitate to make disrespectful comments about the legendary actress Shabana ma'am," said Bubly in her post.
Taking a firm stance, Bubly wrote, "What I do for my son is my personal matter, who are you to talk about that?"
She concluded by writing, "How weird! These two faced cheap mentality individuals take on a different face every time to deceive the public."