Tasnia Farin stuns in minimalistic bridal look on her special day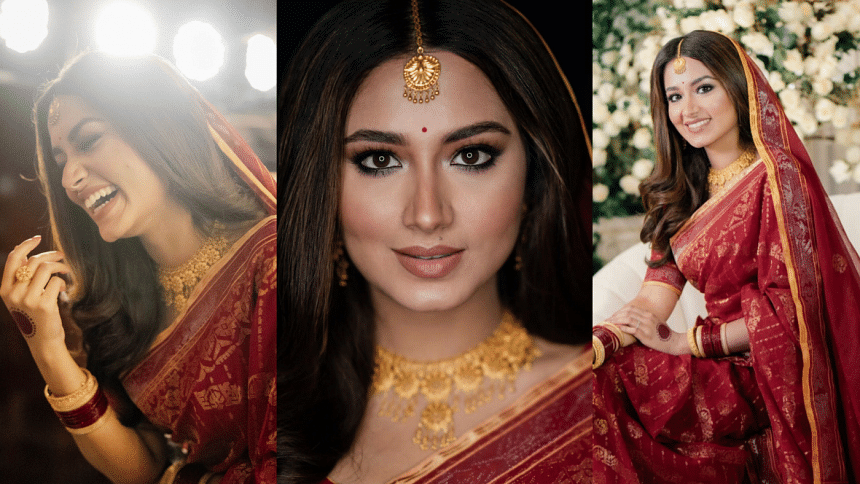 Actor Tasnia Farin, ending all rumours about herself in the media, has finally tied the knot. She got married to Shaikh Rezwan, a long-time companion of hers. According to her post on social media, they fell in love back in their college days. 
In our subcontinent, where bridal makeup look and attire were always supposed to be glamorous, Tasnia Farin graced her special day with a minimalistic bridal look that resonated with her distinct elegance. Opting for a simple yet profound red Jamdani saree, Farin's choice reflected her personal style and innate sophistication. 
The exquisite red Jamdani saree was meticulously crafted over the course of a year by Nobo Dhaka, showcasing the intricate detailing and artistry inherent in traditional garments. 
The talented Zahid Khan, founder of Zahid Khan Bridal Makeover, did the bridal makeup of Farin.
Tasnia Farin was seen sporting light makeup that perfectly accentuated her features. Her eyes were adorned with a touch of kohl and a delicate shade of eyeshadow, while her lips boasted a nude hue, all executed to enhance her natural beauty. Adorning herself with gold jewelry by Amishee, Farin's ensemble was artfully tied together with an open hairstyle, a Jamdani veil, and a designed blouse. Rather than opting for mehedi, she adorned her hand with Alta.